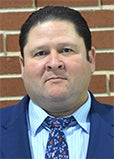 Effective January 1, 2017, Carlos Aquin was appointed to the IU Executive Board as Executive Vice President to fulfill the remainder of Timothy J. Driscoll's term, who was promoted to Secretary-Treasurer.
A second generation BAC marble mason, Aquin served in the United States Marine Corps for several years prior to joining BAC Local 18 California in 1991. In 1995, Aquin became a member of BAC Local 4 California before moving to Las Vegas and becoming a member of BAC Local 3 Nevada and its successor Local 13. Aquin soon took on leadership roles in the Local, as Local 13's Compliance Officer in 2004, Secretary-Treasurer in 2005 and President in 2006.
Prior to joining the IU Executive Board, Aquin was Director of the BAC Mountain West Administrative District Council, which has jurisdiction over Nevada, Arizona, Colorado, Utah, Wyoming and portions of New Mexico, and President of BAC Local 13 Nevada. In addition to his Local service, Aquin has been a member of the IU Executive Council for nearly 10 years.
In his current position Aquin has oversight responsibilities for the Organizing and Trade Jurisdiction Departments, and serves on the National Maintenance Agreement Policy Committee, the General Presidents Project Maintenance Committee, and the BCTD Project Review Committee.