BAC Journal
>
2017 NABTU Legislative Conference Underlines "WE BUILD"
2017 NABTU Legislative Conference Underlines "WE BUILD"
2017 Issue 2
Legislative & Political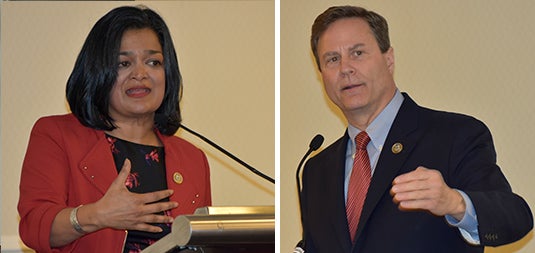 North America's Building Trades Unions (NABTU) convened its annual Legislative Conference in Washington, D.C. on April 3rd. Over 3,000 national, state and local building trades leaders including many BAC delegates attended the three-day event. 
The conference theme, "WE BUILD – Opportunity. Partnerships. Pathways." is a fitting theme for the challenges that building trades unions are facing in 2017 and beyond. By emphasizing "WE BUILD," the building trades unions conveyed a strong message of supporting infrastructure investments, rebuilding our infrastructure with skilled craftworkers, and protecting community wage and benefit standards under the federal Davis-Bacon Act.  
NABTU President Sean McGarvey's opening remarks echoed the same message. He said, "We will endeavor to hold the President, and all elected officials accountable, not only in terms of living up to the fundamental economic promises that were made during the campaign and which attracted the support of significant numbers of our members, but to also oppose and reject adverse policies and proposals that run counter to those promises, including and especially attacks on prevailing wage standards at both the federal and state levels."
President Donald J. Trump spoke at the conference, primarily focusing on the urgent need to rebuild and repair our nation's infrastructure, which is a priority for all building trade unions. However, the President did not mention Project Labor Agreements or prevailing wage laws in his infrastructure plan. These laws benefit working families and create a level playing field for construction workers including BAC members.
In addition to President Trump, a wide array of public policy, industry and business leaders spoke at the meeting, including U.S. Senate Democratic Leader Chuck Schumer (D-NY), U.S. Representatives Tim Ryan (D-OH), Linda Sanchez (D-CA), Tim Murphy (R-PA), Cedric Richmond (D-LA), Dan Donovan (R-NY) and Peter King (R-NY), U.S. Senator Joseph Donnelly (D-IN), Maryland Governor Larry Hogan (R), Colonel David R. Sutherland – US Army, Retired, U.S. Secretary of the Interior Ryan Zinke, CEO of American Electric Power Nicholas Akins, and President & CEO of the Nuclear Energy Institute, Maria Korsnick.
BAC Local and ADC officers and representatives from across the country attending the conference were also joined by U.S. Representatives Donald Norcross (D-NJ) and Pramila Jayapal (D-WA) at a working luncheon hosted by BAC. 
An electrician by trade, U.S. Representative Donald Norcross (D-NJ) understands the value of quality union apprenticeship and training programs, and the struggles that many working families experience, as he had to draw from unemployment and disability at times during his career. He thanked BAC brothers and sisters for their support, "I will always remember the dignity of having a job. Being an IBEW member in Congress, we bring a different perspective on labor issues to Congress," Brother Norcross said.  
The first Indian-American woman in the Congress, U.S. Representative Pramila Jayapal (D-WA) came to the United States by herself at the age of 16 to attend college at Georgetown University. "We have not fulfilled our American Dream and our promise to working families. If you work forty hours a week, this is the basic compact, you should be able to put food on the table, a roof over your head, send your kids to apprenticeship programs, colleges or community colleges, and then retire in dignity. And today that promise is broken," Jayapal said. "It's more important than ever for us to stand up for our working families and our future. Our country prospers when our unions are strong."