One of BAC's core missions is fighting for health and safety: protecting union members on the job, providing members with information and tools to work safely, and promoting occupational safety for all trowel trades craftworkers. 
---
Latest 
2023 Workers Memorial Day Ceremony
The Department of Labor's Occupational Safety and Health Administration along with the Mine Safety and Health Administration hosted a ceremony on April 27 to recognize and honor workers who have lost their lives due to workplace injuries or illnesses, and pay tribute to the family members who loved them.
---
BAC holds regular safety webinars in the evening for members to brush up the latest safety and health guidelines to stay safe at work. Presenters include IMI/IMTEF, industry and BAC experts on the selected topics. Click the links below to watch recordings of these life-saving trainings, or click here to watch all.
Upcoming Webinar: Mast Climber Safety
When: June 20, 7:00pm ET
Register HERE.
Join Safety & Health Director, Liliana Calderon, IMTEF Director of Safety, Dave Wysocki, IMTEF's NC and South Regional Safety & Training Directors, Dave Donkin and Dan Flores as we discuss how to stay safe while using mast climbers. Learn the Do's and Not's of working on mast climbers.
What is Silica and Why is it Dangerous?
Please stay tuned for upcoming safety webinars.
Contact BAC International Safety and Health Director Liliana Calderon with any suggestions on what trainings / refreshers you would like to see in the future. 
---
The BAC Difference: Training
A major difference between a BAC craftworker and a non-union worker is our training. Safety is no different. During the first weeks of apprenticeship classes, our workers are OSHA 10 or 30 certified. Additional training – including asbestos training, lead abatement, and OSHA 500, 502, and 510 – is available for members, foremen, and union representatives as necessary / desired. 
Members are also taught while training in their crafts to perform the work in the safest, most ergonomically-friendly way. For contractors, this leads to projects done with minimal delays due to accidents, and lower costs for insurance and violation fees. 
Are you looking to grow your knowledge, or need a refresher for your certification? Click here to find out more about what trainings are currently available through the International Masonry Training and Education Fund. 
---
Although the pandemic has abated because of vaccines, COVID-19 is still spreading through North America, causing severe illness and death for unvaccinated and immune-compromised people. 
BAC members still need access to accurate information about how to protect yourself and your family, both on the job and at home.
Visit our COVID Resources page for more information. Continue to stay safe! 
---
This article first appeared in the BAC Journal - Issue 3, 2022. Click here to read more articles.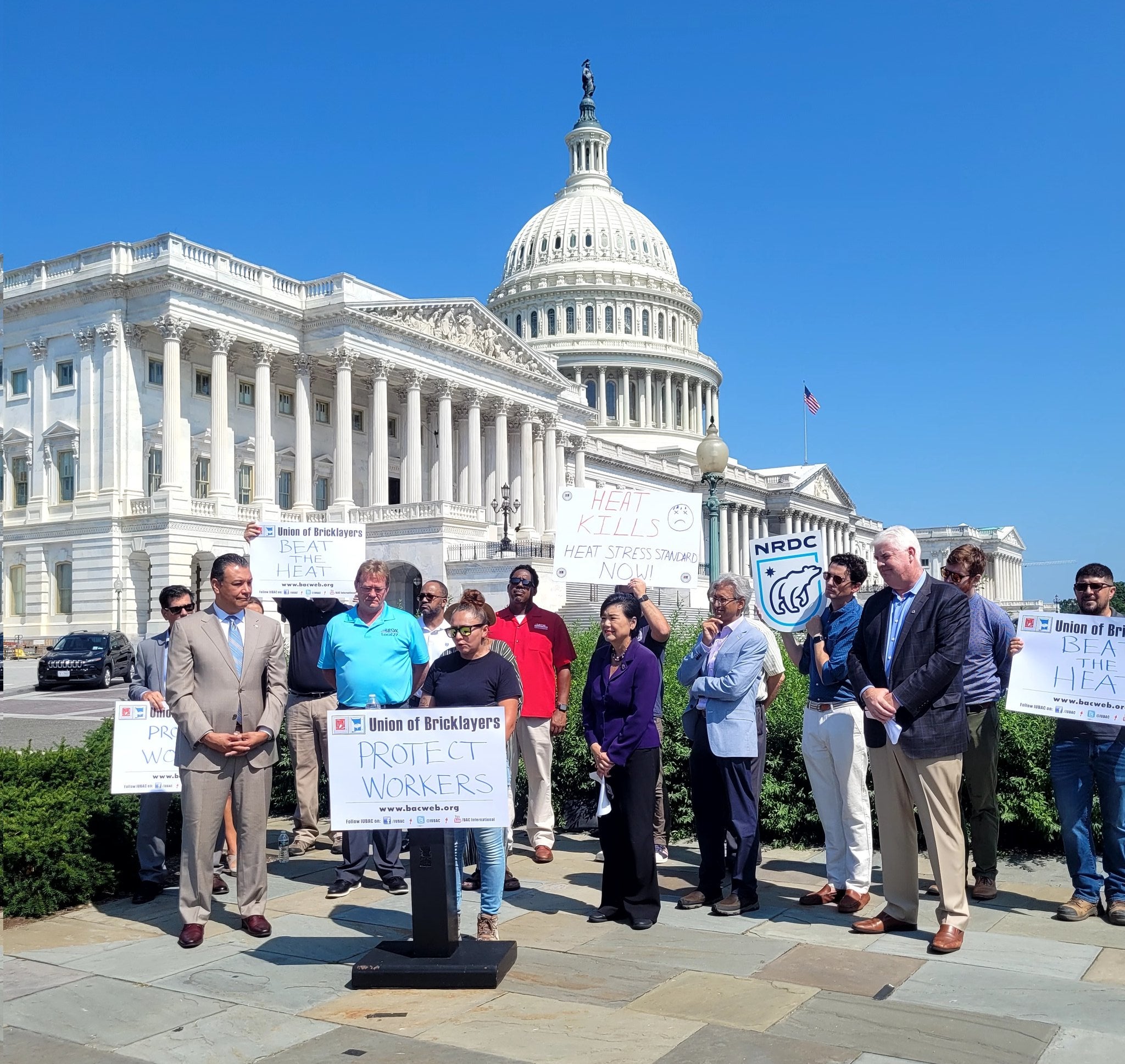 On July 20, BAC officers and members joined US Representative Judy Chu (D-CA), Senator Alex Padilla (D-CA), and the Natural Resource Defense Council (NRDC) in a press conference to advocate for workplace heat stress protections and call for a swift legislative action to speed up the implementation of the first federal heat stress, workplace standards… READ MORE
Other recent articles:
---
See Something, Say Something
It is the responsibility of every person at the worksite to work safely: from the contractors providing an environment that prioritizes the health and wellbeing of their workers, to members knowing the hazards and avoiding actions that would compromise their or their coworker's safety.  
Every worker has a right to come home from work everyday in the same physical condition as they left. If you are working in an environment you feel is unsafe, union or non-union, contact your local BAC office or the Occupational Safety and Health Administration (OSHA). 
The life you save could be your own. 
---
Resources