BAC Journal
>
From Apprentice to Foreperson, Jana Ashton Tells Her BAC Story
From Apprentice to Foreperson, Jana Ashton Tells Her BAC Story
2021 Issue 2
My BAC Story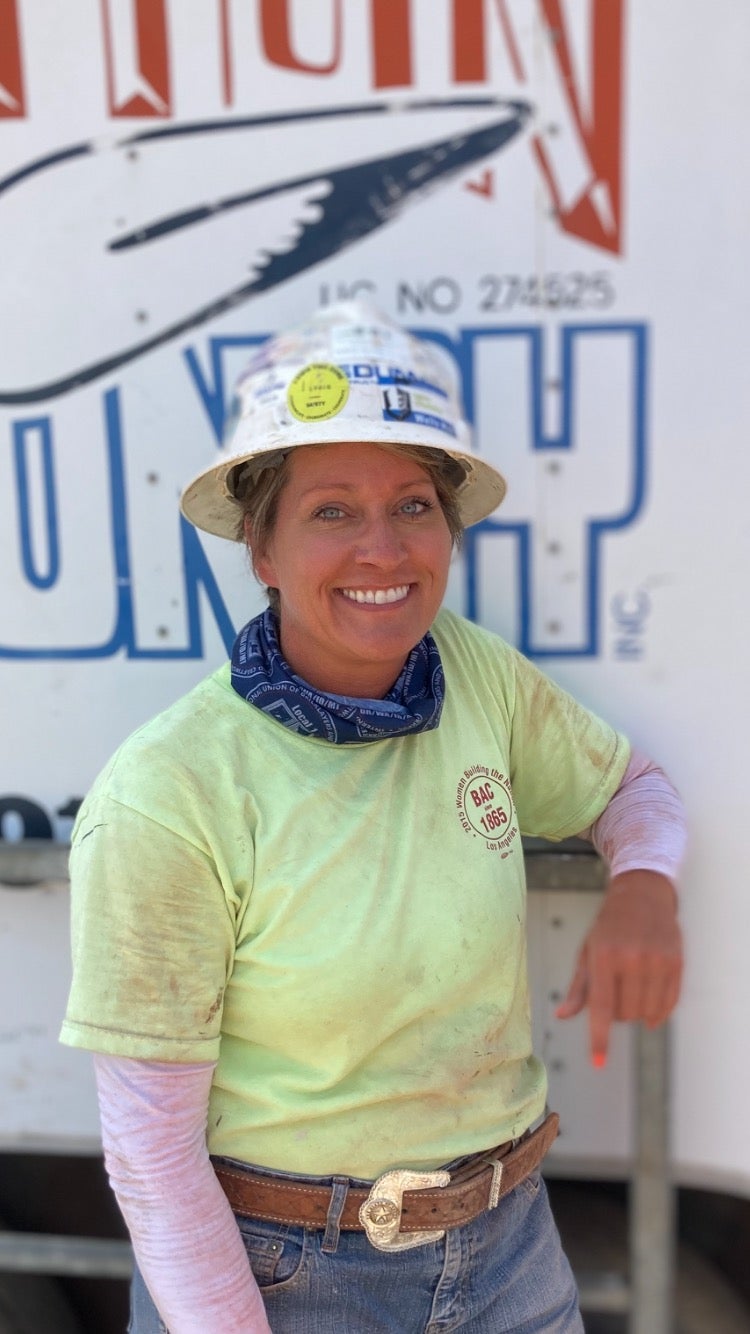 When Jana Ashton joined BAC almost 20 years ago, she had no idea this was going to be her lifelong career. She was a 26-year-old single mom of two young children, working in a lab seven days a week, and was desperate for a job with regular work hours. "Luckily, several people in my town where I grew up are bricklayers, so I called the Union Hall and a few months later, I joined the Union," says Ashton of Local 15 Missouri/Kansas/Nebraska. 
Ashton's luck did not stop there. At Local 15, she met supportive Local leaders, instructors, and BAC brothers and sisters, who helped her become a successful tradeswoman. "There are so many mentors throughout my career. Local 15 President Don Hunt, who was then Training Director, took me under his wings and made sure that I was treated right on the job," says Ashton. She was journeyed out in 2004, three years after graduating from her apprenticeship. 
In addition to bricklaying, she took advantage of BAC's training courses and equipped herself with skills in PCC and Refractory. Thanks to her multi-craft skills and BAC Job Network, she was able to work on a variety projects throughout the country. Her latest gig, as this BAC Journal goes to print, is building an elementary school in Prosser, Washington, where for the first time in her career, she was appointed by signatory contractor Bratton Masonry Inc. to serve as a foreperson on the job. 
"For more than 20 years working on the job, I am just in charge of it now," says Ashton who is excited about her new role as a foreperson. "I love it. They gave me a nice job with about 40,000 bricks. It's a big responsibility, but they trust me to do that because of my work ethics and years of training. I feel confident, proud and humbled at the same time." 
Her confidence in the trades and pride in her crafts was built through years of support from the Union. She was brought in as a judge for the 2015 Apprentice Contest by then IMI National Training Director Bob Arnold, who is now BAC Secretary-Treasurer. "Being asked to be a judge was such a great honor. It was unbelievable that I was given that opportunity to serve my Union," says Ashton. "Not only that, experience like going to the Women Build Nations conference and meeting other women on the same path with myself is very inspiring and empowering."
For more than six years, Ashton has been working with the Local and other sisters in the trades on Mentoring a Girl In Construction (MAGIC) Camp in Kansas City to help high school girls learn about different trades. By doing that, she hopes that more women would consider bricklaying as a career option. "I did not go to college, but I made the right decision for me and my kids who were only 6 and 8. My Union provides me with pensions, a health insurance, and a rewarding career. I would never walk away from that," says Ashton.