BAC Journal
>
BAC Applauds Passage of American Rescue Plan Act
BAC Applauds Passage of American Rescue Plan Act
2021 Issue 1
Legislative & Political
Calling it the "right response at the right time," BAC President Tim Driscoll praised the recently passed American Rescue Plan Act (ARPA). The new law includes aid for pension plans, a much-needed COBRA premium subsidy, an extension and expansion of unemployment insurance benefits, direct cash payments to households, and potential investments in infrastructure.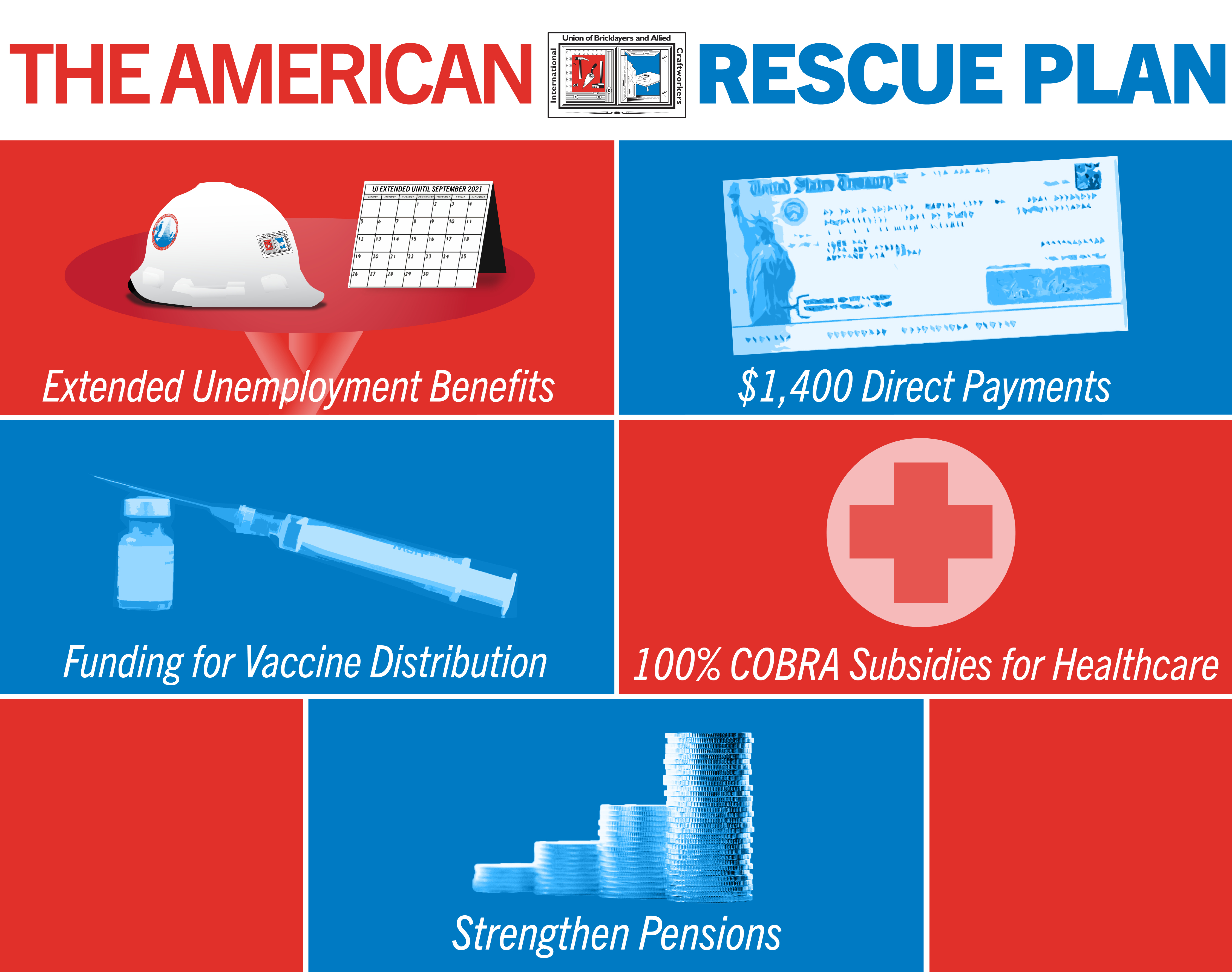 "For BAC Members and our Brothers and Sisters in the building trades, this bill passage means giving the essential workers, the working people who built this country and who keep this country going, a fighting chance," Driscoll says.
The $1.9 trillion COVID relief bill includes the Butch Lewis Emergency Pension Plan Relief Act of 2021, which will provide special financial assistance, in a single lump-sum payment, to certain underfunded multiemployer defined benefit pension plans to keep the promise of a secure retirement for those who have earned it.
Because millions of working people lost job-based healthcare coverage during the pandemic, ARPA creates a premium subsidy. The free six-month period of COBRA coverage is designed to help employees and their families who lost their group health plan coverage due to involuntary termination or reduced employment hours.
In addition, ARPA extends the unemployment benefits that were set to expire after March 14. Now, millions of Americans can continue to receive benefits through unemployment insurance programs through September 2021.
And there is more good news. The additional $10 billion for states under a new 'Coronavirus Capital Projects Fund' potentially provides investments in infrastructure. Meanwhile states, territories and tribal governments would receive $219.8 billion, while cities, counties and other localities would get $120.2 billion to potentially provide resources for local building projects. In addition, these funds can be used to repair and improve K-12 school facilities.
"It provides absolutely essential economic relief for American families, communities, and all working people," Driscoll says. "As we work to recover from the pandemic, BAC members stand ready to work with the Administration to rebuild our nation."