BAC Journal
>
BAC Applauds Passage of the Bipartisan Infrastructure Bill and Calls for Action on The Build Back Better Budget
BAC Applauds Passage of the Bipartisan Infrastructure Bill and Calls for Action on The Build Back Better Budget
2021 Issue 3
Legislative & Political
As this issue of the BAC Journal goes to press, Congress is debating the Infrastructure and Investment Jobs Act. This $1.2 trillion bipartisan infrastructure bill is a historic piece of legislation that would revitalize America's infrastructure and create at least 15 million jobs over a 10-year period.
But the infrastructure bill isn't all the investment that our country needs.
BAC President Tim Driscoll says that the passage of the infrastructure bill "is a good start, but we have a lot of work left to do. Roads, ports, bridges and airports are all critically important to infrastructure, but they're not enough because at the end of the day, those roads and bridges and planes must lead somewhere. They're there to get us to the services and amenities that our communities need to thrive — hospitals, housing, and public spaces that make our cities and towns great places to live. And rebuilding our hospitals, housing, and the like are exactly the priorities that are addressed in the Build Back Better budget package."
The Build Back Better bill also includes critically important investments in universal and free preschool, childcare, and improved home care for older Americans. Not only will these investments create work opportunities for BAC members, they will help working families across the nation balance their home and work life — help that will spur even more economic growth.
And while the exact language of the Build Back Better bill is still being finalized, it appears that it will expand Medicare to cover hearing benefits — which makes a big difference for our retirees — and may include some restoration of our union dues tax deduction, which was taken away by then-President Trump and the Republican Congress in 2017. Moreover, Build Back Better also includes financial penalties for employers who break our nation's labor laws when they resort to illegal tactics to fight against unionizing.
In short, the Build Back Better bill is just as important to BAC members as the infrastructure bill.
Build Back Better is building safer, cleaner, smarter, and healthier. "It means employing union workers who have the skills the training to make sure the job gets done right the first time. It means making sure the materials and components we use to build are made here in America. It means the opportunity to improve our built environment, while supporting communities with good paying infrastructure jobs, can't be sacrificed on some newfound alter of fiscal conservatism," President Driscoll said.
BAC urges Congress to listen to the American people and pass the Build Back Better budget, along with the infrastructure bill, now.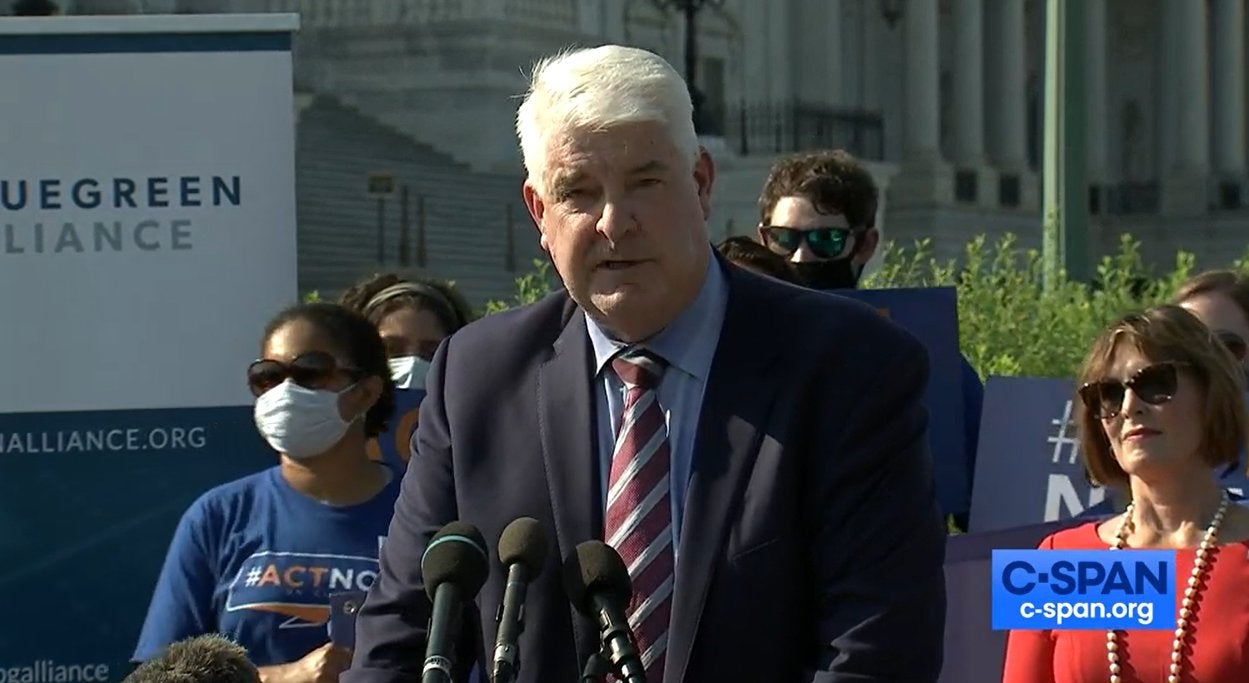 BAC President Tim Driscoll speaks at a news conference on August 26th to support the Reopen and Rebuild America's Schools Act and Build Back Better Budget.
IT IS TIME TO ADDRESS SCHOOL INFRASTRUCTURE
While the IIJA and Build Back Better legislation represent important investments in our infrastructure, and much needed help for middle-class families, Congress needs to act to address our crumbling school infrastructure.
Many of our over 10,000 public school buildings, which are on average 44 years old, are falling apart, with leaking roofs, peeling walls, poor air and water quality, mold, broken toilets and rodents. Over 1/3 of schools have portable trailers for classrooms. The American Society of Civil Engineers gives our school facilities a grade of D+.
The State of Our Schools 2021 report found an annual shortfall of $85 billion in school funding. Closing the gap is necessary to ensure all public schools meet modern standards of health, safety and more.
Now it is time for Congress to pass the Reopen and Rebuild America's Schools Act, put skilled union craftworkers to work, and begin to address our school infrastructure needs.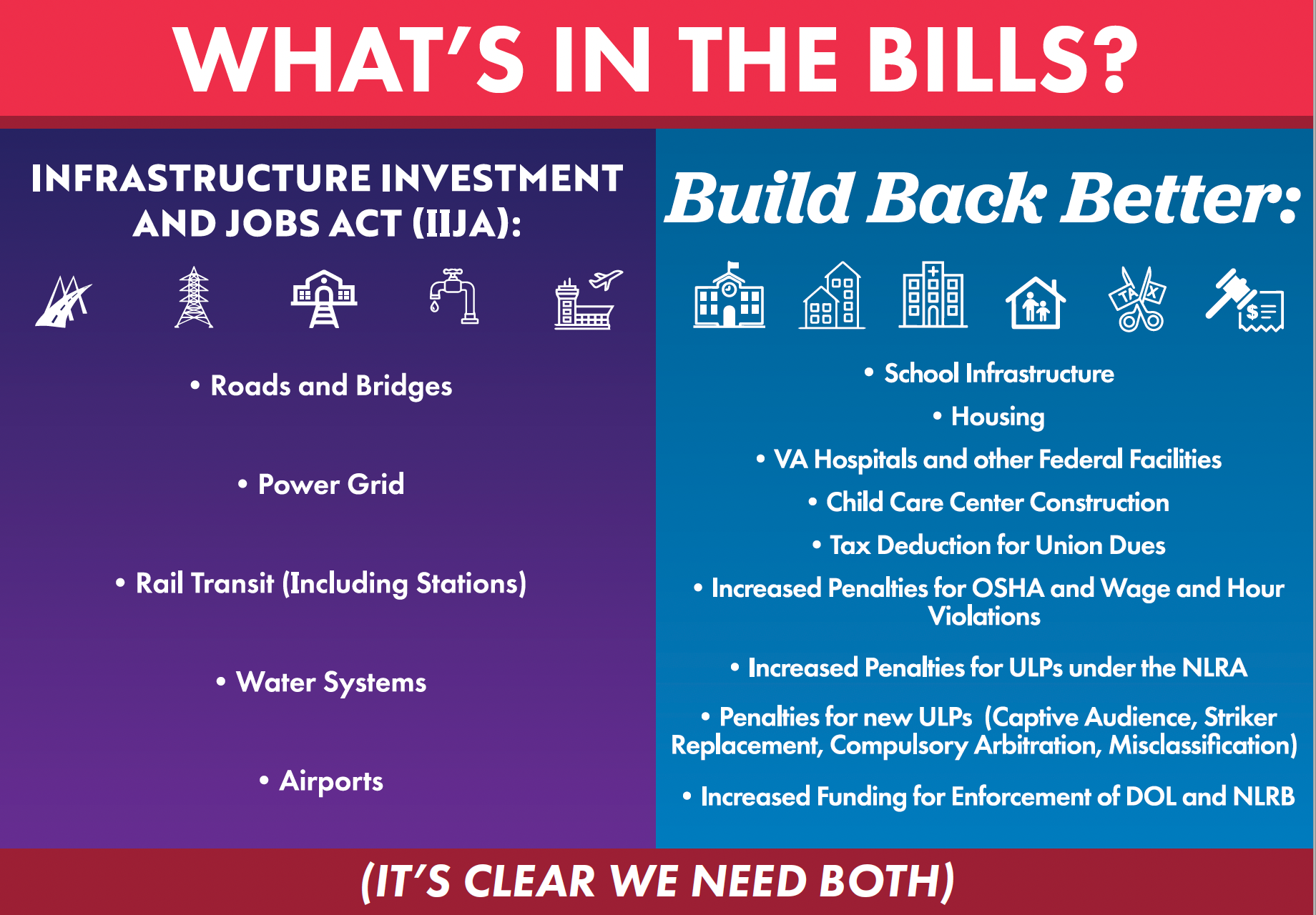 What is "Davis-Bacon," And Why Is It So Important to BAC Members?
If you read the BAC Journal or go to a union meeting, there's a good chance you'll hear something about "Davis-Bacon." But a lot of BAC members don't know what Davis-Bacon is — even though it affects almost every construction worker in the United States. Here's what you need to know:
The federal Davis-Bacon Act mandates payment of locally
THESE STATES HAVE "LITTLE DAVIS-BACON", OR STATE PREVAILING WAGE LAWS, REQUIRING PREVAILING WAGES ON STATE-FUNDED PROJECTS
+ Alaska
+ California
+ Colorado
+ Connecticut
+ DC
+ Delaware
+ Hawaii + Illinois
+ Maine
+ Maryland
+ Massachusetts
+ Minnesota
+ Missouri
+ Nebraska + Nevada
+ New Jersey
+ New Mexico
+ New York
+ Ohio
+ Oregon
+ Pennsylvania + Rhode Island
+ Texas
+ Vermont
+ Virginia
+ Washington
+ Wyoming
Some of these states use the Davis-Bacon rates to set their prevailing wage, and some set their own rates. Talk with your Local if you want more information on your state's prevailing wage law. prevailing wages on projects funded by the federal government.
If you've ever worked on a job funded by the federal government — even if it wasn't ultimately a "federal building" — you've been affected by the Davis-Bacon law.
In many areas, particularly where there are a lot of BAC members, Davis-Bacon means that contractors performing our trade's work on federally funded jobs must pay the local BAC rate, even if they're not union contractors.
That's good — because it means that non-union contractors can't underbid union contractors on federal jobs by paying cut-rate wages. And when union and non-union contractors go head-to-head on a level playing field, the quality of the union workforce makes the difference, and helps union contractors and craftworkers win the job.
In some areas, the "prevailing rate" is below the union rate — but even then, Davis-Bacon still sets a floor, so that BAC and our contractors know the minimum that our non-union competition is paying for labor.
In short, Davis-Bacon and state prevailing wage laws play a huge role in ensuring that union craftworkers get a fair shot at performing government work.
And that means that wages paid to local workers stay in the community. Without prevailing wage laws, more work goes to out-oftown contractors, and the wages paid are spent outside the local area. The taxes paid on Davis-Bacon wages support schools, public services such as those provided by police and firefighters, and a host of other essential community-based programs.
By using the area-standard prevailing wage rate, DavisBacon offers lifelong careers that provide fair pay and benefits to the local workforce.
Despite how much Davis-Bacon helps communities, greedy special interests are attempting to repeal state prevailing wage laws and change the way that federal Davis-Bacon rates are calculated.
That's why BAC takes Davis-Bacon and state prevailing wage laws so seriously, and why it's one of the first things we ask politicians about when they come to us for help. Any politician that opposes prevailing wage laws is no friend of union construction workers. //