BAC Journal
>
BAC Attracts More Women into the Trades
BAC Attracts More Women into the Trades
Thanks to legislation and large-scale initiatives, the number of women in the construction industry has been growing during the pandemic in Canada. Craig Strudwick, BAC Canada Regional Director, said, "Women are valued and treated equally in the building trades. We've seen more and more BAC sisters on jobsites across the country."
Since taking on a leadership role with her contractor, Angela Lee — a refractory member of BAC Local 1 Alberta has pushed to get more BAC women on the installation side of the game, instead of on the sidelines. Before transferring to Alberta, Lee was the first female journeyperson in Saskatchewan. Holding multiple certifications, she eventually moved up the ranks within Clayburn Refractory, a BAC signatory contractor. Today, she is a Quality Control Officer and foreperson on the Syncrude project in Fort McMurray, Alberta, one of the largest operators in Canada's oil sands industry.
"This year, I've seen many women on the job," Lee said. "It's amazing to see them shooting, laying brick, casting and ramming."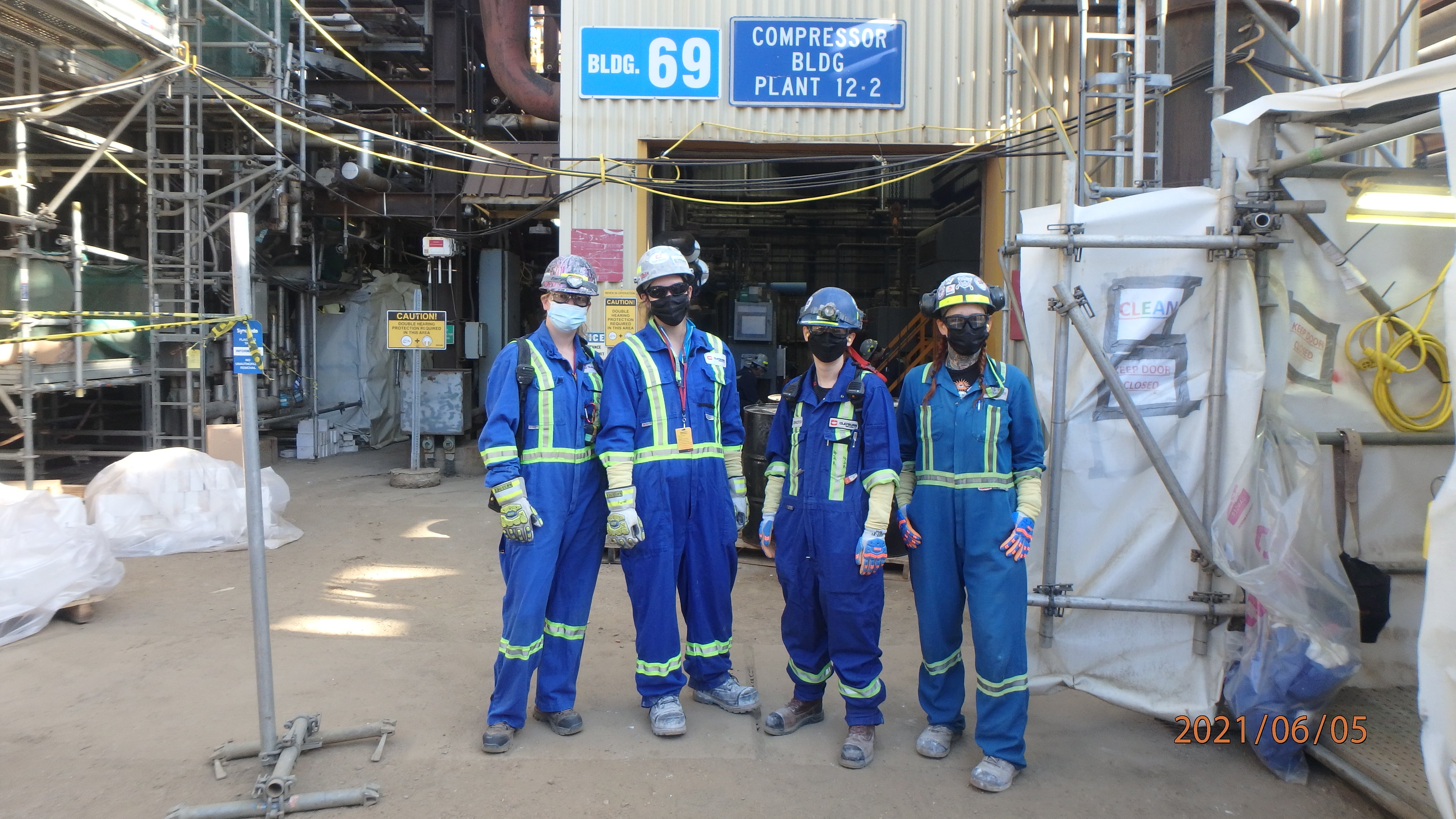 Working alongside Lee on the project are many BAC sisters who are passionate about refractory work and the Union. Take Jenna Lipinski and Kayla Greene, members of BAC Local 1 Saskatchewan, who have worked their way through the apprenticeship program to become journeypersons. While advancing their own careers, they continue to give back to the Union. Both are advocates for Canada's Build Together program in Saskatchewan and volunteers at the Local's Trya-Trades. They also volunteer at many high school programs to promote the building trades.
The project also provides learning opportunities for BAC women apprentices, which continues to boost their confidence in the trades. Holly Pardy, a third-year apprentice at BAC Local 1 Newfoundland and Labrador, recently joined the refractory and enrolled in a gunnite course at the Local's training center.
"With the help and support of a great co-worker and mentor, I was told that I should evolve my skills through the BAC/IMI training, which gave me the confidence I needed to go further," Pardy said. "I love being a nozzle-woman and working with everyone. Refractory is a demanding market and provides a rewarding career."
Derek Halldorson, President of Local 1 SK, is proud of the work these BAC sisters put into the job. "They all have received quality training from BAC's training programs. Their excellent performance on the job shows how valuable the training is for our members. I want to congratulate our sisters on their job performance and thank them for representing BAC on the jobsite. Keep up the good work."