BAC Journal
>
BAC Back Together in Boston
BAC Back Together in Boston
BAC delegates from across the US and Canada gathered in Boston, Massachusetts this past September for the BAC 2022 Special Convention, the first in-person Convention since 2015. Delegates were eager to engage, deliberate, and formulate policies in a way that the online 2020 Convention (caused by the Covid-19 pandemic) was unable to accommodate.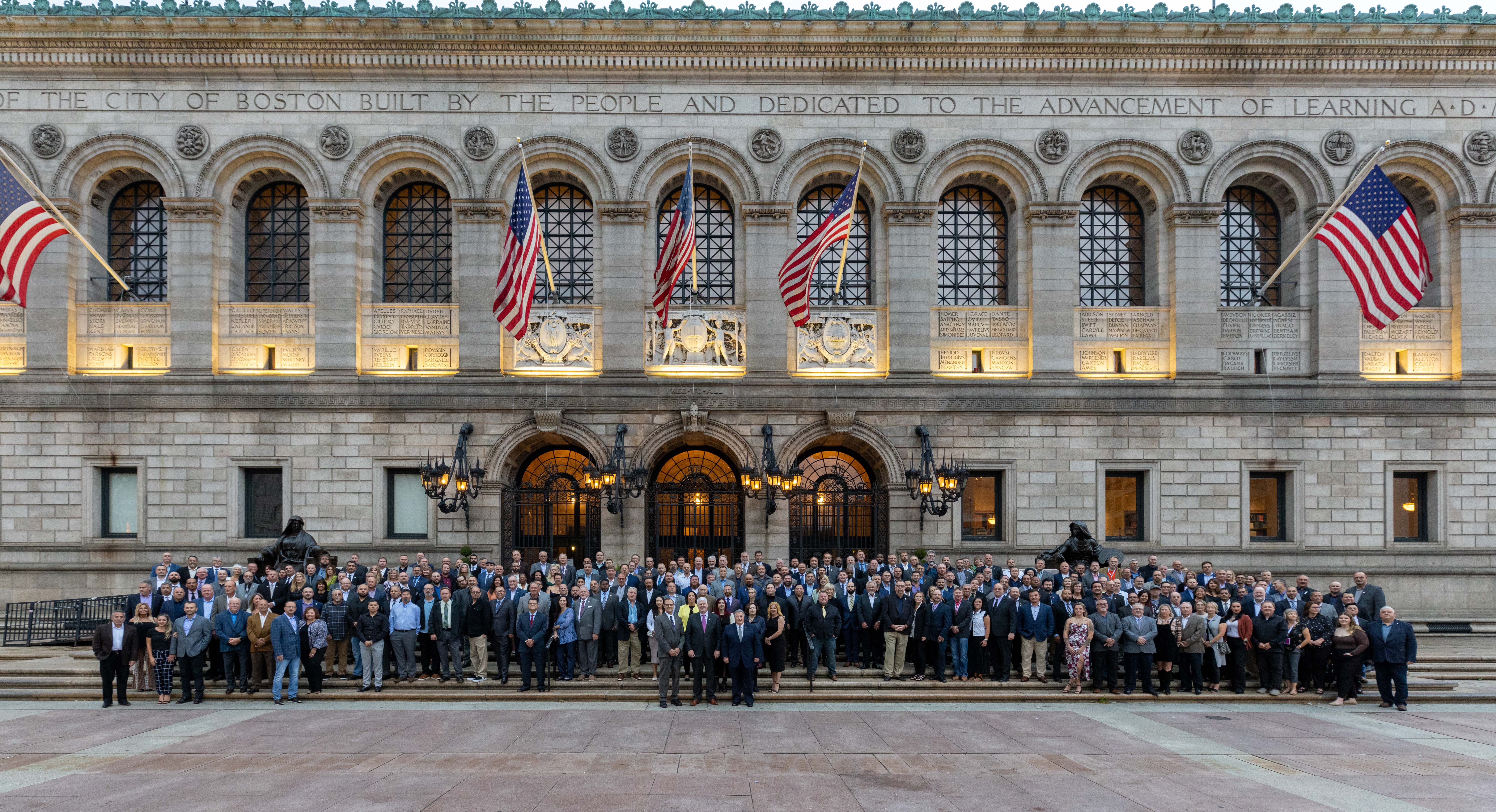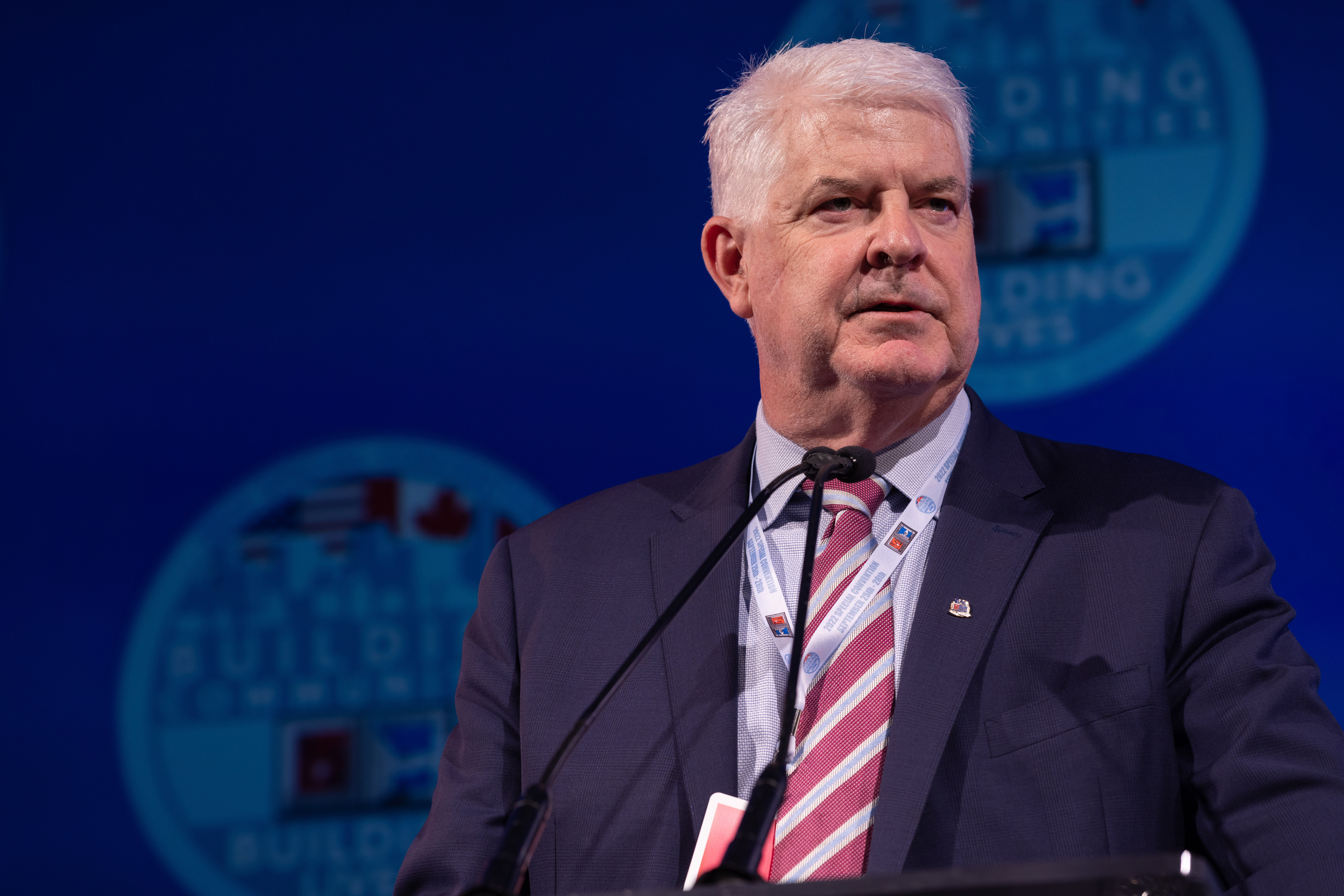 "I'm excited about being back together with everyone from across North America again. Since COVID, we have not really been able to do that," Executive Vice President of host Local 3 Massachusetts/Maine/New Hampshire/Rhode Island Charles Raso II said. "It is an honor to be hosting this Convention in Boston."
"It's always good to come back and collaborate with other labor leaders," added Local 1 Minnesota/North Dakota/South Dakota President Doug Schroeder. "Local union leaders face many of the same challenges across our jurisdictions and the convention provided us an opportunity to exchange ideas, explore new tactics and strategies on how to better represent the interests of BAC members in each of our local unions."
President Tim Driscoll echoed those sentiments in his keynote address, "We meet this week in a Special Convention to plot BAC's path towards growth and the greater bargaining power that it delivers," President Driscoll explained. "Unemployment is low, we have elected officials attuned to our cause, public sentiment for unions is strong, and workers across all industries are rightfully demanding more.
"Quite simply, there has never been a better time in the last 60 years to organize and build union power," President Driscoll continued. "Now is the time for BAC to push our chips into the center of the table and bet on our ability to grow."
LABOR ALLIES HIGHLIGHT VICTORIES FOR WORKING PEOPLE & ORGANIZING OPPORTUNITIES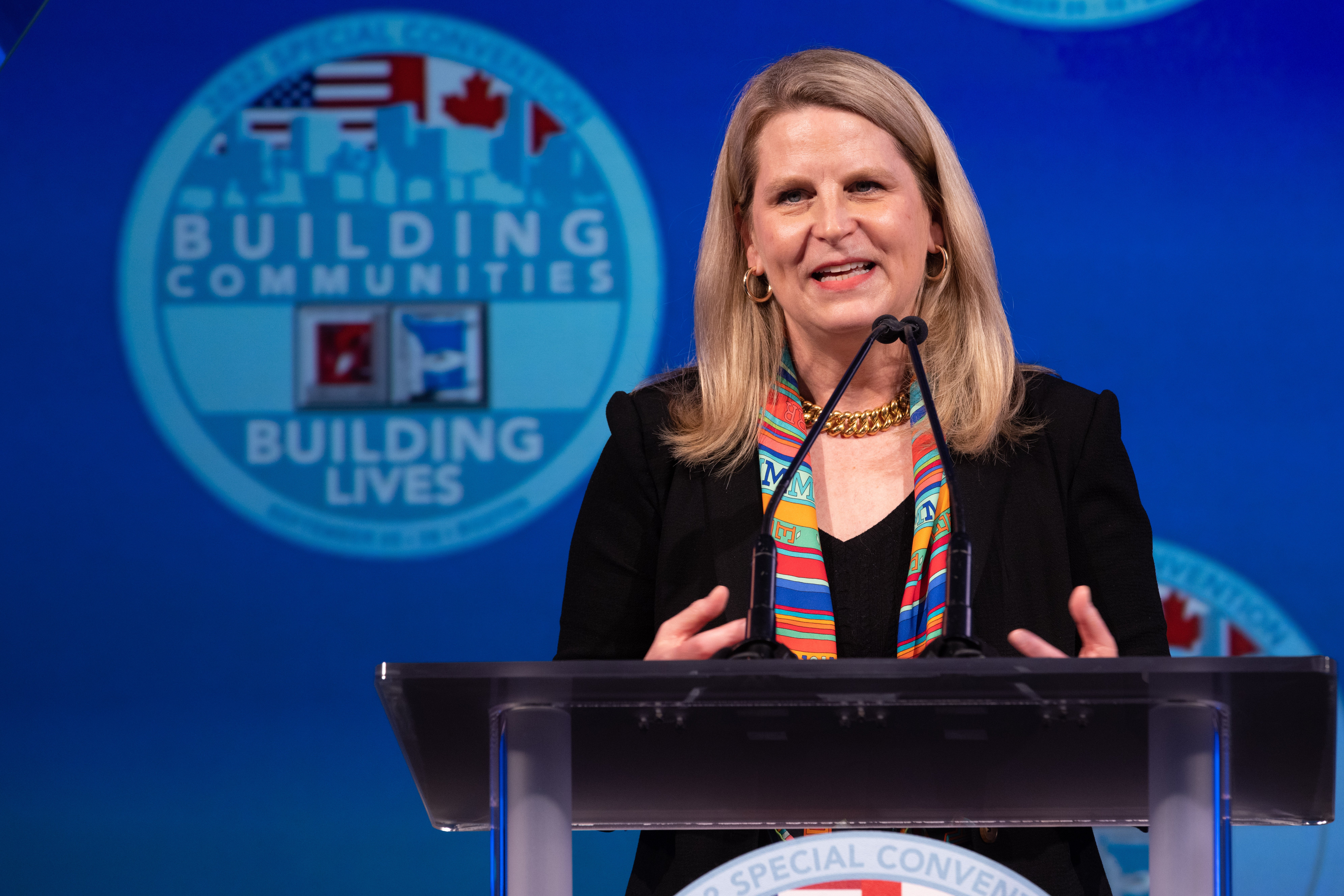 Labor leaders from across North America came to Boston to share their experiences and encouragement, including officers of the American Federation of Labor — Congress of Industrial Organizations (AFL-CIO), North America's Building Trades Unions (NATBU), Canada's Building Trades Unions (CBTU), and the California AFL-CIO. 
AFL-CIO President Liz Shuler fired up Convention delegates and guests, highlighting organizing victories and opportunities. Emphasizing the current high approval rating of unions and organizing momentum — citing recent BAC organizing victories — she expressed that, "organizing has to be our number one priority. It has to be at the heart of everything we do."
President Shuler went on to speak about the importance of recruiting women, people of color, immigrants, and young people. "Organizing and recruiting new people is how we can change and
shape the future of our workforce," she remarked.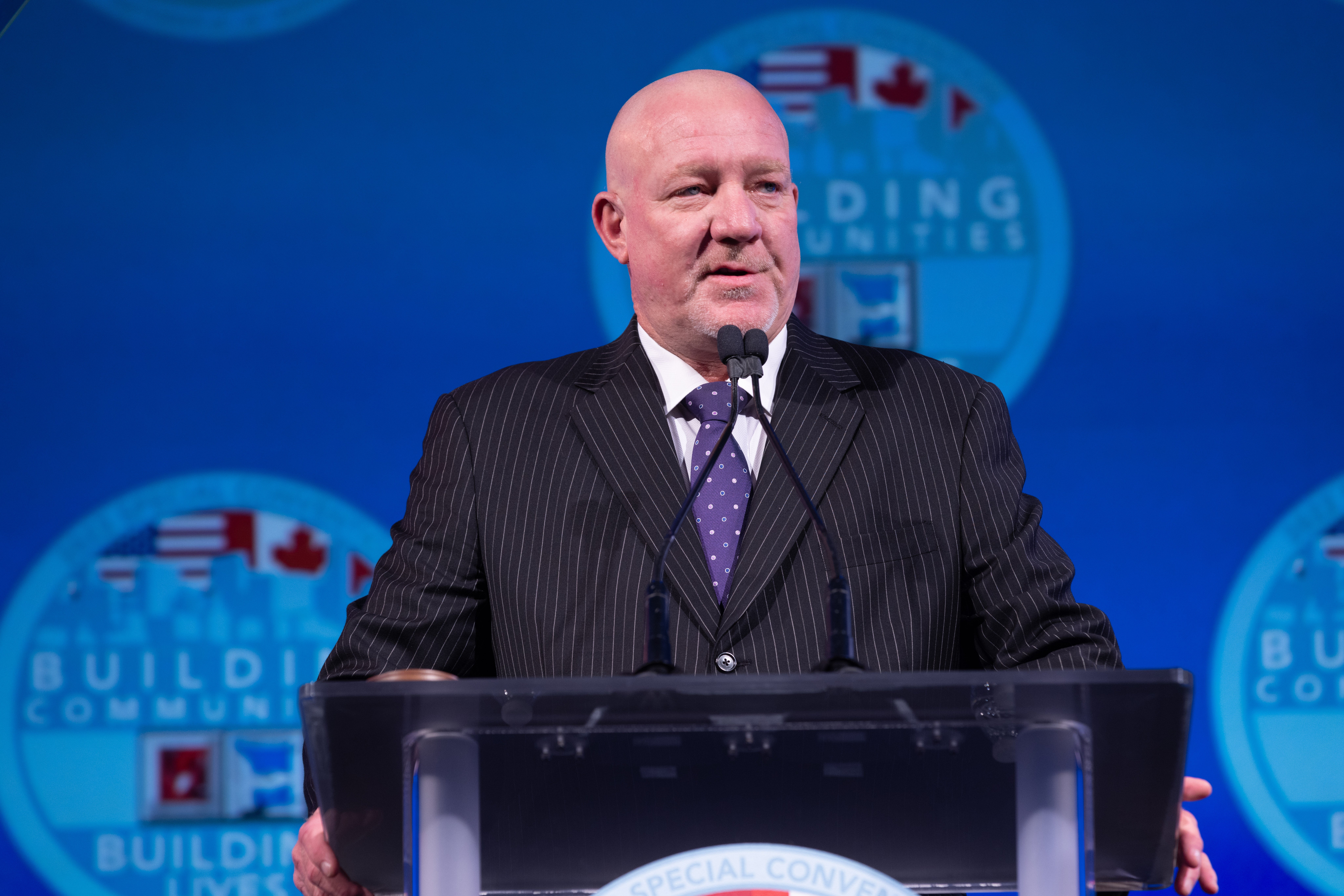 NABTU President Sean McGarvey addressed the Convention on Monday afternoon. He noted that while the last several years have brought unprecedented challenges, they have also led to an unparalleled opportunity to demonstrate the true value of the building trades throughout North America.
He reiterated the importance of organizing non-union workers and contractors. "It is a great time to be a union, a union member, and a union contractor. We have created the opportunity of a lifetime and we have built the relationships needed to capitalize on public and private opportunities, but there is a responsibility on our side as well," McGarvey stated. "We can and must seize this moment. We must build communities and build lives through the middle-class, family-sustaining careers that our unions offer."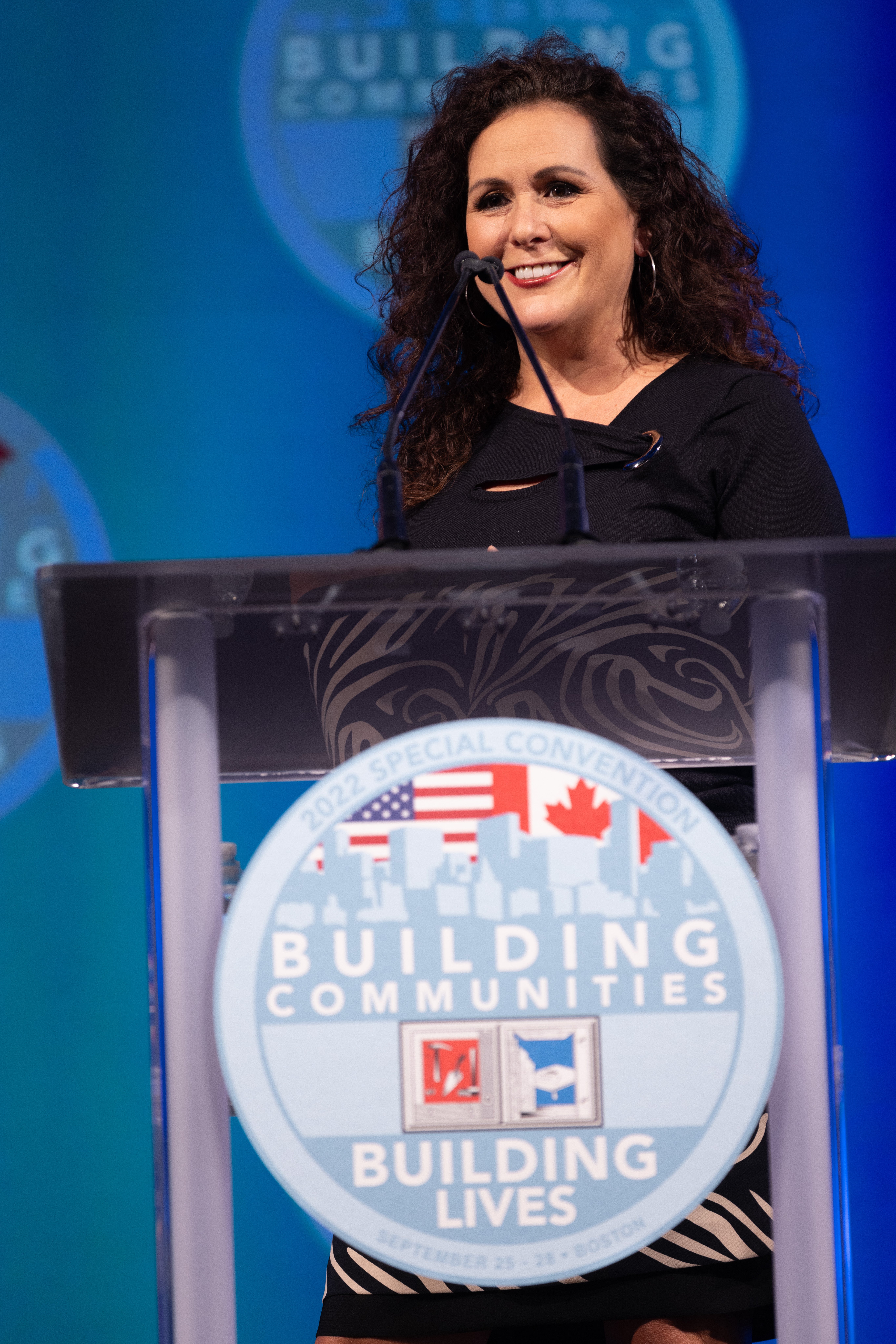 CBTU Executive Director Sean Strickland spoke to the delegates and guests about many of the legislative and membership opportunities that Canadian unions are seeing across the country. "Our commonalities outnumber our difference, especially when it comes to fighting for working people," he said, speaking to the members from the United States. "We're tied economically, we're tied socially, and it's important for us to work together to continue to provide good working opportunities for the men and women of the building trades together. Just like the theme of your conference, we're building communities and building lives."
Lorena Gonzalez Fletcher, Executive Secretary-Treasurer of the California Labor Federation, AFL-CIO, addressed the Convention Wednesday afternoon, Sept. 28. She stressed that it's not
enough to just pass laws that protect working families – they need to be enforced. She emphasized that the labor movement has to be accessible to workers, whether it's on social media or in their workplace. "We have to meet workers where they are," she remarked.
PRO-LABOR ADMINISTRATION ADDRESSES DELEGATION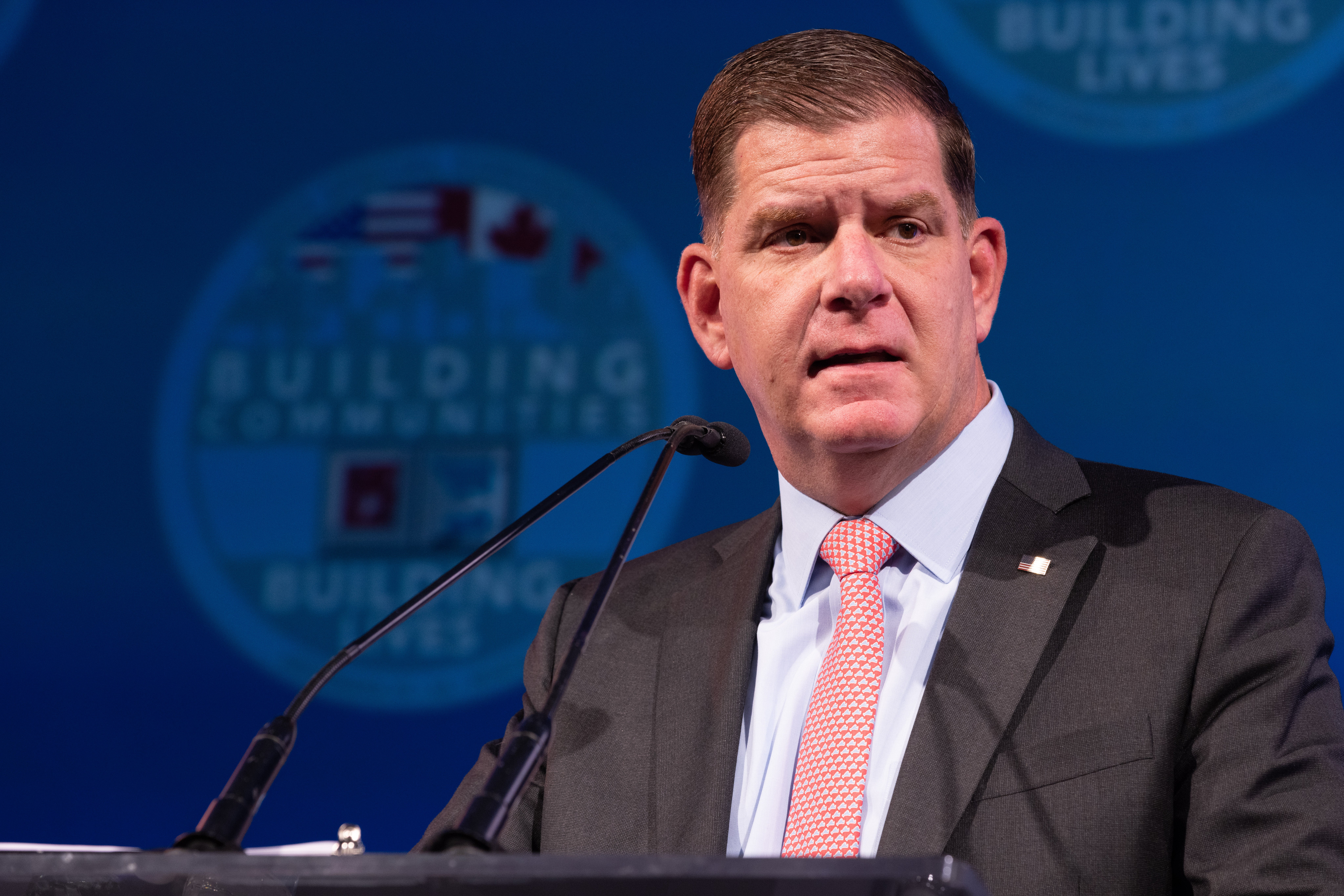 On Wednesday Sept. 28, after a video message from US President Joseph Biden, Secretary of Labor Marty Walsh — a union construction laborer from Boston — delivered a passionate address worthy of his true trade unionist roots.
Secretary Walsh recounted the bold progress for unions that the Biden Administration has achieved to date, including the American Rescue Plan (a bill that preserved the retirement security of hundreds of thousands of workers including more than a thousand BAC members in New York and Ohio), Infrastructure Investment & Jobs Act that will create tens of thousands of construction jobs, the use of project labor agreements on federal projects, and the Inflation Reduction Act, ensuring that clean energy projects seeking public financing will benefit from prevailing wage and apprenticeship standards. 
"Hundreds of multi-employer pension plans were under-funded. Many were at risk of going under. Some had already started to cut benefit payments," Secretary Walsh explained. "This President said, 'that cannot happen in the United States of America.' He made sure those pensions got funded and those benefits are protected. As Labor Secretary, I oversee that plan and
I can tell you: we are fully funding multi-employer pension benefits through 2051. And no one can take that away!"
Secretary Walsh next discussed what the Labor Department is doing to help working people. "We are expanding our capacity," he said, "to protect health and safety on the job, crack down on wage theft and discrimination, invest in registered apprenticeships and union partnerships,
and expand programs for veterans and rural workers… We are working all across this government to take down the barriers to worker organizing. We are making it clear that it is the workers' choice — and the workers' choice alone — to form a union."
LEGISLATORS PLEDGE SUPPORT TO BAC
Many local and federal legislators came on to speak to the 2022 BAC Special Convention delegates and guests. They all pledged their support for the labor movement and BAC, many citing recent worker victories in Washington, D.C., and what can be done with a legislative body that will proactively fight for working families.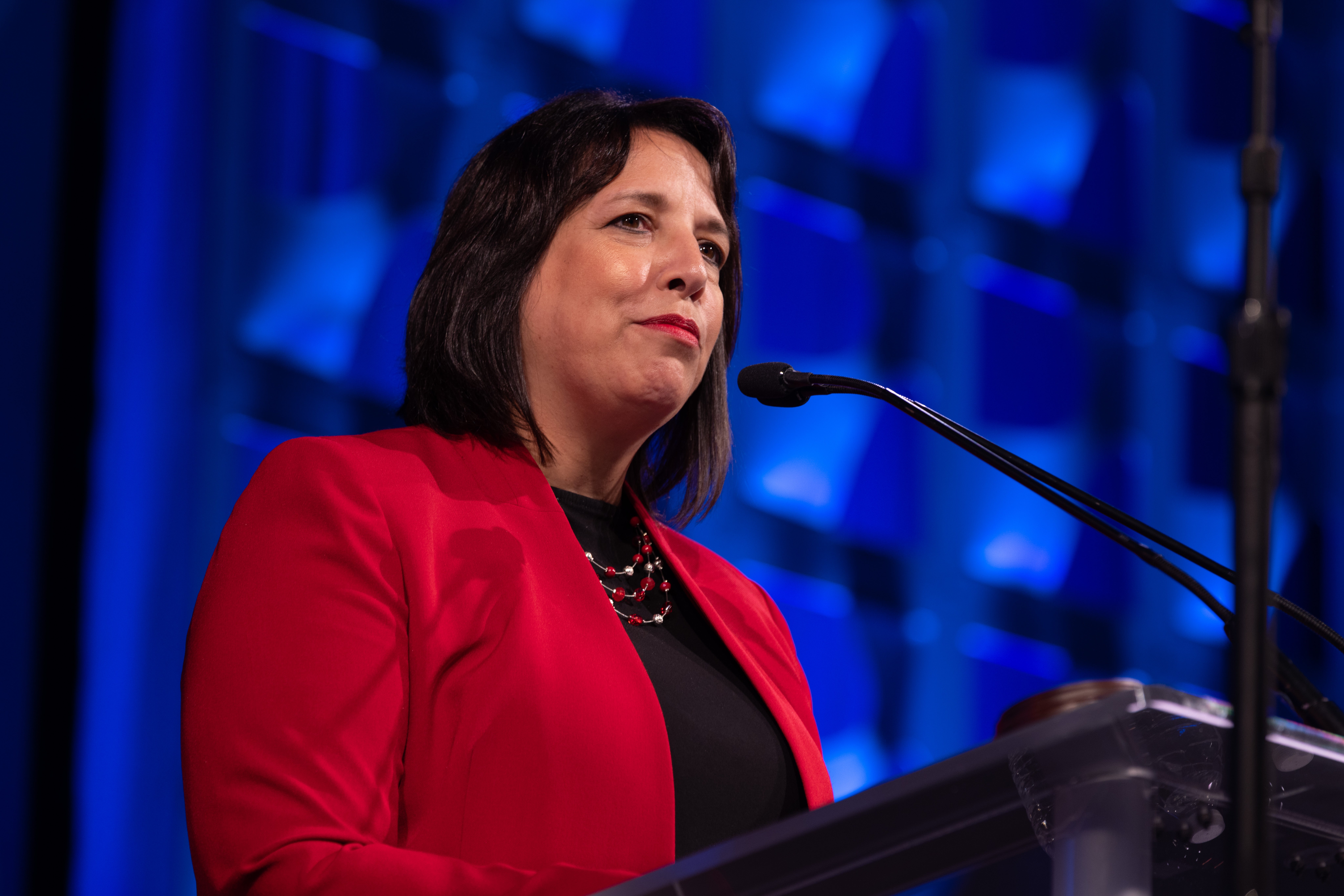 The Convention opened with Mayor Michelle Wu welcoming the delegation to Boston. Later in the morning, Salem Mayor (and now, since the November election, Lieutenant Governor-Elect of Massachusetts) Kim Driscoll spoke to the delegates, "I'm the proud wife of Local 3 bricklayer… a 25-year member. He gets up early every day, and comes home after a long day –
grateful for what he does."
Mayor Driscoll recognized the role of good union jobs in combating the rising income inequality
in Massachusetts and the nation at large. "While there is a role for our state to play in meeting the workforce gap, we know we'll need strong labor leaders at the table," she said. "Building apprenticeship programs, recruiting new members, and working with us to share our workforce and development programs. We've seen a resurgence in the interest of skilled labor [as a career]. Everyone wants to be part of the 'best hands in the business' club."
Delegates heard from members of Congress who have strong ties to working families, including
Representative Lori Trahan (D-MA-03), whose father was an ironworker, and Representative
Brian Higgins (D-NY-26), whose father was a leader of BAC in Western New York.
"It's not banks or Wall Street that built America," Rep. Higgins said. "It's the middle-class that
build America, and unions build the middle-class. Bricklayers built America and built the guts of
this nation."
"We passed the American Rescue Plan to save workers' pensions and ensure they can retire
with confidence they earned through a lifetime of hard work," Rep. Trahan said. "There's a hell of a lot more work to do, not just to protect workers' rights, but strengthen them."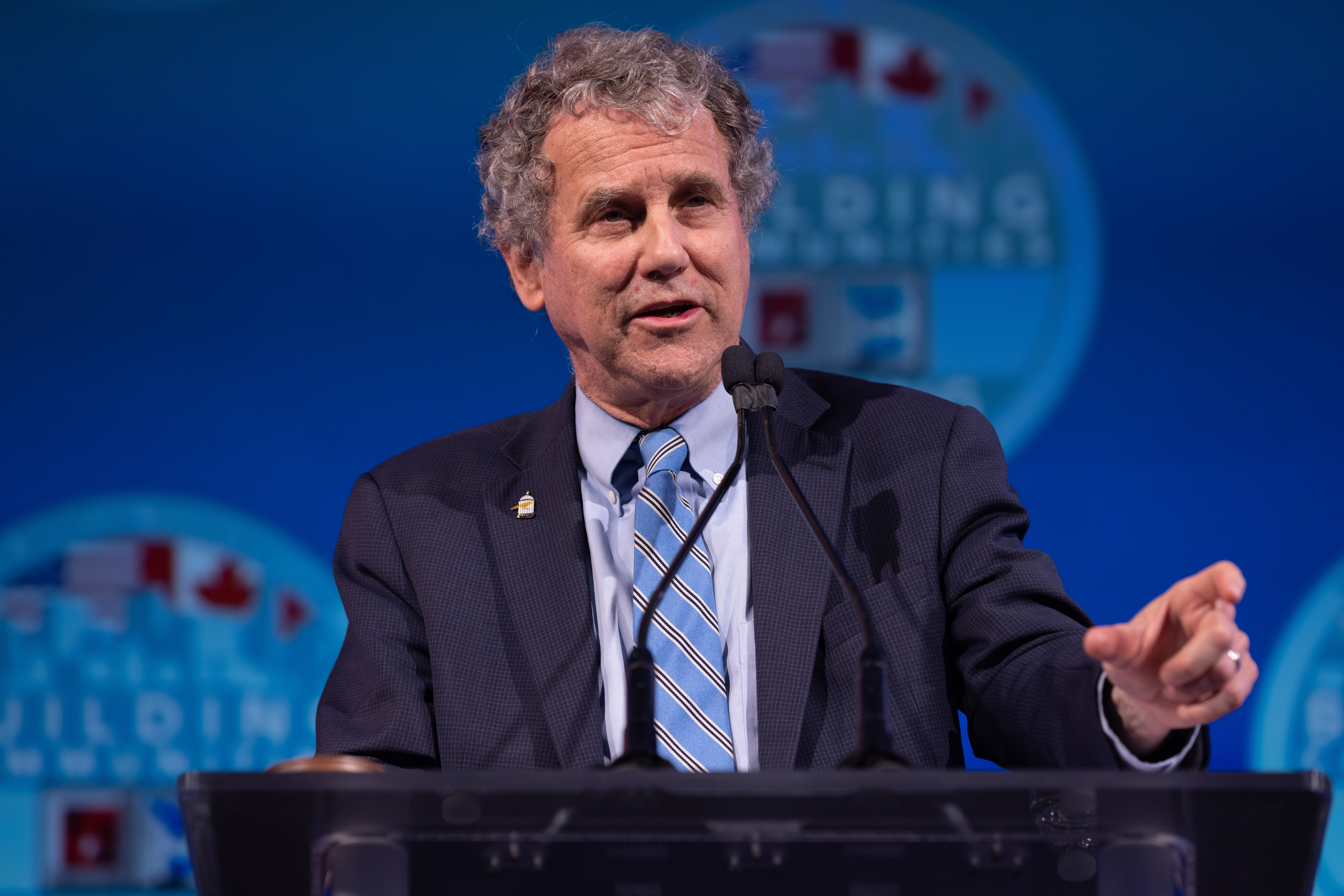 Long-time labor champion Senator Sherrod Brown (D-OH) also addressed the delegation. "We are finally seeing what it looks like to have a government on the side of workers," he said, speaking of experiences at the White House and the positive way President Biden regularly speaks of unions. He outlined the value in having a Department of Labor and National Labor Relations Board lead by people who are unionists, and who understand that government needs to work for workers, not corporations.
"When you love this country, you fight for the people who make it work. That is what you do every day," he concluded. "We all have to show this country when you fight for workers you win."
DELEGATES COMMIT TO BUILD BAC
Throughout the Convention, delegates committed to growing BAC, adopting numerous resolutions to guide that work. Key initiatives embraced by the Convention included recruiting and retaining a diverse, younger workforce, working to strengthen apprenticeship programs, and organizing in immigrant and other underserved communities.
Convention Resolution 9, adopted unanimously by the delegates, focused on expanding inclusivity efforts adopted by IMTEF, local unions, training programs, and contractors. These include increasing access to multilingual training materials, eliminating jobsite rules and policies that favor English over other languages, and removing some barriers to apprentice program entry. The resolution also challenged BAC locals and district councils to recognize the untapped potential of women, who represent 50% of the total workforce in both the United States and Canada, but less than 5% of the construction workforce. Programs like IMTEF's maternity disability benefit and its Women's Leadership Conference represent important steps towards making the trades more welcoming to women.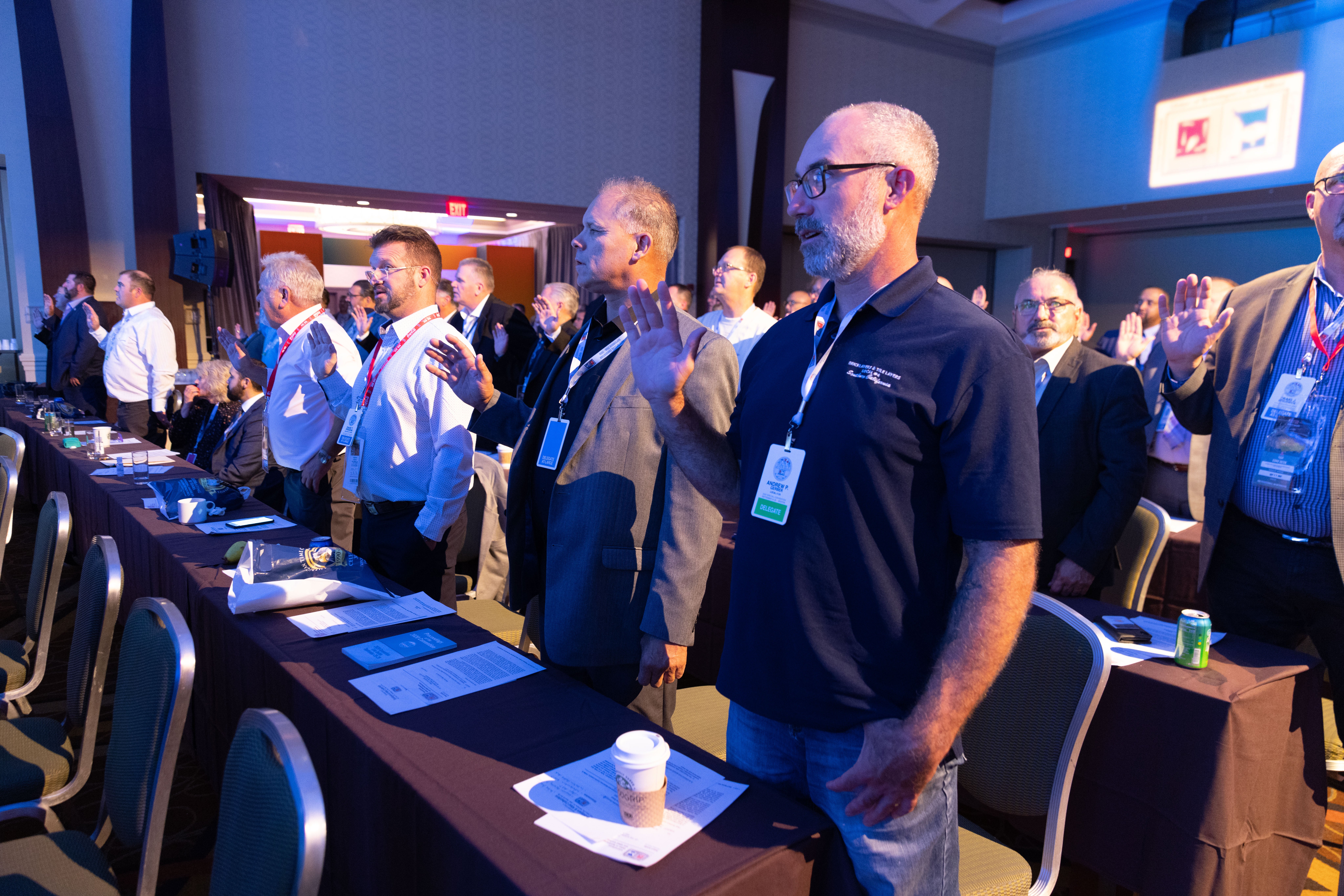 Another source of prospective BAC members is Helmets to Hardhats, which connects transitioning military servicemembers to careers in construction. Convention Resolution
10 called on BAC training programs to include Veteran Direct Entry Programs into their apprenticeship standards, consistent with the National Guideline Standards.
Of course, to retain new recruits, BAC must continue to change the job site culture and encourage journeyworkers to help mentor the next generation of craftworkers. Convention Resolution 11 encouraged widespread adoption of IMTEF's Mentorship Matters course to help apprentices and journeyworkers effectively communicate and work with one another to better teach and learn the skills of the trade.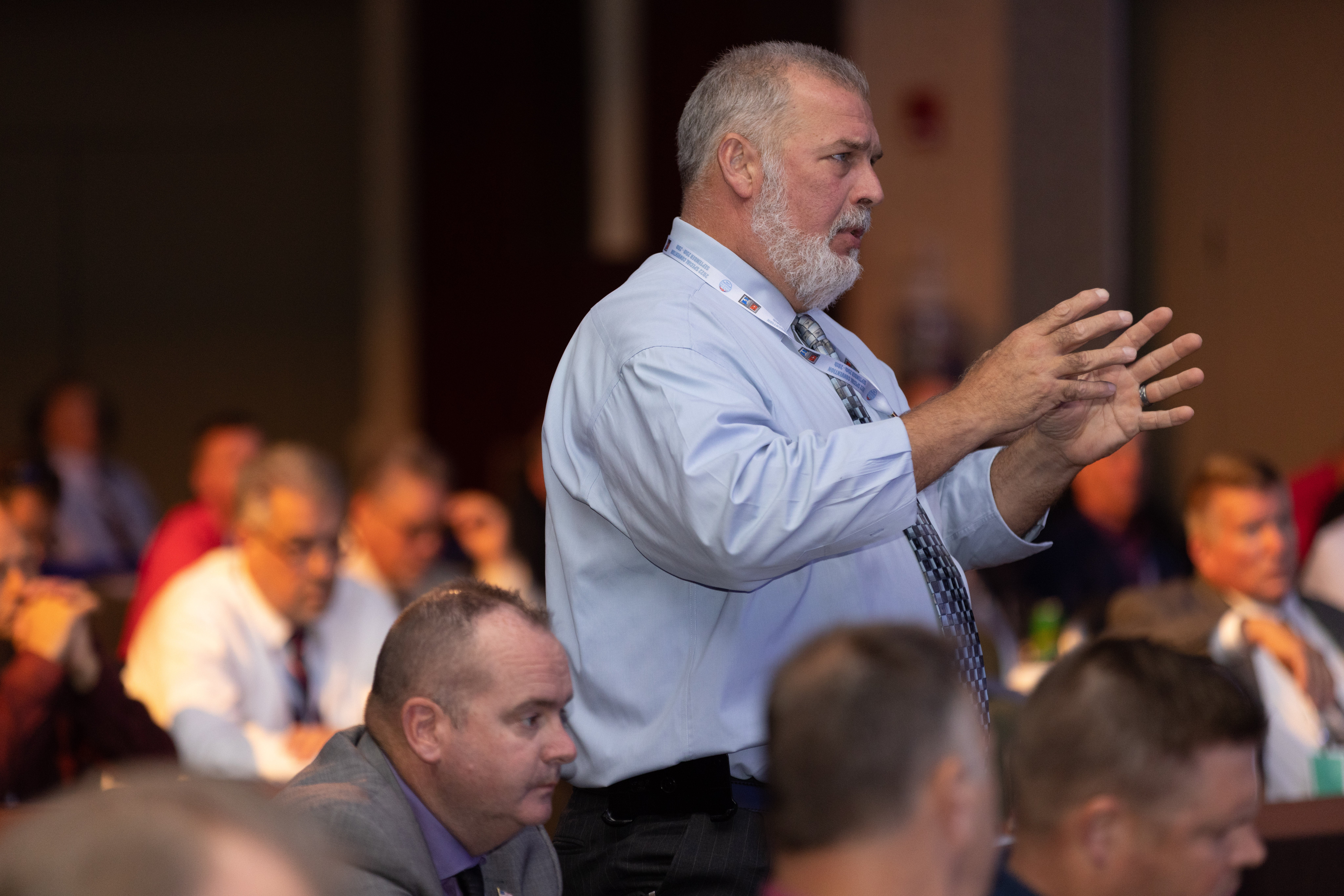 Resolution No. 48 called on BAC's continued support of and advocacy for immigration reform – to denounce those who use demagoguery, fear, and hateful rhetoric to divide workers – and commended the Biden Administration's efforts to focus its resources on unscrupulous employers, rather than punishing the workers they exploit. The Resolution also called on BAC to continue to expand its efforts to connect those who seek assistance in obtaining legal work status or naturalization with the resources they need.
Together, these and the many other resolutions passed will ensure that BAC and its apprenticeship programs continue to develop qualified, safe craftworkers who can command
the wage and carry the masonry crafts into the future.