BAC Journal
>
BAC Craftworkers Help Create the Salesforce Transit Center Grand Hall's Secret Garden
BAC Craftworkers Help Create the Salesforce Transit Center Grand Hall's Secret Garden
2020 Issue 2
Members at Work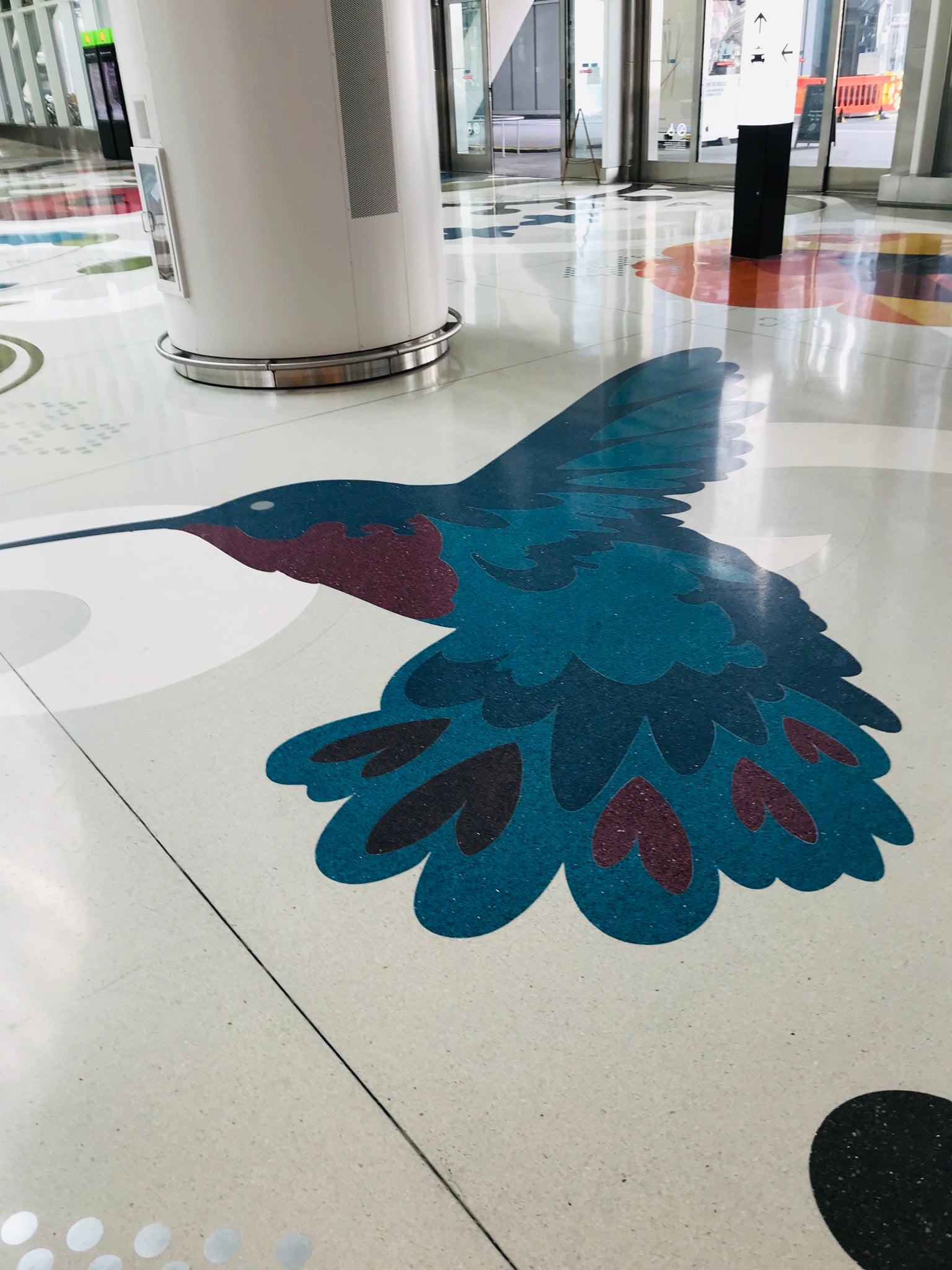 Sixteen colors. Three hundred and seventy-five waterjet-cut elements of brass and zinc. Five water-jet cut zinc "Japanese Clouds" and 248 sets of water-jet cut zinc "Diamond Dots." A joyful collection of hummingbirds, poppies, 111 insects made of water-jet brass, and abstract shapes that had to complement the scale and architectural elements of the space. That was the vision local San Francisco artist Julie Chang had for the Salesforce Transit Center Grand Hall.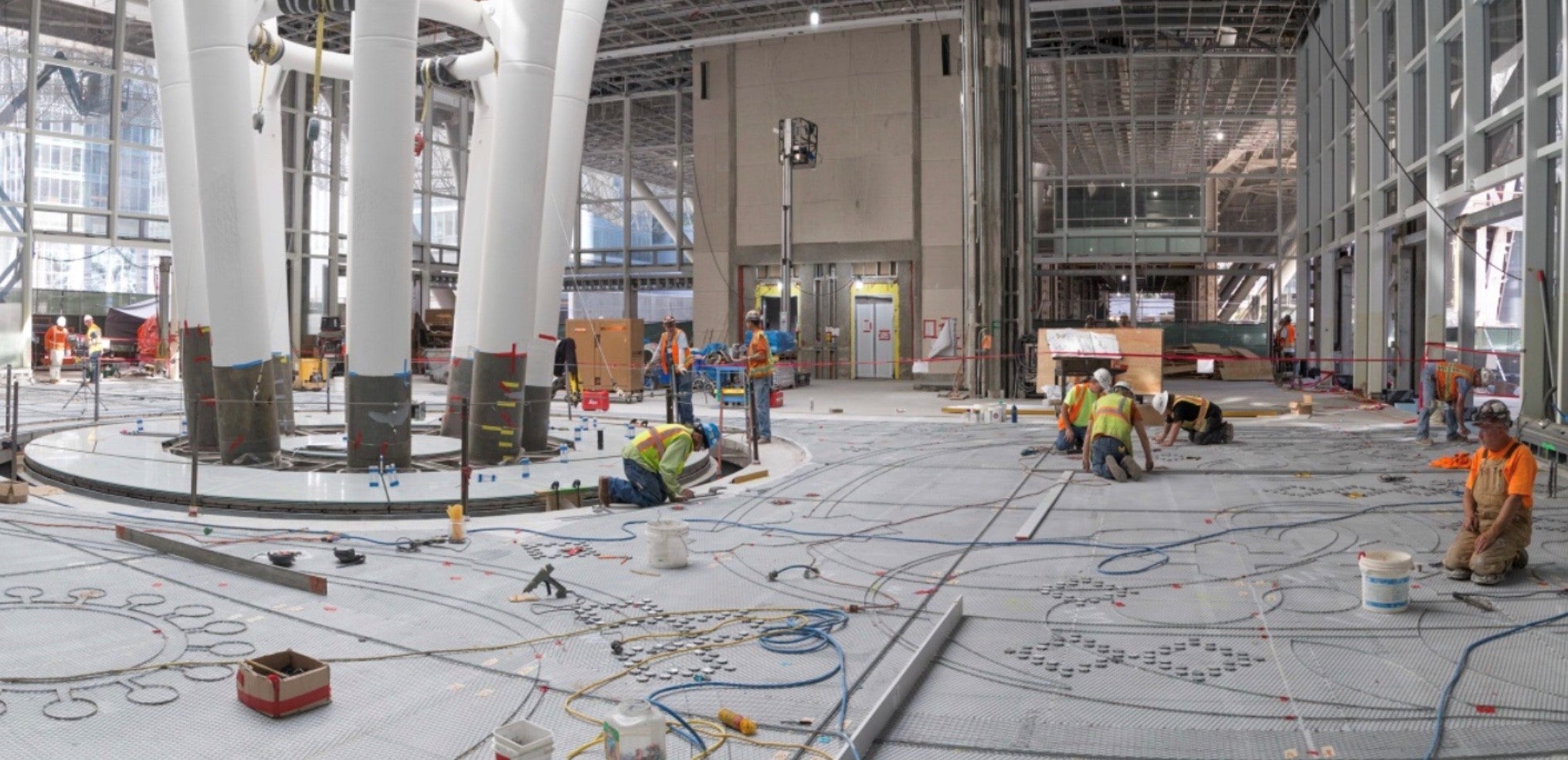 Ten years in the making, the 24,000-square-foot Grand Hall houses an exceptionally intricate public art installation in terrazzo. Chang's vision, known as the Secret Garden, was brought to life by BAC Local 3 Northern California signatory contractor Associated Terrazzo and its exceptional BAC craftworkers.
Master Terrazzo Mechanic, BAC member and project foreman Dan Danielson, along with Associated Terrazzo co-owner Scott Rocha, worked closely with Chang to transform her computer screen vision to an old-world art of terrazzo reality. With 30 years in the trade, Danielson has worked on a number of high-profile projects, including the San Francisco International Airport, Disney Museum, Apple 2 campus, and many more. It is no wonder his co-workers call him "the Godfather of Terrazzo." 
The project, recognized by the National Terrazzo and Mosaic Association as the "2019 Job of the Year," was a master undertaking featuring various challenges. Some of the issues included an out of level slab, multiple architectural layout points, 375 waterjet-cut accent elements in multiple metal types that required exceptional care to polish to perfection and damaged shipments of custom materials.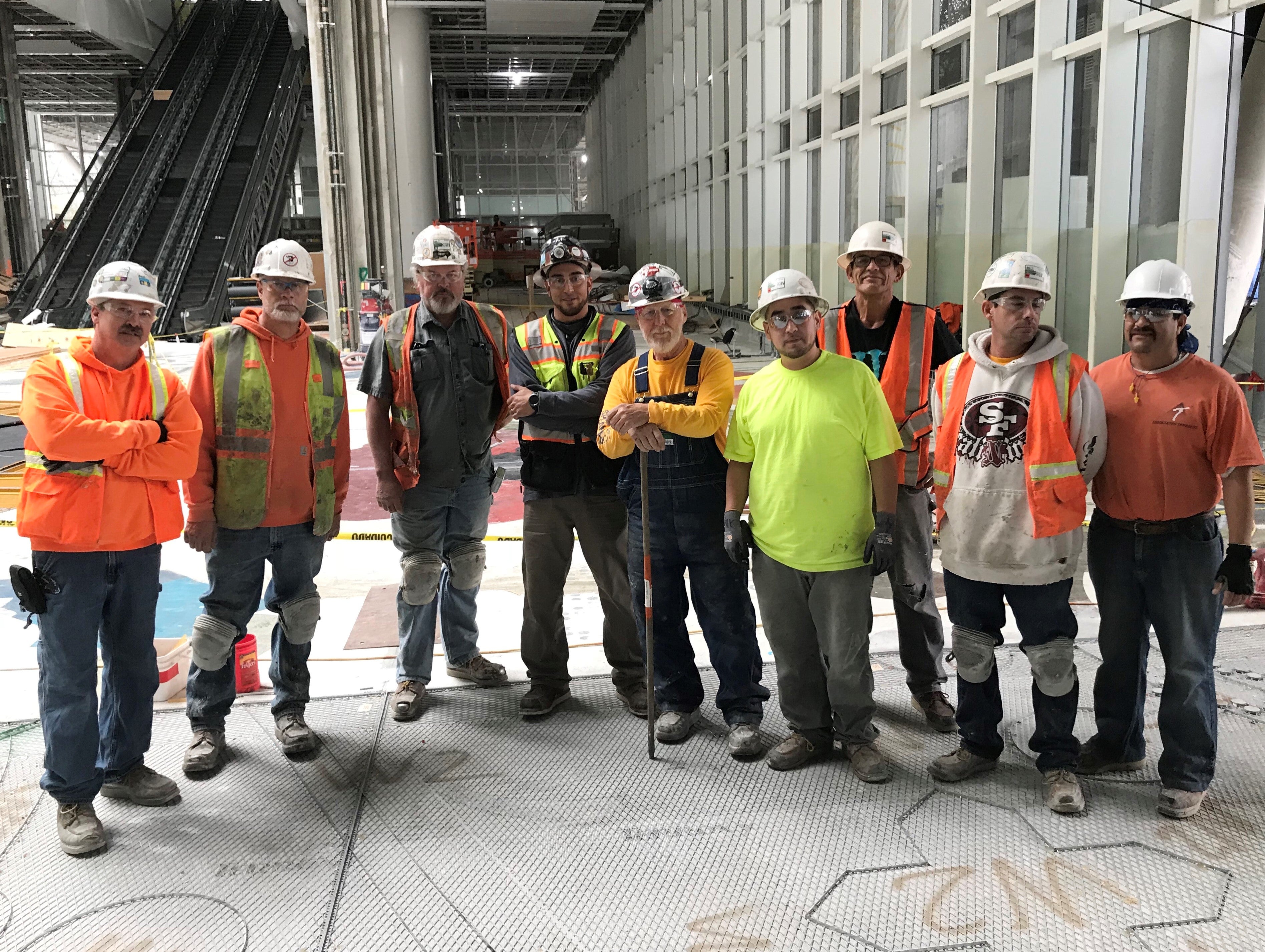 In addition, the floor's design and installation had to take into account a second phase of construction, in which large structural slabs were removed to install escalators that provided access to projected commuter and high-speed rail. 
Along with the Grand Hall installation, another 6,000 square feet of single-color epoxy terrazzo flooring was installed in five different areas of the building at the same time, including five staircases of precast terrazzo and 11 elevator cab floors. When installers were asked to expedite the six-month installation schedule, they trimmed a month off and increased the quality of the bent divider strip patterns by pre-fabricating the divider strips on panels, many as large as 11 feet x 17 feet, which had to be aligned on the construction site.
"Danny was my helper back in the day, but it is a case of the pupil surpassing the teacher," says BAC member and journeyperson terrazzo mechanic Ben Stout, who has logged nearly 50 years in the business. "He is an artist at everything he touches. I believe the best mechanic in northern California."
Danielson says his team used 16 different colors to bring to life Chang's conceptual design. He says he prefers that the luster can be achieved with a traditional cementitious terrazzo, but for a project like Transbay, there was no doubt there were more colors with far more brilliance with modern epoxy terrazzo.
"When epoxy came on the scene with all the vibrant colors, I knew the craft was going to change; the colors are a crowd pleaser," says Eric Underwood, BAC member and lead terrazzo finisher. "Danny is a shining jewel in our trade. Even our boss Scott Rocha cannot say enough about him."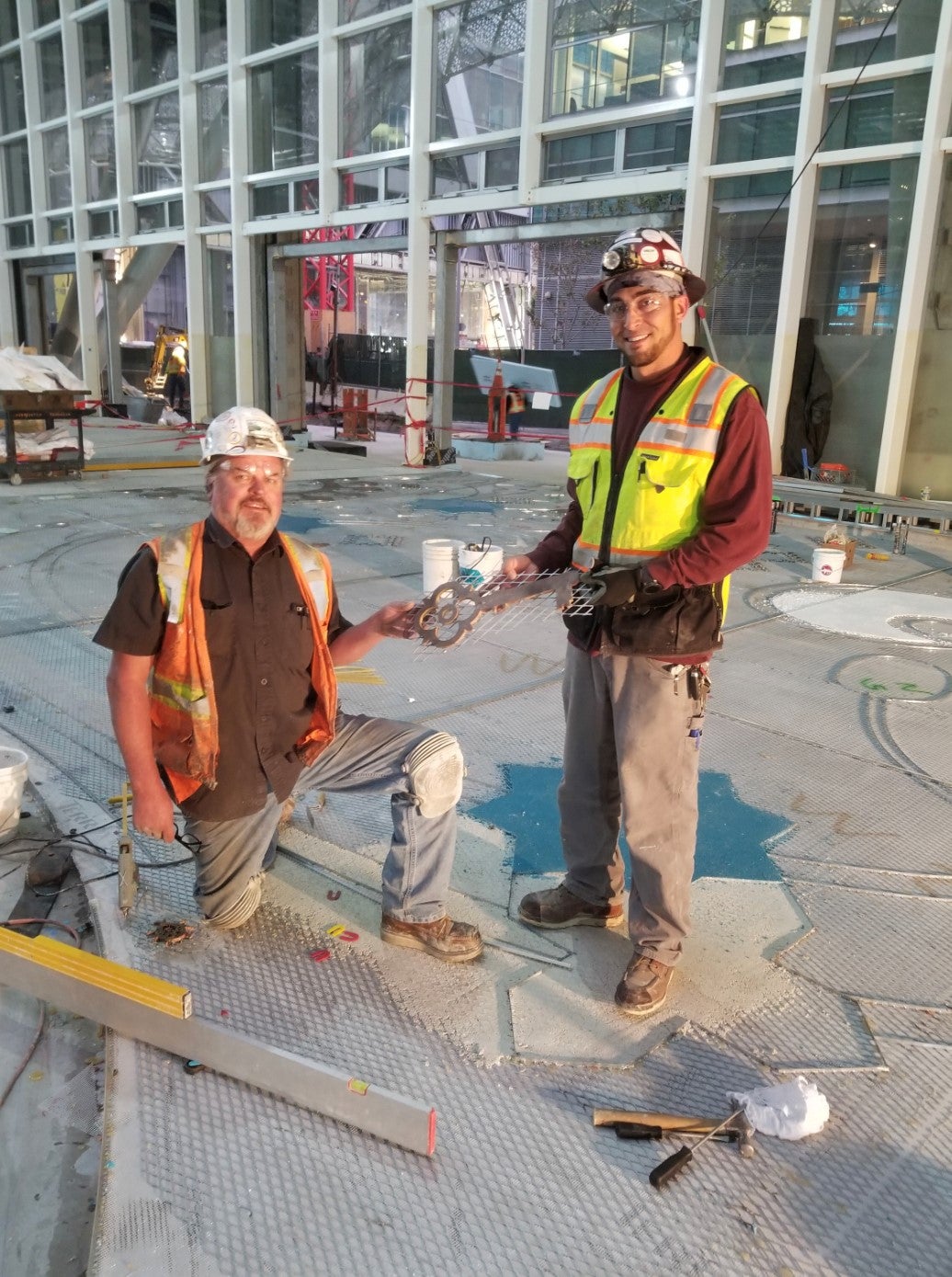 The Associated Terrazzo team wanted to be sure that they provide a superior terrazzo installation for such an amazing project. From the start, Danielson said that they made sure to set the project up for success, spending hours dealing with the terrazzo being installed on topping slab that contained a radiant flooring system which overlaid several inches of rigid foam insulation. In addition, they paid close attention to what terrazzo protection was required for the owner to maintain the items in the high ceiling for years to come.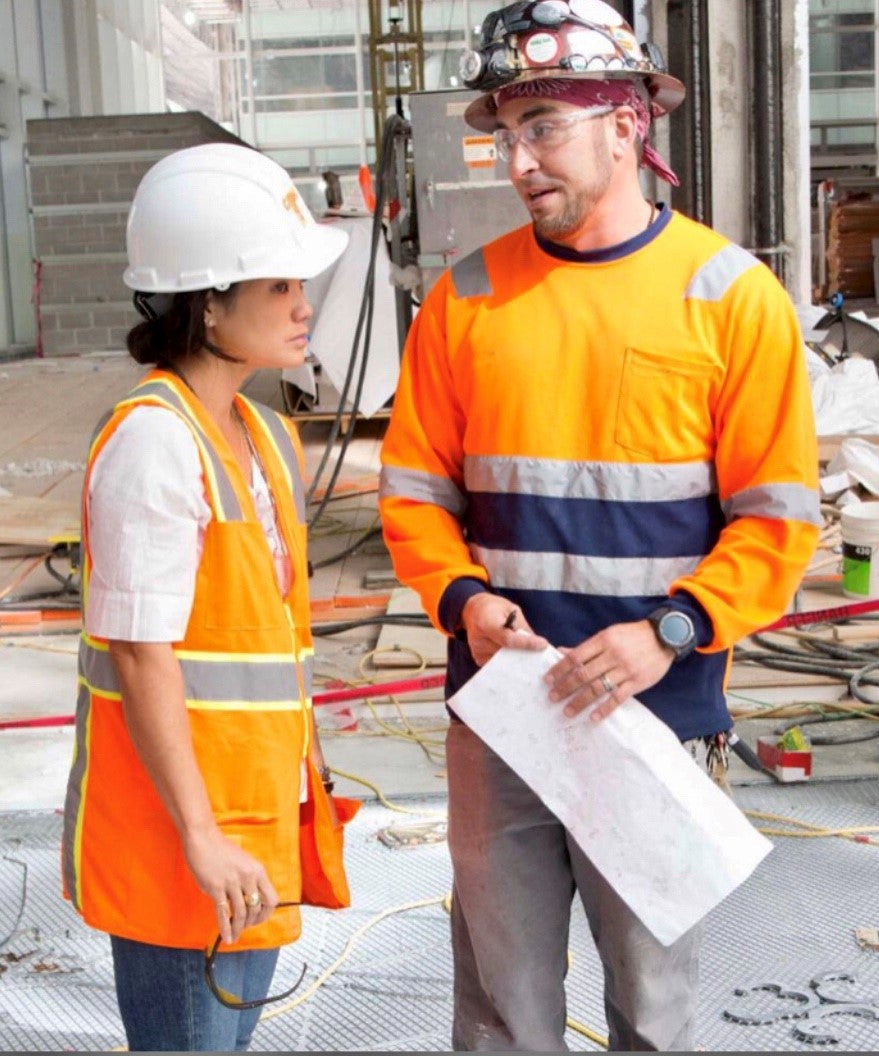 "Over my years representing Local 3 CA members and contractors, I have witnessed many high-end terrazzo installations by Associated Terrazzo," says Dave Jackson, president of BAC Local 3 CA. "The Transbay Terminal may be their signature project, with its multiple colors and intricate metal divider strips professionally installed creating a long-lasting work of art. This project will be enjoyed by millions of people over its long life. I cannot say enough about the performance of our skilled Local 3 craftworkers and Associated Terrazzo."
---
Meet the Associated Terrazzo Team 
ATC Project Manager: Eddie Lourenco
ATC Project Field Foreman/Supervisors: Scott Rocha & Rob Fontes
BAC Terrazzo Mechanics and Finishers:
Devin A. Anderson
Gabriel A. Becerra 
Jesse Chavarria
John C. Clinton
Danny D. Danielson
Allen N. DeLeon.
Joseph J. Dinsdale
Brian M. Dohring
Jamiz R. Durr.
Alexander L. Fluitt
Dean A. Fontana 
Darryl G. Greene
Jose J. Hernandez
Philip C. Hill
Jesse C. Hinton
Michael E. Jackson
Manuel A. Lopez Pineda
Williams H. Lopez Pineda
Williams H. Lopez Sandoval
Nestor O. Martinez
Roberto, Martinez-Anaya
Robert W. Mauricio
Steven A. Medina-Reina
Dossy J. Monroe
Michael Reynolds
Humberto Romero
Jared P. Schablaske
Benjamin M. Stout
Robert E. Stout 
Wily V. Tizoc Valdez
Eric C. Underwood
Kevin J. Voelker