BAC Journal
>
BAC Local 1 Pennsylvania/Delaware Members Repair Vandalized Jewish Cemetery
BAC Local 1 Pennsylvania/Delaware Members Repair Vandalized Jewish Cemetery
2017 Issue 2
Community Service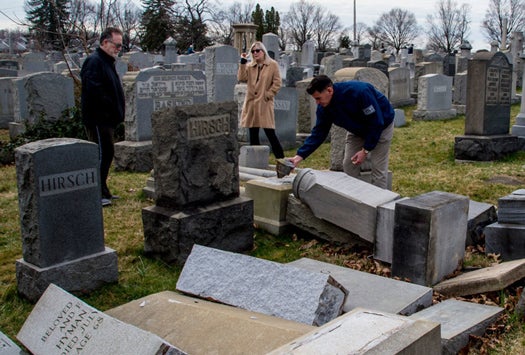 About 175 headstones were knocked over or toppled at the Mount Carmel Jewish cemetery, located at Frankford and Cheltenham Avenues in Wissinoming, Philadelphia in February. The damage was discovered less than a week after similar vandalism in Missouri. 
In response to the vandalism, BAC Local 1 PA/DE members chose to support the community with their craft skills. BAC Local 1 PA/DE President Dennis Pagliotti visited the site to inspect the damage and discuss a work plan. On March 28th, a crew of Local 1 PA/DE members started to volunteer their labor and time to repair and secure the vandalized gravestones. Local 1 PA/DE signatory contractor D. M. Sabia donated the use of all equipment for the repairing work. It took the volunteers of Local 1 PA/DE five weeks to re-install the gravestones with epoxy and pins. They also secured stones that were leaning and about to fall. 
"It was heart breaking to see this damage and think of the families who found their loved ones' headstones toppled," BAC Local 1 PA/DE President Dennis Pagliotti said. "This is a great community effort. Working together with other building trades unions and the Jewish Federation of Greater Philadelphia, we want to show the vandals that hate has no place in this country and can never win."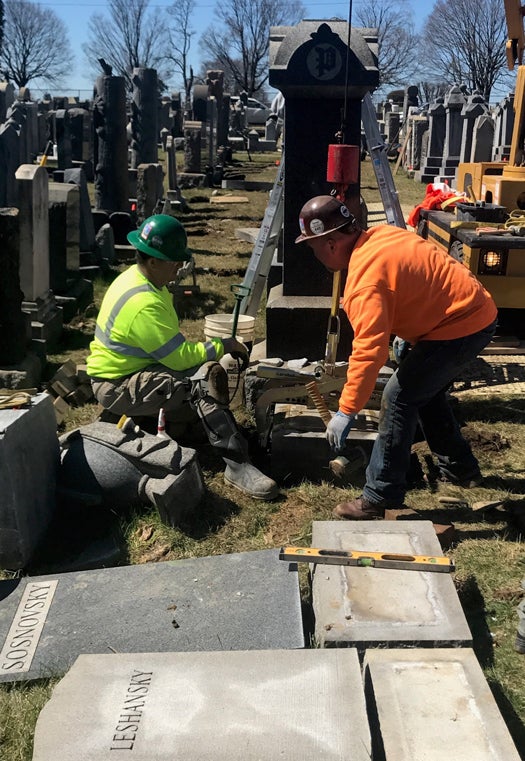 Local 5 New Jersey
BAC Local 5 New Jersey Members Upgrade Memorial for a Hero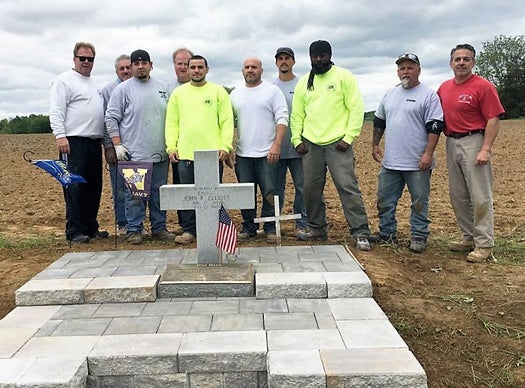 On U.S. Route 40 in Upper Pittsgrove Township of Salem County, New Jersey, members of BAC Local 5 NJ volunteered their time to lay new paving stones around the monument to late Navy Ensign John R. Elliott who was struck and killed by a drunken driver on his way home for his mother's birthday on July 22, 2000. John had just graduated with merit from the Naval Academy with a B.S. in Systems Engineering and was named the Outstanding HERO (Human Education Resource Officer) of his class for his service to his fellow midshipmen. As a HERO, John was a peer counselor and advocate for his classmates, helping them with academic and personal problems.
Elliott's tragic death resulted in state legislation, John's Law, which gives police in New Jersey the authority to seize the vehicles of suspected drunken drivers and hold them for up to 12 hours. In memory of their son John, the Elliott family established the John R. Elliott Foundation and the John R. Elliott HERO Campaign for Designated Drivers® in October 2000 to prevent others from dying on roads because of careless drinking.
"It's a wonderful feeling to come out here with organized labor and our apprentices," said Rich Tolson, BAC Director of New Jersey Administrative District Council. "The skills that they are learning and the noble effort that they are doing for their community and the family is just a great thing to be part of."
Volunteers of BAC Local 5 NJ who donated their labor and time to upgrade the memorial. From left, BAC Director of New Jersey Administrative District Council Rich Tolson, Apprentice Coordinator Robert Alesandro, Local 5 NJ Recording Secretary Leon Jones Jr., apprentices Geno Rosidivito Jr., James Evans, Lou Romano, Adam Crawford, and John Yates, Local 5 NJ member Ted Clay and Local 5 Field Representative Mario Cerrito.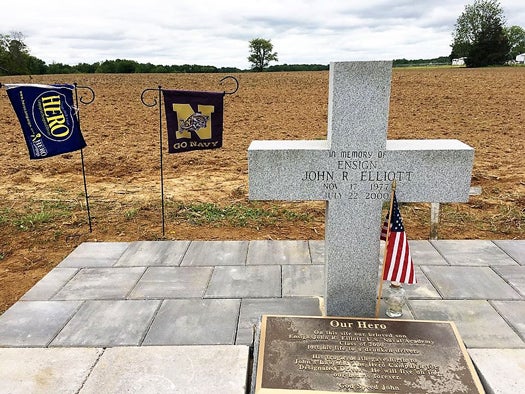 Local 5 Pennsylvania 
Joint Effort to Provide Comfort Cases for Kids in Foster Care 
BAC Local 5 Pennsylvania and the International Union staff donated backpacks and Christmas gifts to Comfort Cases (a.k.a. No More Trash Bags), a non-profit organization that provides children in the foster care system with backpacks filled with essential and comfort items. 
Local 5 PA President Les Kauffman and Office Manager Gail Nornhold were instrumental in coordinating a generous donation of seventeen new backpacks. The IU Executive Board Secretary Roberta Haut also organized her family members at a Christmas party to donate books, pajamas, teddy bears and toiletries to fill these backpacks. Staff of the IU Collective Bargaining department and Mail department helped packing these donated items before they were picked up by a Comfort Cases representative on December 21st, 2016, just before Christmas. 
To learn more about Comfort Cases and how you can help, please visit: www.nomoretrashbags.org.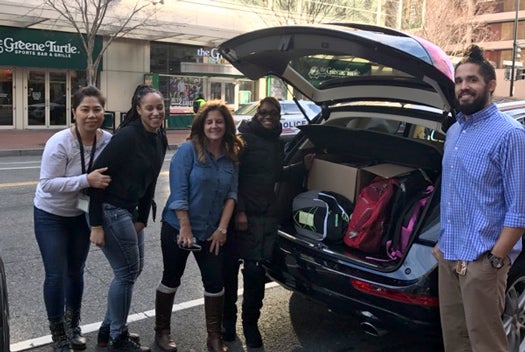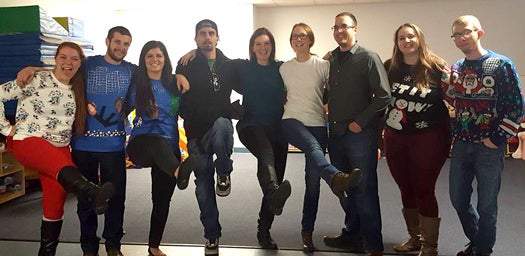 International Union 
Team BAC Raises Fund for Diabetes Research Institute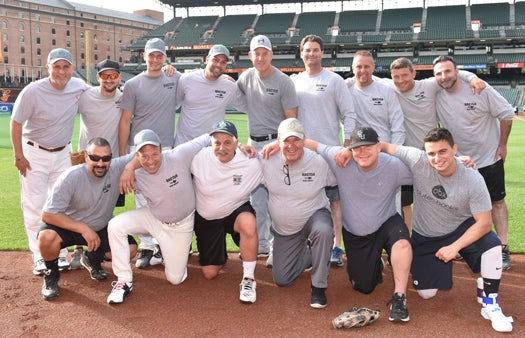 BAC's Softball Slam was held at Orioles Park at Camden Yards in Baltimore, Maryland on May 20-22. This annual event is part of the North America's Building Trades Unions (NABTU)'s Labor of Love annual fundraising campaign to advance the mission of the Diabetes Research Institute to find a cure for this disease that affects 25.8 million people in the U.S. 
This year's campaign was the largest donation year ever, with a total of $450,000 raised towards the Institute's diabetes research. 
Members of New Jersey Administrative District Council and their families and friends participated in the event. The Captain of BAC's softball team, BAC Executive Vice President Gerard Scarano, said, "We are proud of our members' efforts to support the groundbreaking research conducted by the Diabetes Research Institute. While we enjoyed the games with brothers and sisters from the building trades, the BAC team showed tremendous spirit on the field and more importantly, in fighting on behalf of all those who suffer from this debilitating disease."  
The BAC Softball Team. Front row from left, BAC Local 4 NJ members John Exadaktilos, Kenneth Simone, Carl Lombardi, BAC Director of New Jersey Administrative District Council Richard Tolson, Robert Gagg, and Jake Lombardi; back row from left, Greg Alesandro, Eric Doherty, Joseph Simone, Jason Fidalgo, Ronald Green, Michael Tolson, Don Campbell, James Knox, and Nick D'Orazio.