BAC Journal
>
BAC Member Surveys Show Safety & Health Progress on Member Priorities
BAC Member Surveys Show Safety & Health Progress on Member Priorities
2017 Issue 2
Safety & Health
Our work with ICE and IMI through our Masonry r2p Partnership (www.masonryr2ppartnership.org) is having a positive impact on members' safety and health, according to a membership survey conducted earlier this year. The survey asked a series of questions to track the Partnership's progress in addressing members' safety and health priorities identified in 2011, and solicited input on the safety and health concerns of greatest importance to members today. This study includes a comparison of the current survey results with those from the 2014 and 2011 surveys. The study shows steady progress, with more members aware of hazards, being provided with and using safer equipment and work practices than six years ago when the partnership started its work (http://www.bacweb.org/journal/2015_02/safety1.php). The most recent survey results show that our industry is growing, with an increase in jobs, lowers unemployment, and an uptick in young workers entering the trades.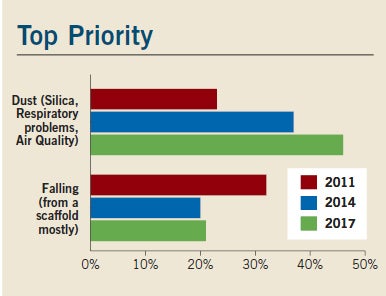 When members in this survey were asked, which hazards are of most concern, responses were consistent with past years. Dust/silica and falling remained on top,  however, they have switched places, with 46% of the members surveyed identifying dust as their top priority compared to 23% back in 2011.
Silica and Dust
The new OSHA Silica Standard scheduled to go into effect in September is making a difference, and so are our efforts to educate members and signatory contractors about the hazard, and ways to reduce or eliminate the risk for breathing in silica dust.
55% of the members surveyed said they are aware of OSHA's new silica dust Standard, and the data suggest that contractors are already implementing it. 85% of the members surveyed reported that, in the past year, they were provided with a vacuum or water system to control the dust when performing silica-generating work. What's particularly important is the increase in the percentage of members who said they are "always" provided with a vacuum or water system, up from only 19% in 2011 to 26% in 2014 to 61% in 2017 – a 35% increase in just three years.
When asked whether additional information about the Standard would be helpful, 55% said yes, with most asking for more information on the health risks of silica exposure and how to protect themselves.
To ensure that workers and contractors have ready access to the latest information, ICE and BAC joined with other contractor associations, unions, and manufacturers in supporting the development of a one-stop website on silica. When the silica-safe.org website was launched in 2012, it had just under 1,000 visits per month on average. Today, that figure has grown to more than 14,000 sessions per month.
Hand Safety 
Another priority area that has seen improvement is hand safety. There has been significant growth in awareness of the need for hand protection and the use of gloves rose from 35% saying they "always" wear gloves in 2011 to 66% in this survey.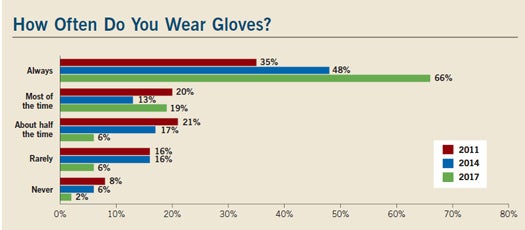 When asked why they do or do not wear gloves to protect their hands:
The percentage of members who wear gloves because the materials, products or chemicals they are using may harm their skin or hands has more than doubled—from 10% in 2014 to 28% in 2017.
Consistent with past surveys, the major reason members don't wear gloves most of the time is "they can't feel their work;" they lose dexterity with their hands when wearing gloves (39%).  Others said they only wear gloves "as needed" depending on the task they are doing (26%), and 19% don't wear them more often because gloves are uncomfortable.  
The ChooseHandSafety.org website, which was developed with input from the Craft Committees, was developed to address this priority, by providing easy access to information on hand tool and glove selection to prevent strain and sprain injuries and skin problems.
Preventing Hearing Loss
Hearing loss is a major issue for construction workers across the trades. With input from our trainers and hundreds of our members who participated in a CPWR-sponsored national survey on noise, CPWR is developing new training materials to raise awareness of the risk and prevent hearing loss. This effort has contributed to steady growth in awareness of the need for and use of hearing protection. In 2011, 30% of members reported using hearing protection "always." This climbed to 51% with this survey.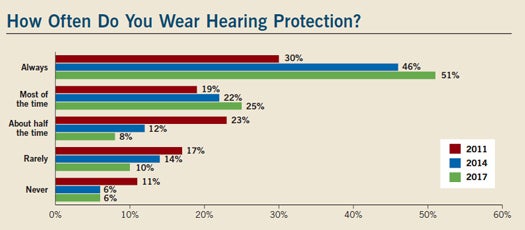 When members were asked why they don't wear hearing protection, the most common reasons were (1) there is no loud noise where they are working (25%), (2) wearing hearing protection limits their ability to communicate on the job and may pose safety risks (22%), (3) they only wear hearing protection as needed based on the task they are doing (21%) and, (4) ear plugs or muffs are a nuisance to carry around (19%).
Members were also asked about the training received on noise and hearing loss.  Nearly two-thirds (62%) reported having received training on preventing hearing loss. 
Interestingly, fewer members are saying gloves and hearing protection are "uncomfortable to wear" today than in earlier surveys:
Only 19% said gloves are uncomfortable compared to 29% in 2014.
Only 4% said hearing protection is uncomfortable compared 11% in 2014.
Communicating Health & Safety Information
Our union and contractors are the primary sources of health and safety information for members.   When members were asked to identify the last place they had heard about safety, health, or PPE, 48% of members said at work, 20% said through the Union publications (e.g. the BAC Journal), 23% said at an OSHA class, and 6% said during apprentice training. Other sources included a Safety Council or a tool sales representative (2%), or OSHA's website (1%). 
To respond to members' preferences for receiving information, they were also asked to identify the best methods of providing this type of information:
Toolbox talks at work were identified by 48% of members as the best way to provide them personally with information on safer tools, equipment and work practices, followed by emails (20%) and mailings (20%). Only 4% felt websites were best, and 1% cited Twitter.  6% selected other options, including word of mouth, the BAC Journal, union hall or apprentice programs, or that they don't need any more information.
When it comes to using technology to access resources, 26% of members said they are aware of smart phone apps that can help them stay safer on the job – 20% of those who are aware said they have used such an app and 1% had seen someone else use one. 
While a third (33%) of the members surveyed said that use of phones is not allowed on the job, the majority gave other reasons for not using them (my hands are dirty, I'm too busy to take my phone out, etc.), indicating that smart phone apps may be of greater use in a training setting than on a jobsite – something the Partnership is considering focusing more on in the future.
Overall, the information and materials developed and shared by the Partnership since it was established in 2011 are increasing awareness and use of safer work practices. BAC, IMI and ICE continue to work together through the Partnership to address priority safety areas going forward. They also support several research projects on construction safety and health, addressing issues related to ergonomics, mast climbers, dust generated during tuckpointing, and RF radiation exposure. Stay tuned on these topics and new information in future issues of the BAC Journal.