BAC Journal
>
BAC Members Advance Their Careers as Certified Welders at the International Training Center
BAC Members Advance Their Careers as Certified Welders at the International Training Center
At the BAC/IMI International Training Center, members are learning a new aspect of the trade and advancing their careers as certified welders. Though they come from different parts of the country and even different crafts, they have one thing in common: the drive to increase their work opportunities and value to contractors by learning a specialized skill like welding.
Take Tyler Fairweather, BAC Local 1 Washington/Alaska journeyworker bricklayer. "I wanted to have this under my belt to make myself more valuable to the company," he says. Fairweather, a bricklayer by trade, works for the family business, Fairweather Masonry. He knew having a certified welder on the crew would allow them to bid more work – work that's currently getting subbed out, like precast. 
Tirhas Gebrus, PCC apprentice, also from Local 1, will also put her welding skills to use when she travels back to Seattle to continue work on the I-5 with signatory contractor United Professional Caulking & Restoration, Inc. (UNIPRO).
"I love this class," she says, noting Welding Instructor Kay Whigan's skill. "Kay, from day one, has been a great teacher. He's very nice and such a professional and is always right beside us showing us how it's done."
Gebrus loves her job and appreciates the opportunity to learn and grow with the crew. "I couldn't be with a better company," she says. "They're very inclusive and very fair. All you have to do is show up with a good attitude, ready to work." She credits Wayne Belcher, co-owner of the minority women-owned business, for fostering such a welcoming environment. 
Gebrus got her start in the trade through ANEW, a local pre-apprenticeship program that connects women with good-paying union construction and manufacturing jobs.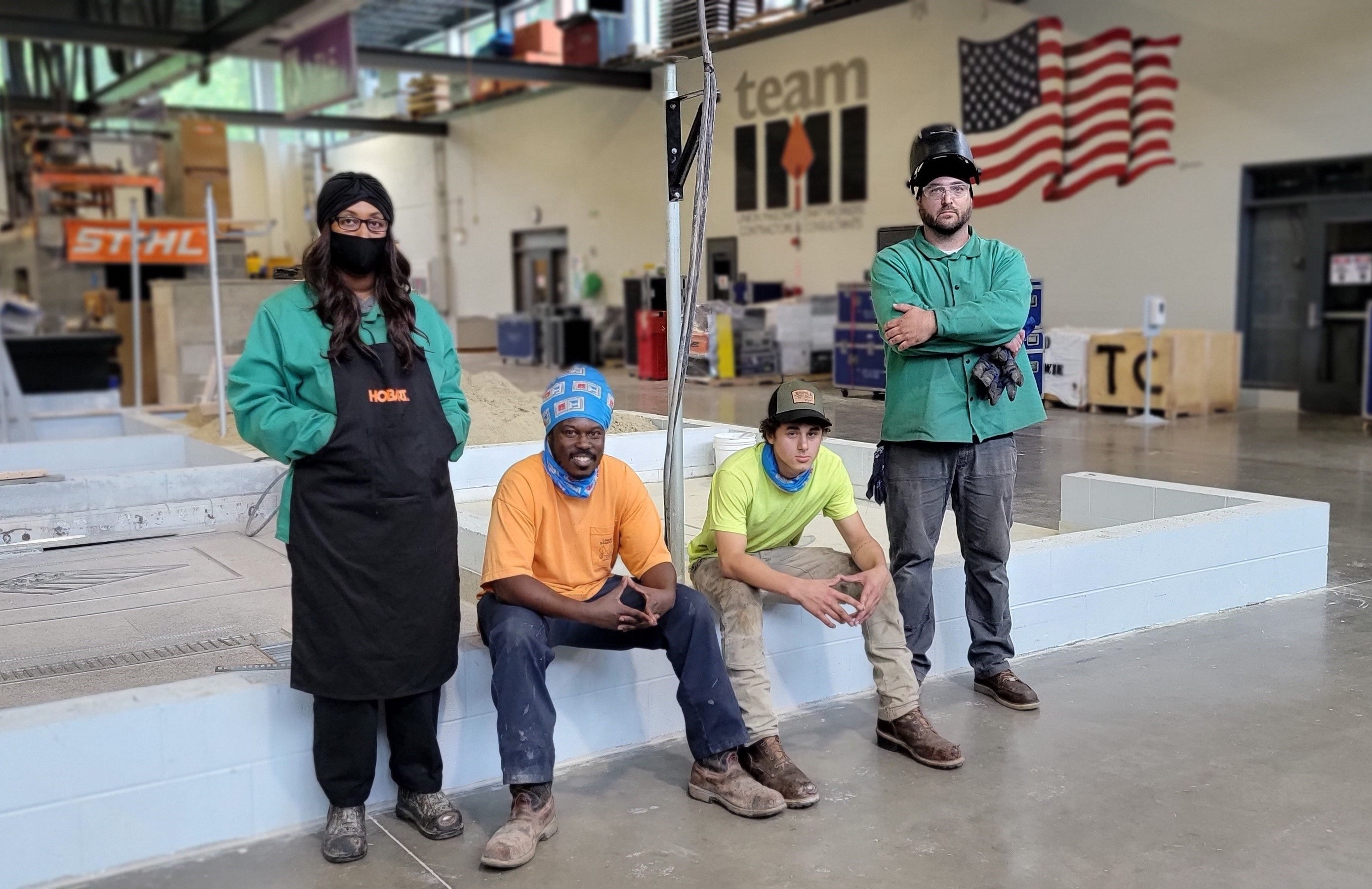 Fellow apprentice and classmate Logan Yerger, from BAC Local 5 Pennsylvania, got his start a little differently. While he was still in high school learning masonry at Berks Career and Technology Center, he approached a bricklayer working on a retail project in his neighborhood. That bricklayer just happened to be Randy Eberly, a Field Representative for his Local. Forming that connection helped get him into the union upon graduating.
"Being in the union, to me, means opportunity and being set with a good career for life. Honestly, the union was my end goal," he says. "I never thought I'd get here so soon." 
Yerger is preemptively seeking certification to open up more job opportunities in the future. "I wanted to make myself more well-rounded, so that if brick and block work slows down in my area, I can do welding," he says. "I want to get as many certifications as I can." 
Andre Jean-Mistilien, refractory bricklayer apprentice from BAC Local 8 Southeast, shares the same mentality. For him, welding will be the first of many certifications and advanced training to come. In fact, he looks forward to learning blueprint reading and taking IMI's foreperson certification – important steps on his ultimate career goal to open his own union shop.
Jean-Mistilien made a career change during the pandemic after years working as a chef. He was inspired by his father, who's worked in the masonry field for 30 years. The high pay didn't hurt, either. 
"I like the teamwork in the field. It's like a family," he says. 
Jean-Mistilien has found that same familial bond at the training center. "Kay is the type of person who will stay right by your side to make sure you get it right. He's not going anywhere until you do."
As for the International Training Center? All the students loved seeing and experiencing the grand-scale of the 25-acre campus. "I'm really impressed," says Gebrus. "I've never seen something like this. It lives up to the hype."
The BAC/IMI International Training Center is open for training on demand and offers both virtual and hybrid programming (part online, part in-person). For a complete list of the latest offerings, visit imtef.org/training.