BAC Journal
>
BAC President James Boland Receives the Drum Major for Justice Award
BAC President James Boland Receives the Drum Major for Justice Award
2018 Issue 1
News in Brief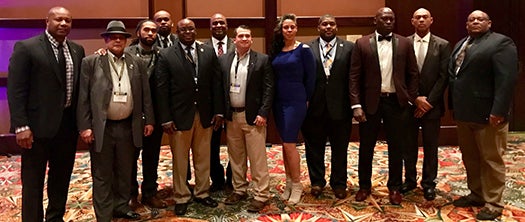 The 2018 AFL-CIO Dr. Martin Luther King Jr. Civil and Human Rights Conference, held on January 12-15th in Houston, Texas, marked the 25th year that AFL-CIO celebrated and observed Dr. King's legacy. This year's conference brought together over 1,100 union brothers and sisters, including a delegation of BAC members.
The conference also announced the winner of the AFL-CIO Drum Major for Justice Award, an award given annually to the national leader who has dedicated their life to advancing civil rights as workers' rights. This year BAC President James Boland was honored with this prestigious award.
The BAC delegation, in addition to attending the conference, also joined hundreds of brothers and sisters in the Day of Community Service on January 13th. Working with a local food pantry, they handed over 100 pounds of food, hygiene, diapers, and cleaning supplies.