BAC Journal
>
Building Strong Union Relationships through Mentorship
Building Strong Union Relationships through Mentorship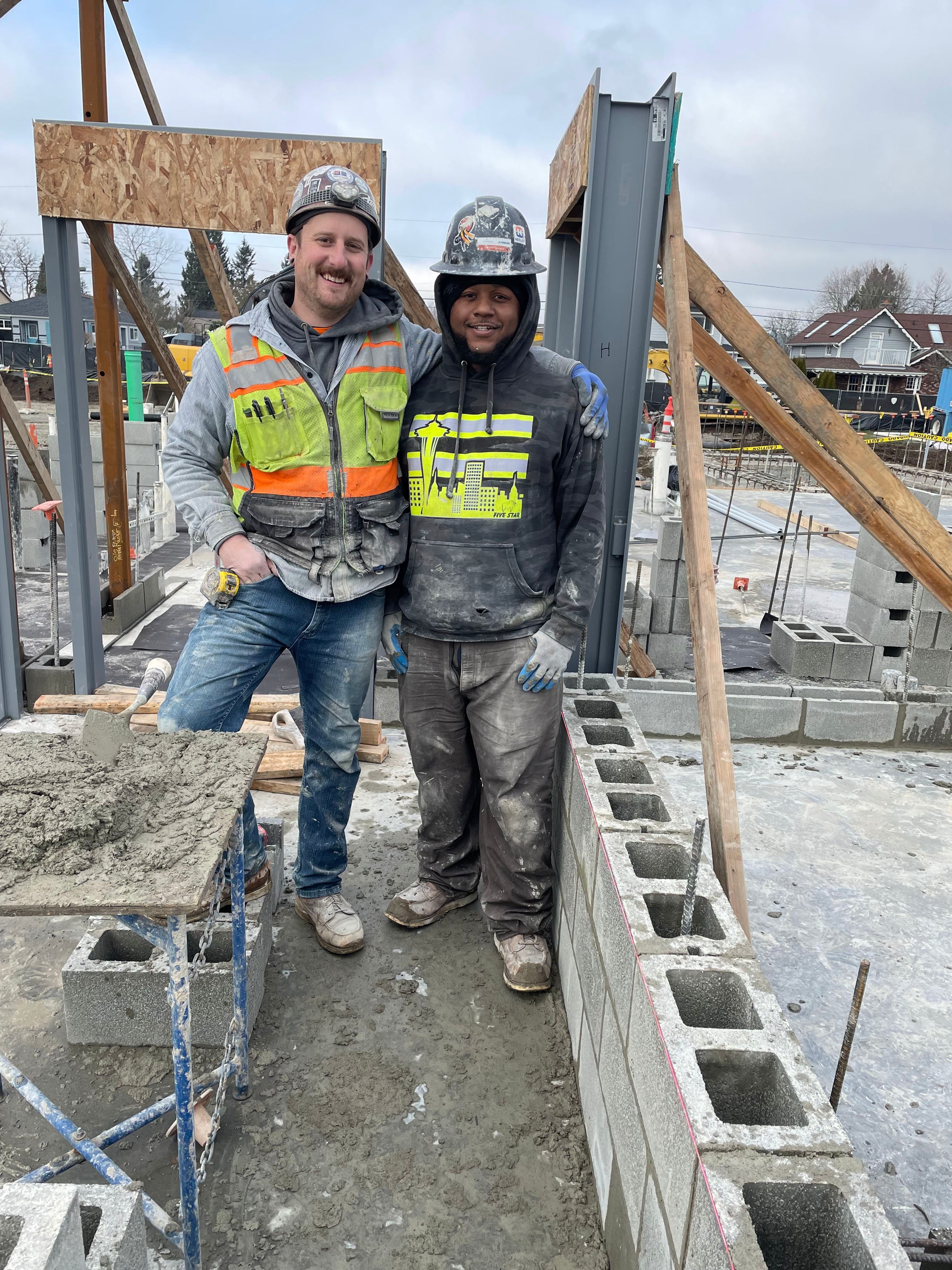 One of the cornerstones of a BAC apprenticeship is on-the-job training. When starting out, it's not uncommon for apprentices to know barely the basics — if that — when they show up for their first day of work. Apprentices have a lot to learn in a short time in order to progress through the program — and ensuring that they stick with the trade through the tough patches is important for the future of BAC.
We know that the culture of the jobsite is as big a factor for apprentices when deciding to continue as their skill at the craft. So, as we see the next generations of BAC apprentices come in, we need to provide a welcoming environment where they can grow to be the best craftworkers they can be.
MULTI-GENERATION GUIDES FIRST-GENERATION
Bricklaying and BAC are in CJ Cooper's blood. A third-generation bricklayer and BAC member, it's no surprise that he chose masonry as his career. "I saw my dad building high schools and other amazing stuff," Cooper said. When he joined Local 1 Washington / Alaska, he already knew a career as a union mason meant stability, benefits, and the best training.
In 2018, Coty Johnson didn't have any firsthand experience with unions. However, after marrying and starting a family, he needed more pay, standardized hours, and stronger benefits than his jobs in the service industry provided. He applied to the Local 1 Washington / Alaska bricklayer apprenticeship after seeing a posting online. "I went in with my bootstraps ready to go," Johnson said.
Johnson immediately saw the benefits of joining BAC. "The union is an amazing thing," he said. "You have different opportunities through the training. The benefits are great, the retirement is great, and it is fulling work. You can sit back at the end of the day and look at the things you built."
Today, Johnson is about to journey out of his apprenticeship — but after his first year, he was seriously thinking of putting down his trowel for good. He was doing his best on the job, but was routinely yelled at when doing something wrong, instead of being taught how to fix it. Luckily, that all changed when he came to work with Cooper's crew on the Pioneer Square Hotel job in Seattle.
COMMUNICATE, DON'T BERATE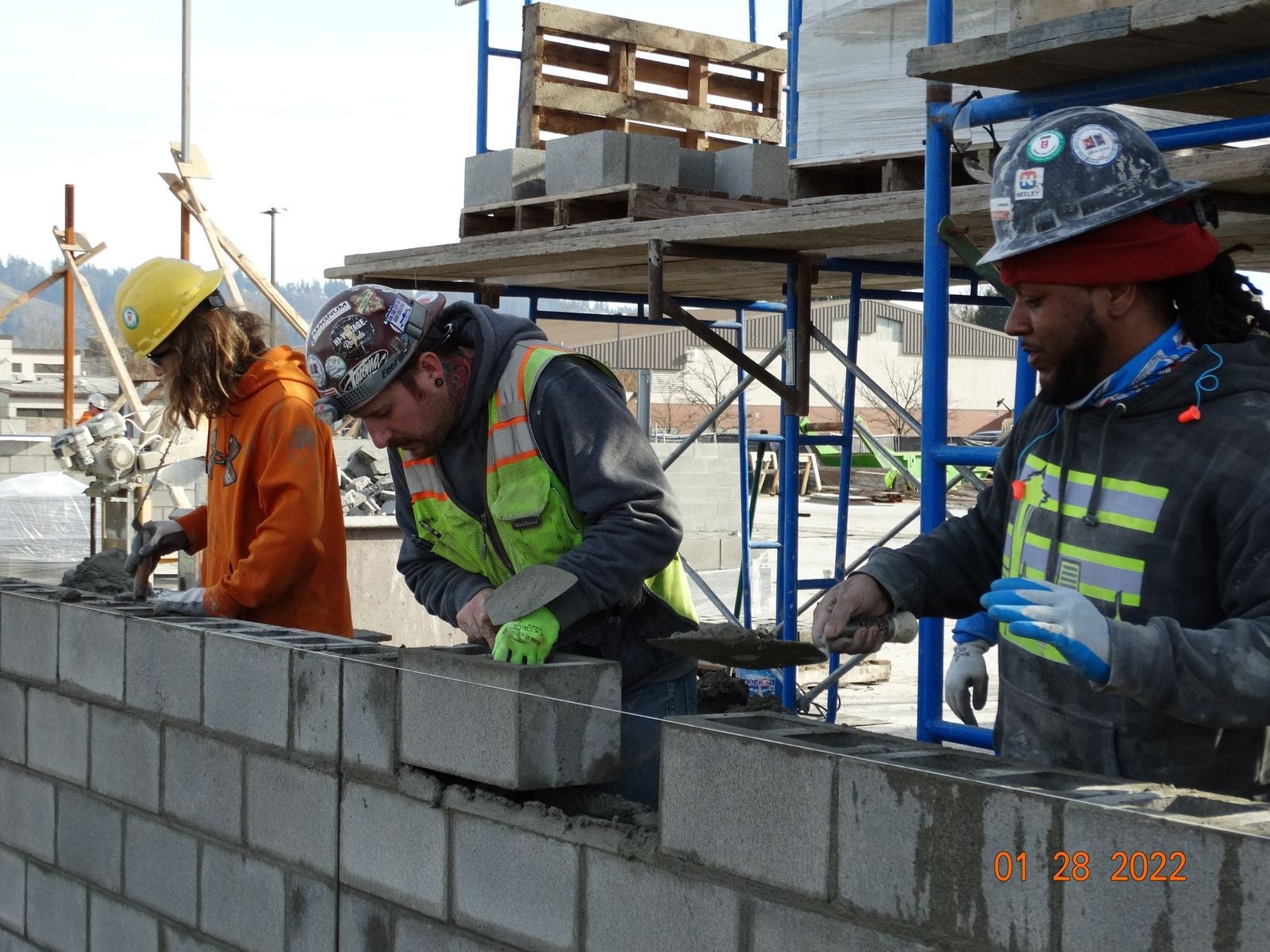 Cooper completed foreman training in 2015. His instructor taught that yelling was not an effective strategy to get the best out of those working for you. "I thought back to how I would have liked to be taught as an apprentice," he said. "From those ideas, I just started to learn as a mentor. I see what works for me and works for my apprentices… I communicate a lot with them and give them as many opportunities as I can to let them get better."
"Wall time is very important," Cooper continued. "When there are things that are wrong, I try to step back and show them what I have seen, and then show them how to see that themselves, how to correct it, and how to avoid doing it again next time. I do this instead of just yelling and leaving them confused to what they actually did wrong."
The first time Johnson worked on a window on a job with Cooper, he "did it and got to the closing piece, and it didn't fit," Johnson said. "I didn't know I did it wrong, the brick just didn't fit, and I was like 'What the?'… CJ came over and showed me that I laid my brick on the opposite side of the line than I was supposed to. He didn't scream at me, just explained what I did wrong."
"We had about nine more windows to do, and when I got to the next window, I was able to do it all on my own, and it fit perfectly," Johnson continued. At jobsites before, the foreman would just get frustrated with him and redo the line. Since the problem was not explained to Johnson, he didn't know how to fix it when the next section would come up. This caused frustration all around.
"You have to have a little trust in [your apprentices] that they can get up and figure these things out," explained Cooper. Also, when making a mistake it is important to "give them some space to explain themselves, so you have a conversation. They then feel more included in the crew and are invested in what we do."
"There is no reason to break them down, we're all going through enough as it is," Cooper continued. "Teach the apprentices things on the job in a way that they think they can get through it instead of 'it is too hard.'"
MENTORSHIP MATTERS
Brothers Cooper and Johnson show the value of true mentorship in the workplace – including off the jobsite. Johnson, now a father of three, is planning to purchase his first home after he journeys out. He has asked Cooper's advice on this major personal milestone.
Also, Johnson has now experienced our BAC family working with Cooper, his fellow bricklayers, and with Local 1 Washington / Alaska President Lowell Glodowski. "There is a brotherhood in this union," Johnson said. "That is what keeps me coming back."
"The culture is changing, and it is important we are part of the culture shift," said Glodowski. "It is our due diligence as craftworkers to give back what we have all learned."
Glodowski encourages journeypersons, especially forepersons, to take advantage of the Mentorship Matters program. The program "gives an opportunity for the journey-level worker to actually slow down and teach," he stressed. "It gives them an opportunity to reflect on how they are delivering the content to the apprentice… if they are doing it in a way that will help the apprentice grow."