BAC Journal
>
Calambokidis Retires After More than Two Decades at the Helm of IMI
Calambokidis Retires After More than Two Decades at the Helm of IMI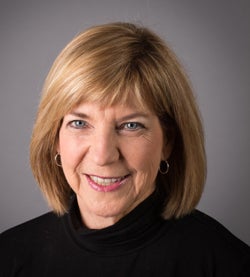 JOURNAL: ISSUE 3 - 2017
Joan Baggett Calambokidis retired as President of the International Masonry Institute (IMI) and International Masonry Training and Education Foundation (IMTEF) on April 1st. She has been succeeded as President by long-time BAC Assistant General Counsel Caryn Halifax.
During her twenty-two-year tenure, Joan dramatically expanded IMI's role and profile in the industry, advancing masonry training, education, research, and technical development. She created a vibrant and inclusive environment for BAC, its members, signatory contractors, and the design community. Her unique approach to providing state-of-the-art training and education for craftworkers, contractors, and designers helped foster the level of industry collaboration required to design and build great structures.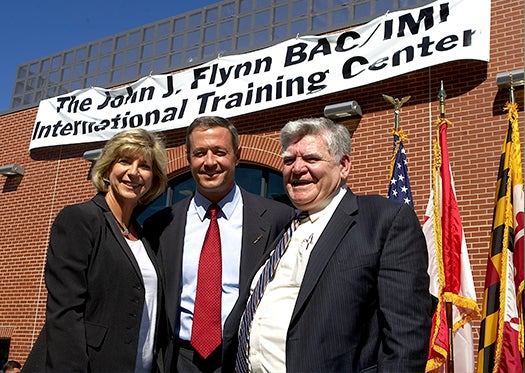 Joan began her career with the International Union as editor of the BAC Journal. Her star quickly on the rise, Joan became the Union's Director of Government Relations, and, in that role, the first female lobbyist of a building trades union. She was BAC's lobbyist and political director for more than a decade before moving to the Democratic National Committee (DNC), where she ultimately served as Chief of Staff for then-DNC Chairman Ron Brown. Following President Bill Clinton's election, Joan moved from the DNC to the White House as Assistant to the President for Political Affairs. Joan rejoined the BAC family in 1995 as IMI President, overseeing promotion and training for the union masonry industry. 
Joan's life's work has had a tremendous and positive impact on the lives of BAC members, contractors, their families, and the design community. As President, Joan created, fostered, or improved many key programs alongside the IMI Co-Chairs. Masonry Variations, a National Building Museum exhibit co-sponsored by BAC and IMI, demonstrated the versatility of BAC-represented crafts and exemplified Joan's leadership in masonry innovation. She expanded Masonry Camp into a nationally-recognized program dedicated to building collaboration between young designers and craftworkers. Perhaps most importantly, she oversaw the development of the John J. Flynn BAC/IMI International Training Center, a multi-building campus where hundreds of craftworkers, instructors, and designers train each year.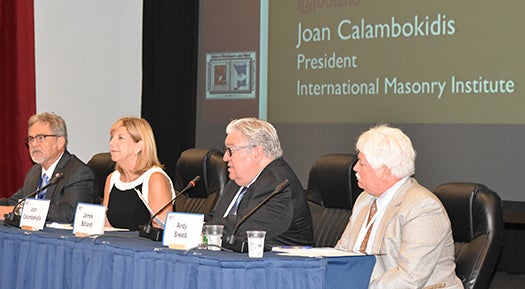 Reflecting on her accomplished career with IMI and BAC, Joan remarked, "I have a renewed appreciation for how much we have achieved together, but also how much there is still left to be done. IMI has had many challenges, but we did our jobs promoting masonry and training members so they could do their jobs. I wish BAC members and their families continued success and hopefully more good 'moments' than bad."
In recognition of Joan's contributions to the industry, her focus on innovation and the future of design, and her dedication to training BAC craftworkers for a continuing, strong, vibrant union masonry industry, IMI has created the Joan B. Calambokidis Innovation in Masonry Design Competition. The competition challenges students, architects, and engineers to imagine the future of BAC-represented crafts in design and construction. The Calambokidis Award will further IMI's mission to promote both the union masonry industry, and the continued inclusion of BAC-represented crafts in design. 
Jurors for the competition include James Boland, BAC President and IMI Co-Chair, and Michael Schmerbeck, Back Brook Masonry President and IMI Co-Chair, along with a panel of architects and engineers, including Stephen T. Ayers, Architect of the Capitol; Stephen V. DeSimone, President and Chief Executive of DeSimone Consulting Engineers; Julie Eizenberg, Founding Principal of Koning Eizenberg Architecture; Alan Feltoon, Senior Director of Michael Graves Architecture & Design; and Carlos Jiménez, Principal and Lead Designer of Carlos Jiménez Studio.
"We are grateful for Joan's dedication to our Union and our trades. This competition honors Joan's legacy of innovation and commitment to shaping a future of design that includes BAC craftworkers and the materials they use," said BAC President and IMI Co-Chair James Boland.