BAC Journal
>
Construction Ramping Up in Downtown Los Angeles
Construction Ramping Up in Downtown Los Angeles
2017 Issue 2
Members at Work
Walking in downtown Los Angeles, you can't help but notice cranes everywhere. The city center is undergoing its largest construction boom in modern times, reshaping its skyline as well as adding thousands of residences, a multitude of shops and restaurants, and most importantly, construction jobs. Hundreds of skilled craftworkers of BAC Local 4 California are doing masonry work on two large projects – Wilshire Grand Center and Metropolis – both of which are being performed under Project Labor Agreements (PLAs). 
Wilshire Grand Center – The New Tallest Tower in the West  
At 1,100 feet, the $1.2 billion-dollar Wilshire Grand Center in downtown Los Angeles will be the new tallest building west of the Mississippi, outstripping the nearby U.S. Bank Tower. The building will be home to a 900-room hotel, restaurants, retailers and offices.
Construction of the Wilshire Grand Center started with deconstruction of the old building on the corner of Wilshire Boulevard and Figueroa Street in 2012. By deconstructing the building instead of imploding or demolishing it, many of the building materials such as steel and concrete are recycled. The project also focuses on green building techniques and materials. 
Under a PLA negotiated by the building trades, the construction of the Wilshire Grand Center is providing thousands of good-paying union construction jobs. About 200 members of BAC Local 4 CA employed by signatory contractors AGI Marble Company (Sun Valley, CA), Cleveland Marble Mosaic Company (Orange, CA), JB Marble (Van Nuys, CA), Winegardner Masonry (Yucaipa, CA), and Regal Waterproofing (Ontario, CA) have installed approximately 475,000 sq. ft. of tile, marble, stone and porcelain panels and 56,700 CMU on this project.
"The project is an excellent example of the type of the quality work done by our skilled craftsworkers." BAC Local 4 CA President Lupe Aldaco said. "It will continue the positive effect of LA Live in revitalizing downtown L.A. and help grow the local tourism and convention business." 
Opening in June, this 73-story building is becoming a more familiar piece of the Los Angeles skyline.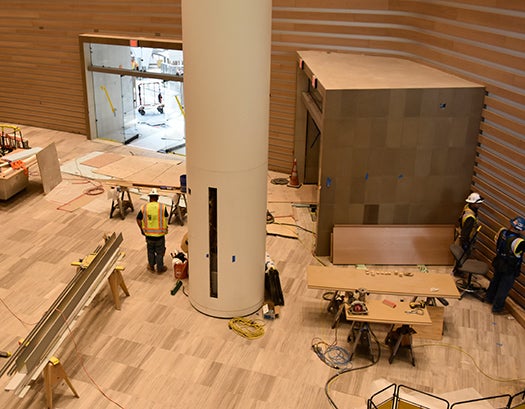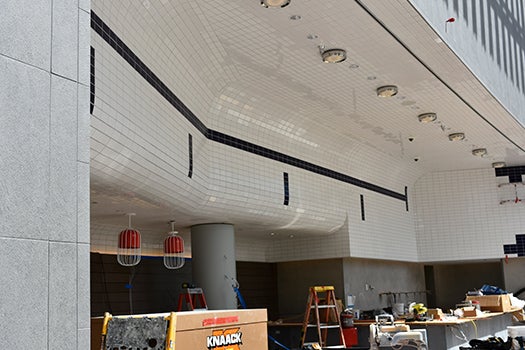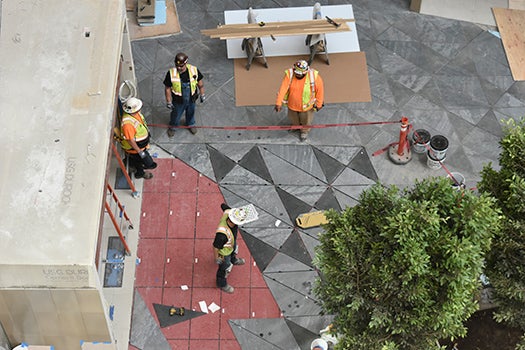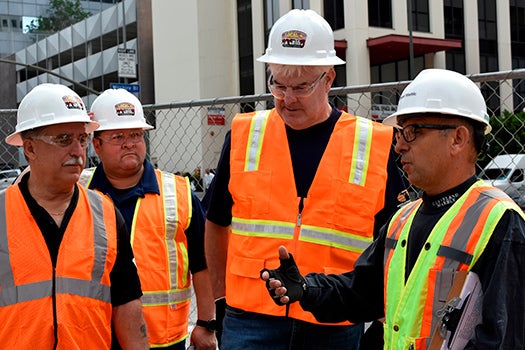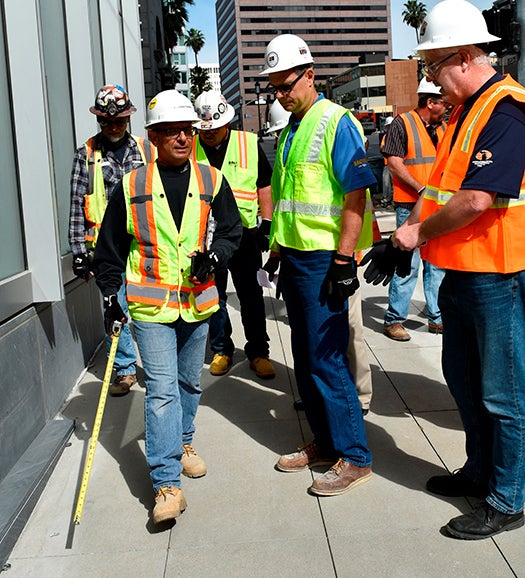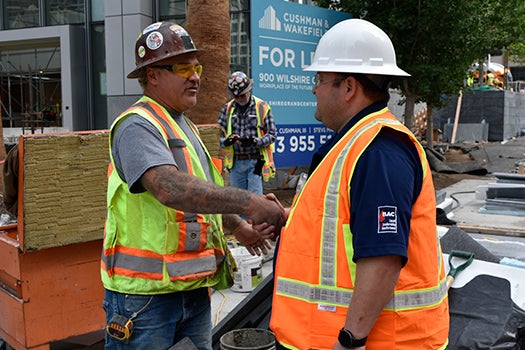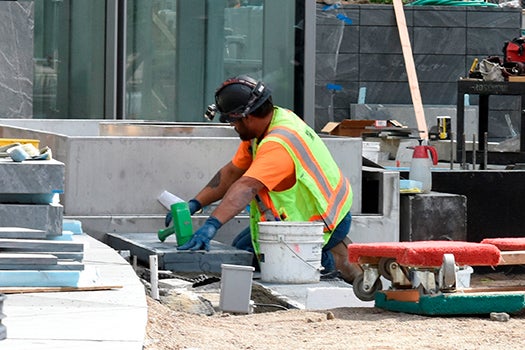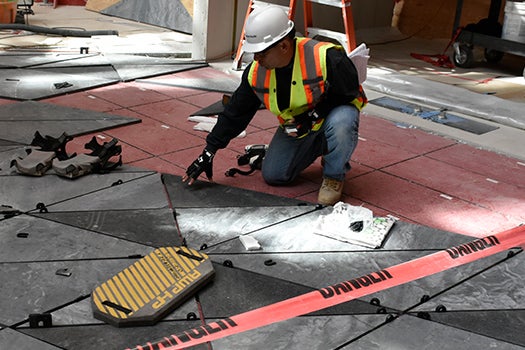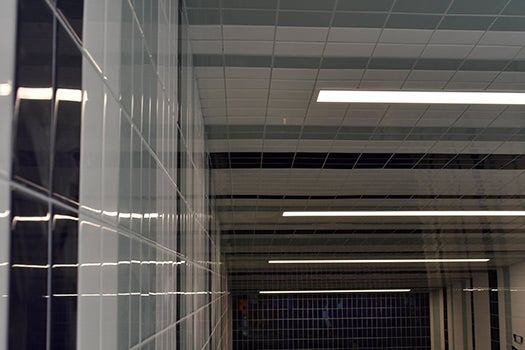 Metropolis – The Biggest Mixed-use Development on the West Coast
Within a short walking distance from the Wilshire Grand Center, over 100 BAC Local 4 CA members employed by signatory contractors AGI Marble Company (Sun Valley, CA), Continental Marble and Tile (Corona, CA), Sample Tile and Stone (Riverside, CA), Winegardner Masonry (Yucaipa, CA), and Masonry Concepts (Santa Fe Springs, CA) are busy installing marble, tiles, granite, and CMU blocks at the Metropolis mega project, a $1-billion development with 350 hotel rooms and more than 1,500 condominiums on Francisco Street. 
The first phase of construction, an 18-story, 350-room hotel and a 38-story condominium tower, was completed last year. The ongoing second phase includes a 42-story high-rise condominium, an 18-story mid-rise condominium, and nine levels of podium and parking space. Amenities include a large landscaped deck featuring a swimming pool, fire features, a field for sports like volleyball and yoga, a dog park and a play space for children. When completed in 2018, Metropolis will be the biggest mixed-use development on the West Coast. 
Like the Wilshire Grand Center, the Metropolis development is performed under a PLA as well. "Project Labor Agreements ensure large projects like Wilshire Grand Center and Metropolis are completed on schedule and within budget," BAC Local 4 CA President Lupe Aldaco said. "These agreements also create decent and good-paying jobs for skilled BAC and other building trades members, and benefit contractors, communities and taxpayers."