BAC Journal
>
As Demand for ACT Rises, BAC Tilesetters Should Pursue Certification to Increase Work Opportunities
As Demand for ACT Rises, BAC Tilesetters Should Pursue Certification to Increase Work Opportunities
Across the U.S., the demand for tilesetters that have achieved Advanced Certifications for Tile (ACT) is growing. Architects, interior designers, and project owners regard ACT as a way to ensure that the tile installations on their projects meet industry code and will last for years to come.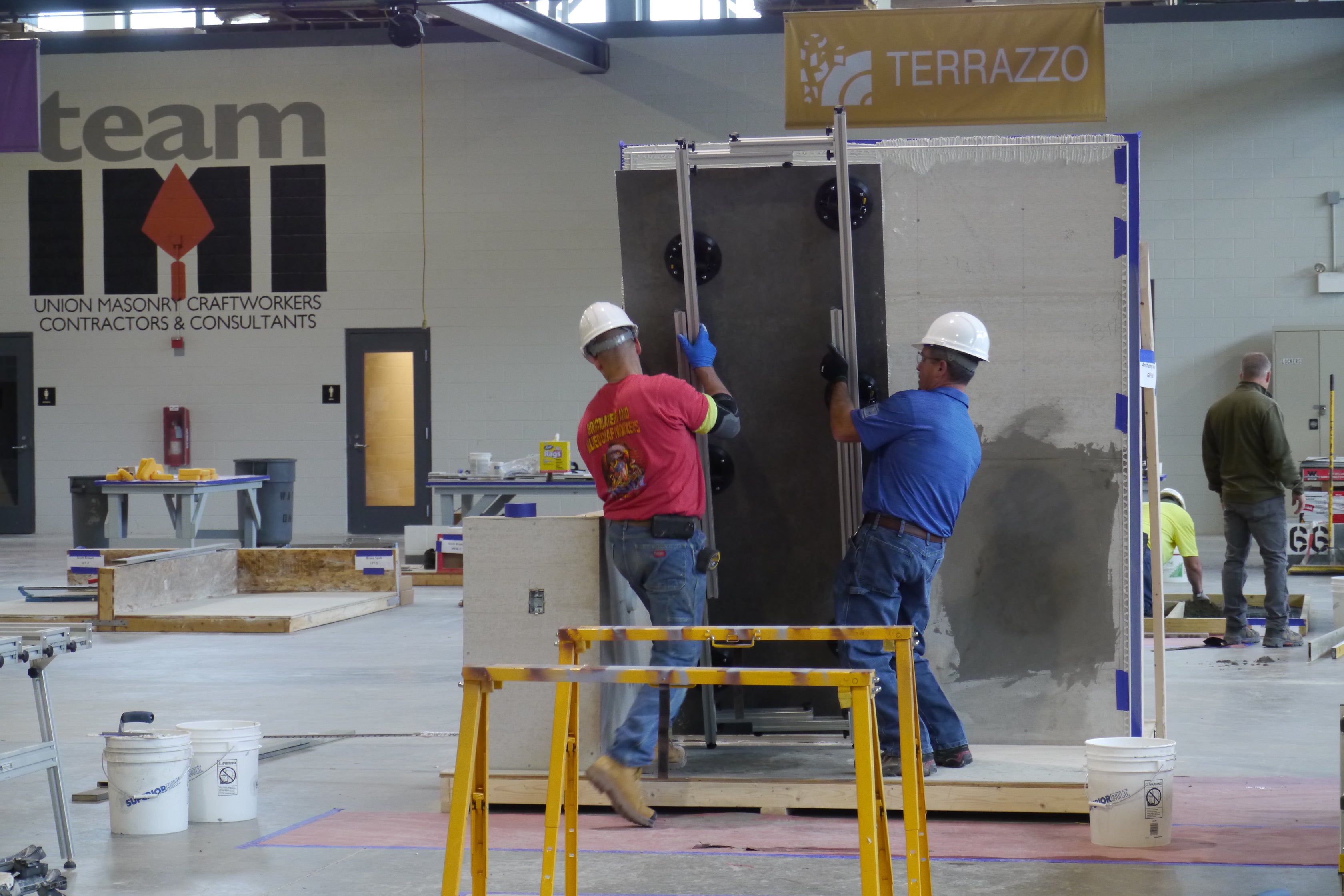 Many ACT-certified BAC tilesetters feel the credential has helped them get more work and advance their careers. Anthony Joseph of BAC Local 9 Pennsylvania, a foreperson at signatory contractor Massaro Industries, worked on several jobs last year that required ACT installers. It was through ACT that Joseph gained a deeper understanding of industry code, which distinguished him as a leader on jobsites.
"When you can speak to architects and designers with that kind of knowledge of the industry, they realize your credibility and listen more," said Joseph.
In addition to his role at Massaro, Joseph works part-time as a tile instructor for BAC Local 9 PA and serves as Chapter Chair of the Local's Allied Crafts Chapter. "As a journeyworker, I would say that ACT is invaluable. [Pursuing the certification] was the best decision I've ever made. Learning how to use the ANSI standard, the TCNA handbook – the industry standards – has made me a better tradesperson."
Joseph and Massaro Industries aren't the only ones getting more work because of ACT. In fact, much of the increased demand is the result of an important update to MasterSpec, the leading resource for building and construction specifications. Architects, engineers, specifications writers, and owners use MasterSpec to design and specify high-performing installations. Last June, MasterSpec incorporated ACT as an installer qualification in its sections on Ceramic Tiling, Glass Tiling, Stone Tiling, and Chemical-Resistant Tiling.
The MasterSpec update proves that the design community values qualified labor. John Trendell, President-Elect of the Tile Contractors' Association of America (TCAA), said the increased inclusion of ACT-certified installers in specifications shows that the industry is "recognizing that quality installations and quality contractors are going to, in the end, [produce] a better product, a better building, for a competitive price."
Lupe Ortiz, IMTEF Regional Training Director, agreed, saying that ACT serves as "a guarantee to the architects, the builder, and even the manufacturers of all the products used in that building, that the installer has got the technical knowledge and [skill] to provide a good installation that's going to last for a lifetime."
Joseph Pugliano, Tile Instructor at the BAC/IMI International Training Center, encourages all BAC tilesetters and finishers to take advantage of the lifelong learning opportunities available to them through the Union's training programs, including ACT. Pugliano admits that when he first joined the Union, he "thought that once you got your journeyworker card, that was it…not that you knew everything, but that you were at the top of your game." Programs like ACT, he said, have made it clear how important it is to keep training after the apprenticeship program to stay up-to-date on the latest industry standards.
"It's been an eye-opening experience," Pugliano said. "ACT is extremely difficult, but once you've completed it, very rewarding. It's something that every journeyperson should want to do…We can't have installation failures [on our projects]. We pride ourselves as a Union on being the best hands, and to do that, we have to have the most knowledge, too."
Want to Get ACT Certified?
The International Masonry Training and Education Foundation (IMTEF's) instructors are trained to administer ACT testing. BAC members interested in pursuing ACT will be given an ACT study guide and a copy of the relevant ANSI Standard and TCNA handbook to help prepare for the test.
To obtain certification, tile installers must successfully complete:
a 25-question open book exam to prove knowledge of ANSI standards and TCNA-recommended installation methods;

a hands-on assessment to prove practical skills.
The exam for each certification takes 4-8 hours and requires several days of study time. ACT is offered in 7 key skill areas:
Grouts

Large Format Tile & Substrate Preparation

Membranes

Mortar (Mud) Floors

Mortar (Mud) Walls

Shower Receptors

Gauged Porcelain Tile and Gauged Porcelain Tile Panels/Slabs
Contact your Local training center to get more information about ACT testing opportunities in your area or visit imtef.org/advanced-certifications-tile.