BAC Journal
>
Giving BACk to Communities
Giving BACk to Communities
2021 Issue 1
Community Service
BAC members understand that communities stay together when we look out for each other, especially during challenging times. No matter what shape economy is in, our members are in their communities helping countless individuals and their neighborhoods. The following community service activities are a few examples of our members' commitment to "giving BACk." 
Ohio-Kentucky Administrative District Council
Outdoor Event Brings Community Together in Face of COVID
Despite the challenges of COVID-19, BAC Ohio-Kentucky Administrative District Council (OH-KY ADC) and the Union Sportsmen's Alliance (USA) kicked off the "8th Annual Sporting Clays Shoot" on October 3, 2020 in Owenton, Kentucky. With an impressive turnout of 94 participants, the event was one of the USA's largest shoots of the year.
To help offer a safe and fun environment, event organizers like Ken Kudela, Director of OH-KY ADC, and the USA staff got a little creative. For example, each shooting team had a golf cart to prevent large crowds walking from station to station. In addition, teams had their own tables during lunch, with social distancing and hand sanitation were encouraged throughout the event.
Kudela says that after months of social distancing, people wanted to have a little fun. "Being part of the USA is a win-win because I get to participate in great events, but most importantly, I know the proceeds from those events go toward conservation improvement projects in the area."
Together, USA and OH-KY ADC sponsored 16 similar events throughout the region the past few years. To help bring the community together, OH-KY ADC did it all, including taking kids with special needs on fishing trips, cleaning up and installing area lake piers, and building an environmental studies center for Ashland University.
Kudela and his team have been working to grow the event each year by soliciting suppliers and encouraging OH-KY ADC's 17 locals, and members of the Ohio and Kentucky building trades to participate.
USA Shooting Programs Manager Chris Piltz says the event's success was made possible by the strong commitment of BAC and its team—led by Kudela. The 9th annual BAC shoot will once again take place at the Elk Creek Hunt Club in Owenton, Kentucky, on Saturday, June 5. For more information, visit bit.ly/usa-BAC 
Local 2 Michigan
Memorial Honoring 3 Notable "Sons" of Ishpeming, Michigan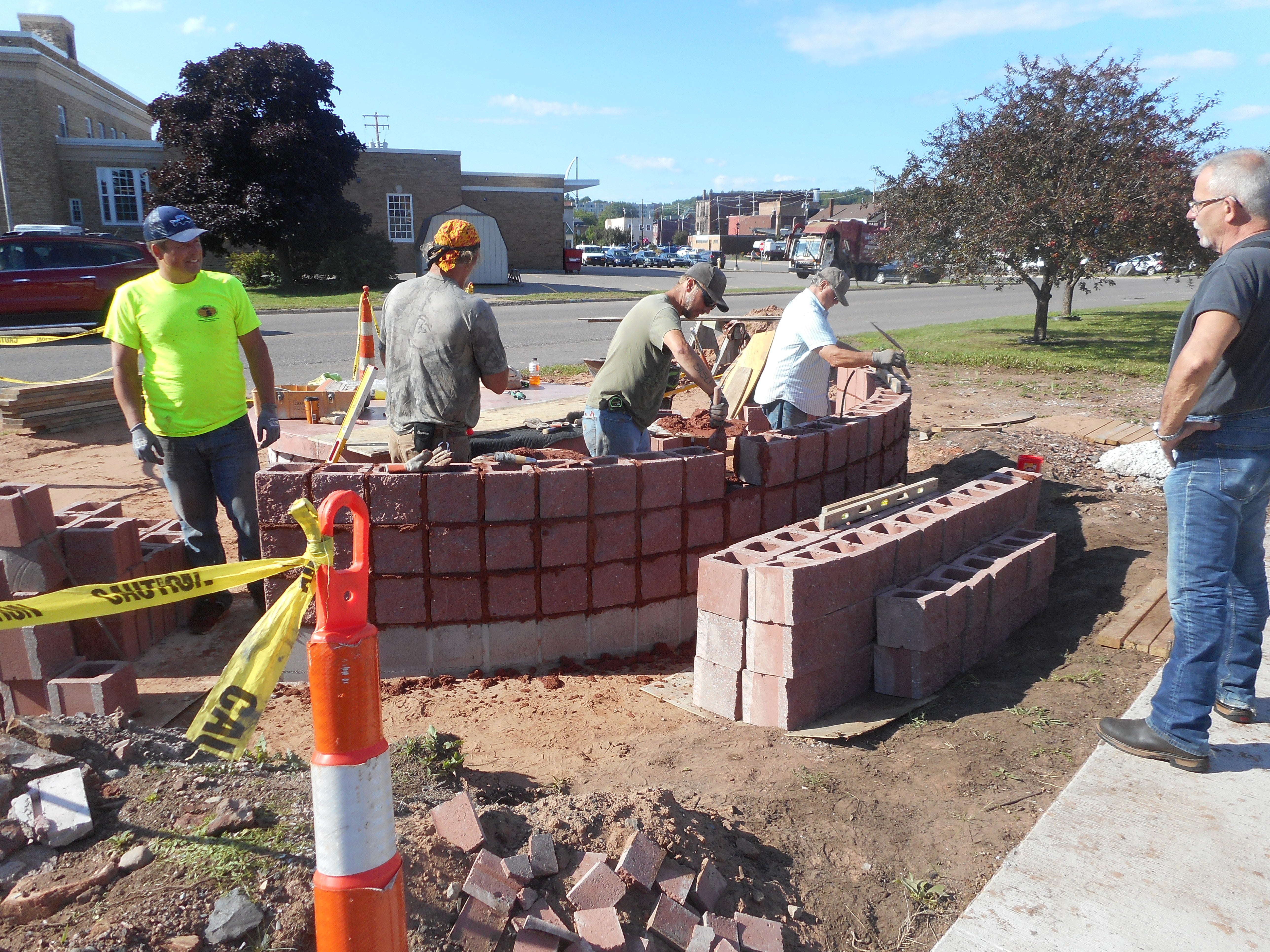 Thanks to the skilled craftsmanship of BAC Local 2 Michigan members, a memorial honoring three notable locals became a new landmark in Ishpeming, Michigan. The monument honors historically prominent figures who were born and raised in Ishpeming, including chemist and Nobel Prize winner Dr. Glenn Seaborg; author and noted lawyer John Voelker; and aeronautical engineer Kelly Johnson.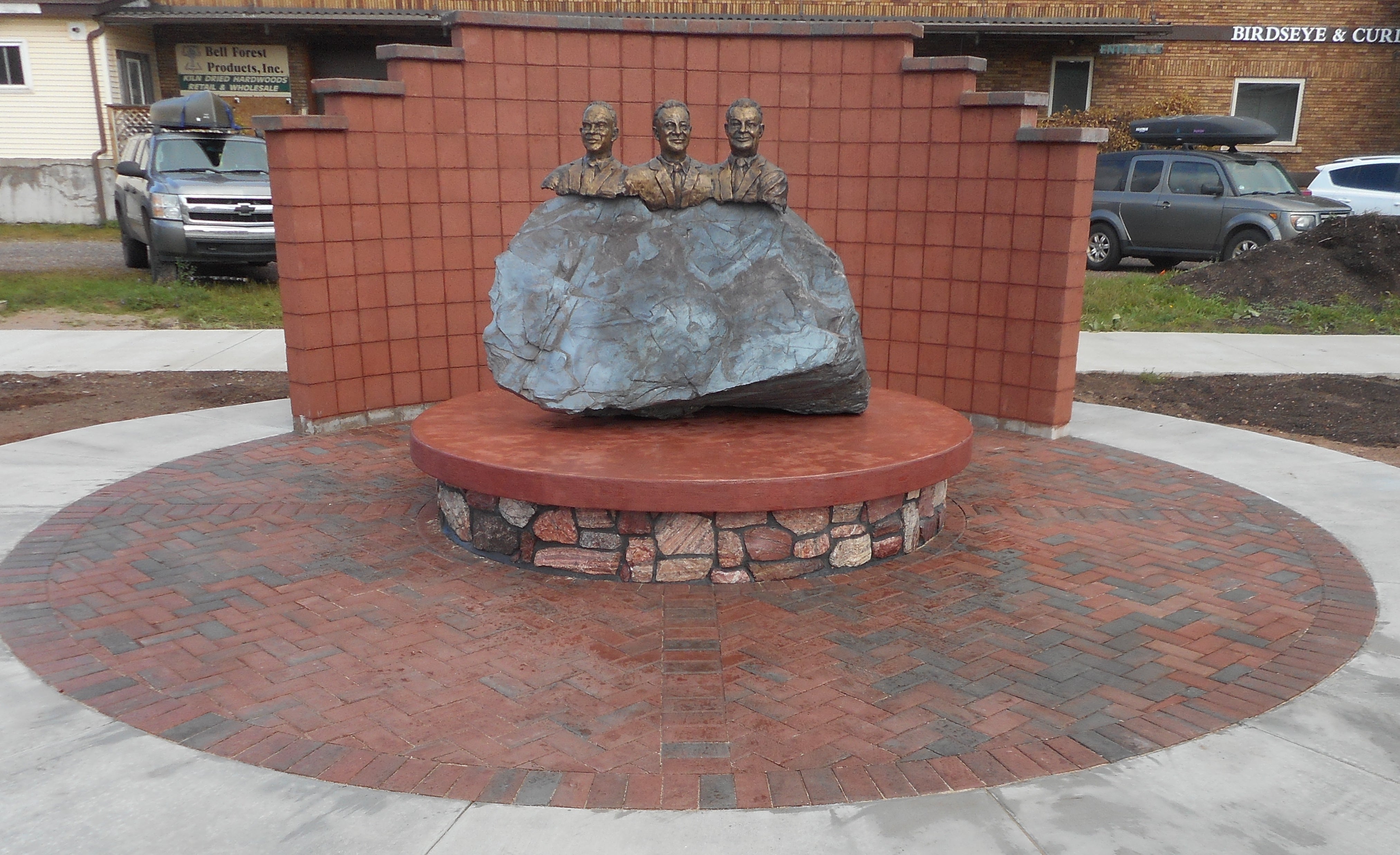 In constructing the monument, BAC Local 2 MI members made full use of local materials, including the Kona Dolomite stone—a semi-precious stone used to make jewelry. A large vein of the stone runs south of Marquette in Michigan's Upper Peninsula. The multi-phased, engineered project began with members pouring 10 tons of concrete to build the foundation. Outside the monument's radial base, members poured a concrete border and laid brick pavers in a herringbone pattern inside that border.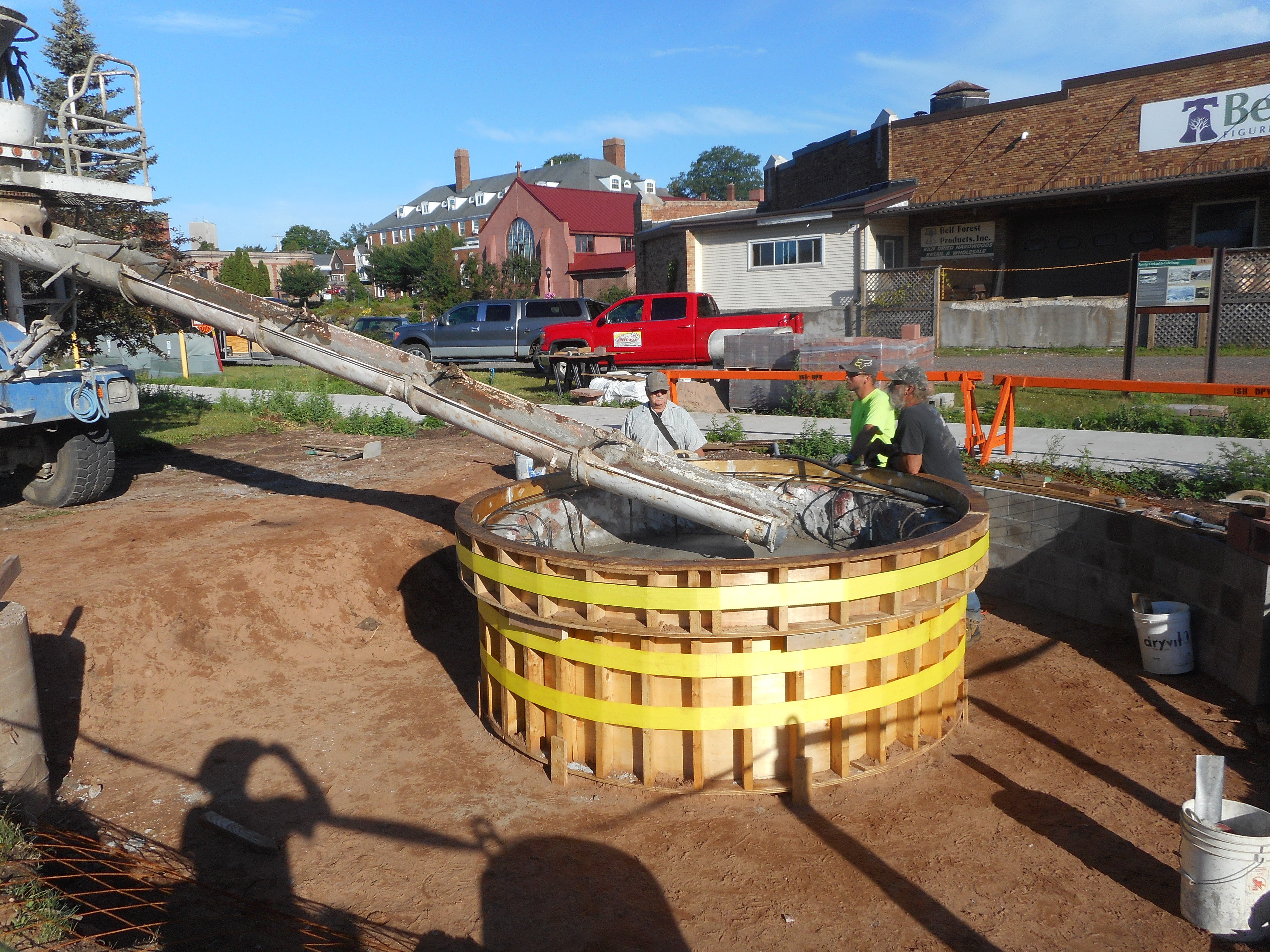 A bronze bust of the Three Sons of Ishpeming was mounted on an 18-ton, 5-foot-tall Hematite iron ore stone, which was donated by a local mine. The Hematite stone, measuring 7 feet long x 4 feet wide, sits atop the massive pedestal base, which also was built by Local 2 MI members. Additionally, members completed a block radius wall behind the monument.
"I was amazed to see the amount of skilled and detailed work that our members performed as volunteers to make this Memorial Monument a reality," says Local 2 MI President Chuck Kukawka. "In my mind, this is also a testament to the determination of our members to honor the Three Sons of Ishpeming."
Members of Local 2 MI donating their time and skills to the project included Apprentice Coordinator Alex Sovey, Brian Ranta, John "Doc" Holliday, Bill Eman, Brent "Buddha" Bleckiner, Victor Tullila and Adam Sarri, and apprentices Brian Lantto and Tim Etter.
Eastern Missouri Administrative District Council
Handmade Mosaic Craftwork Made for the Community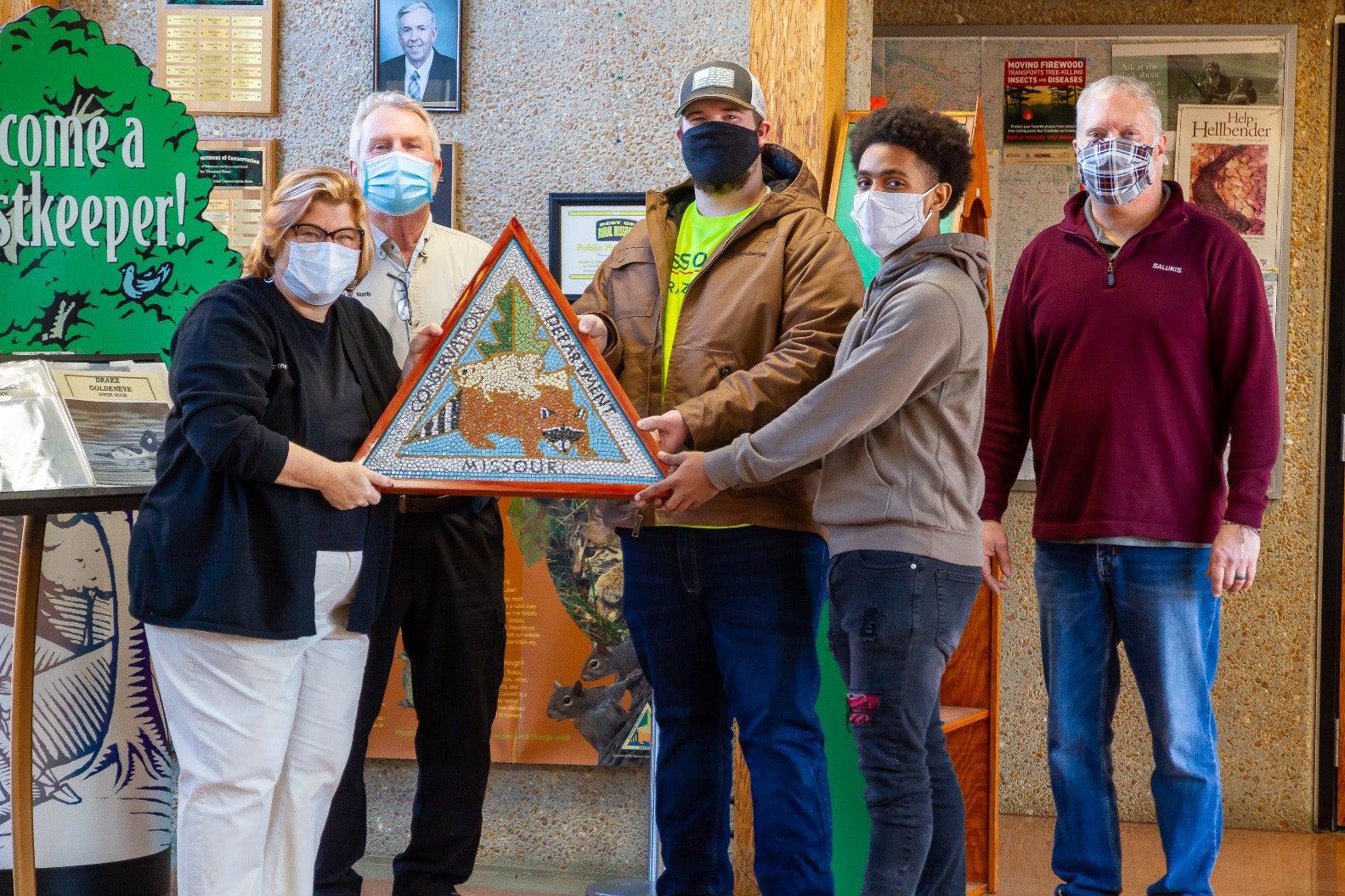 The Missouri Department of Conservation (MDC) received a special gift from members of BAC Eastern Missouri Administrative District Council—a handmade mosaic tile MDC logo in a wooden frame, designed and produced by apprentices of BAC Local 18 MO.
Together, the apprentices—a mix of tile setters, terrazzo mechanics and finishers, marble and granite top installers—contributed 40 hours of work to create the mosaic piece. Amateur woodworker Matt Mauger handmade the wooden frame.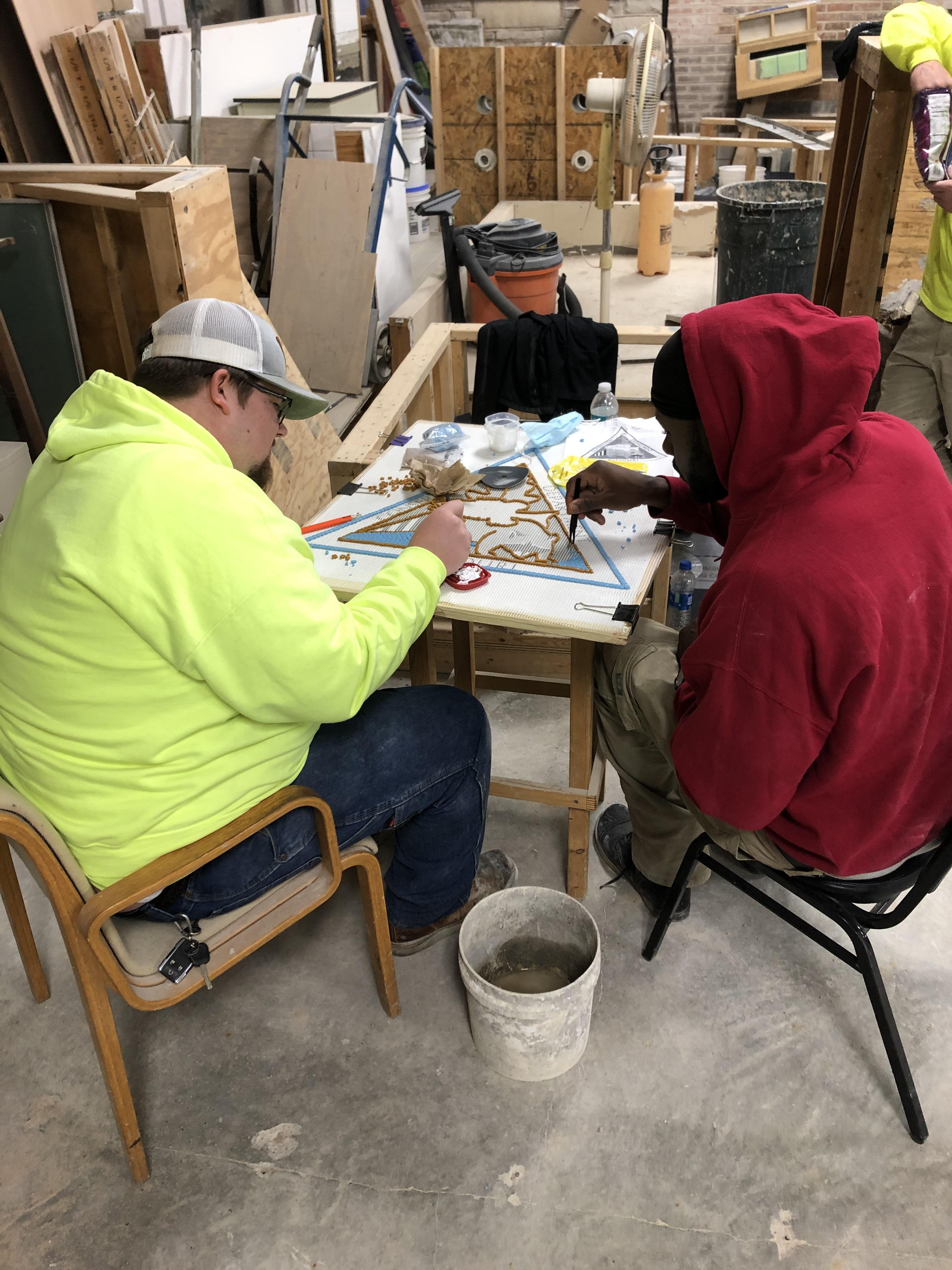 "We are pleased to put our craftsmanship to use and create a mosaic that can be shared with the community," says Charlie Reiter, BAC Local 18 Vice President and Apprentice Coordinator/Instructor. "By displaying this mosaic logo at a local MDC facility, it will ensure that the apprentices and the public will be able to enjoy it for years to come."
The mosaic logo currently is on display in the main entry foyer of the MDC St. Louis regional office.
Reiter says the project helped teach apprentices precision, problem-solving, cooperation and planning—all essential skills for BAC craftwork in granite, marble tops and terrazzo.
The project started with enlarging and printing a photo of the MDC logo, then placing a layer of mesh on top. Next came the precision work of custom-shaping every mosaic tile using cutters, followed by securing each one into place with tweezers and glue. "Every piece is different, and you have to line them up precisely and make sure each one fits," says Christian Moore, a seven-month apprentice of Local 18 MO.
MDC Regional Administrator Julianne Stone says the group was touched by the dedication and passion BAC members put into the project. "It was a pleasure to meet them, and we will proudly display their work. We at MDC always look forward to opportunities such as this to connect with partners in the community we serve."
Local 1 Maryland/Virginia/District of Columbia
Renovating Offices and Residences for the American Gold Star Mothers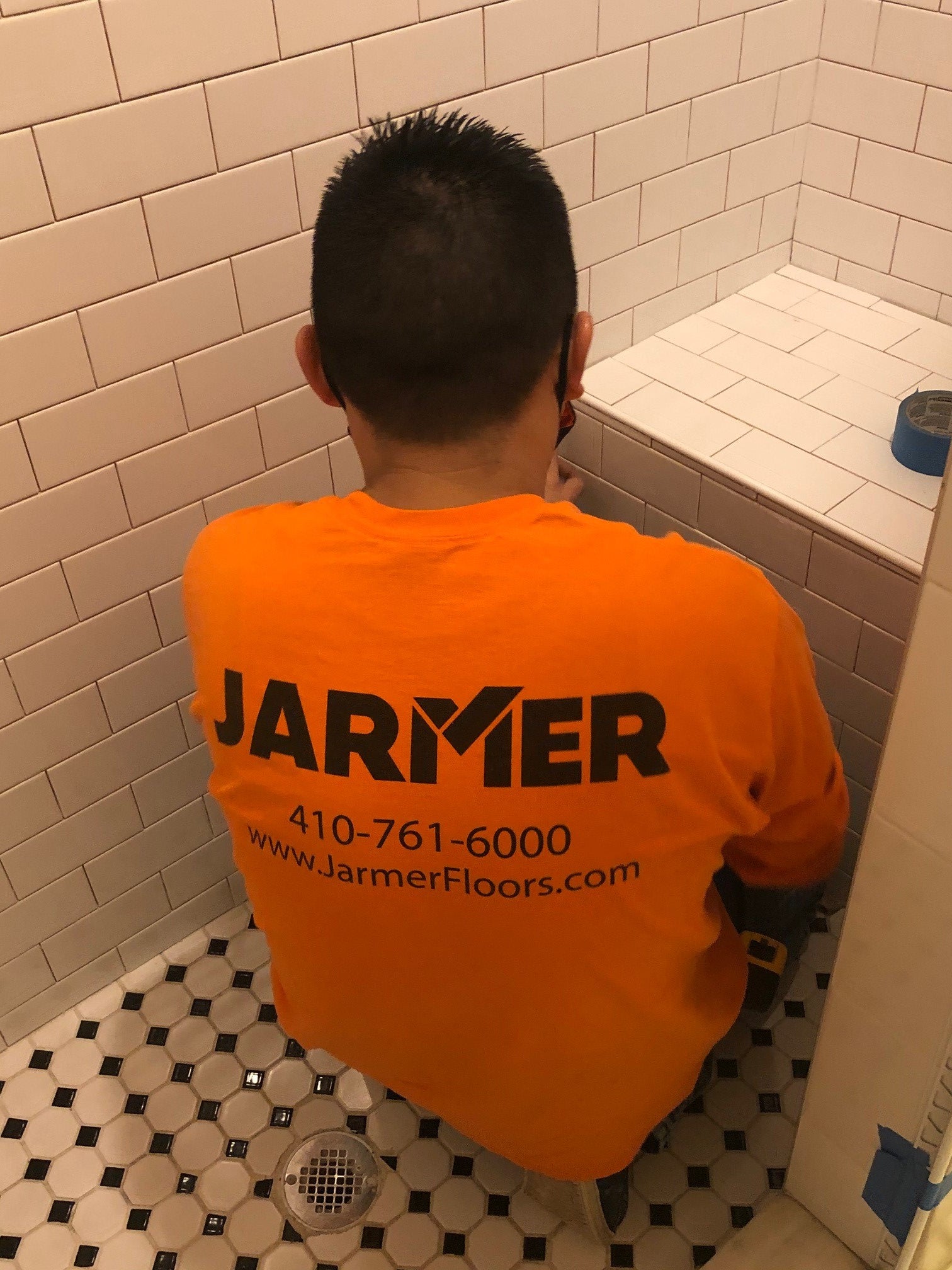 Thanks to the joint efforts of Helmets to Hardhats (H2H) and building trades unions, offices and residences of the American Gold Star Mothers (AGSM) in Washington, D.C. were gifted with a fresh look.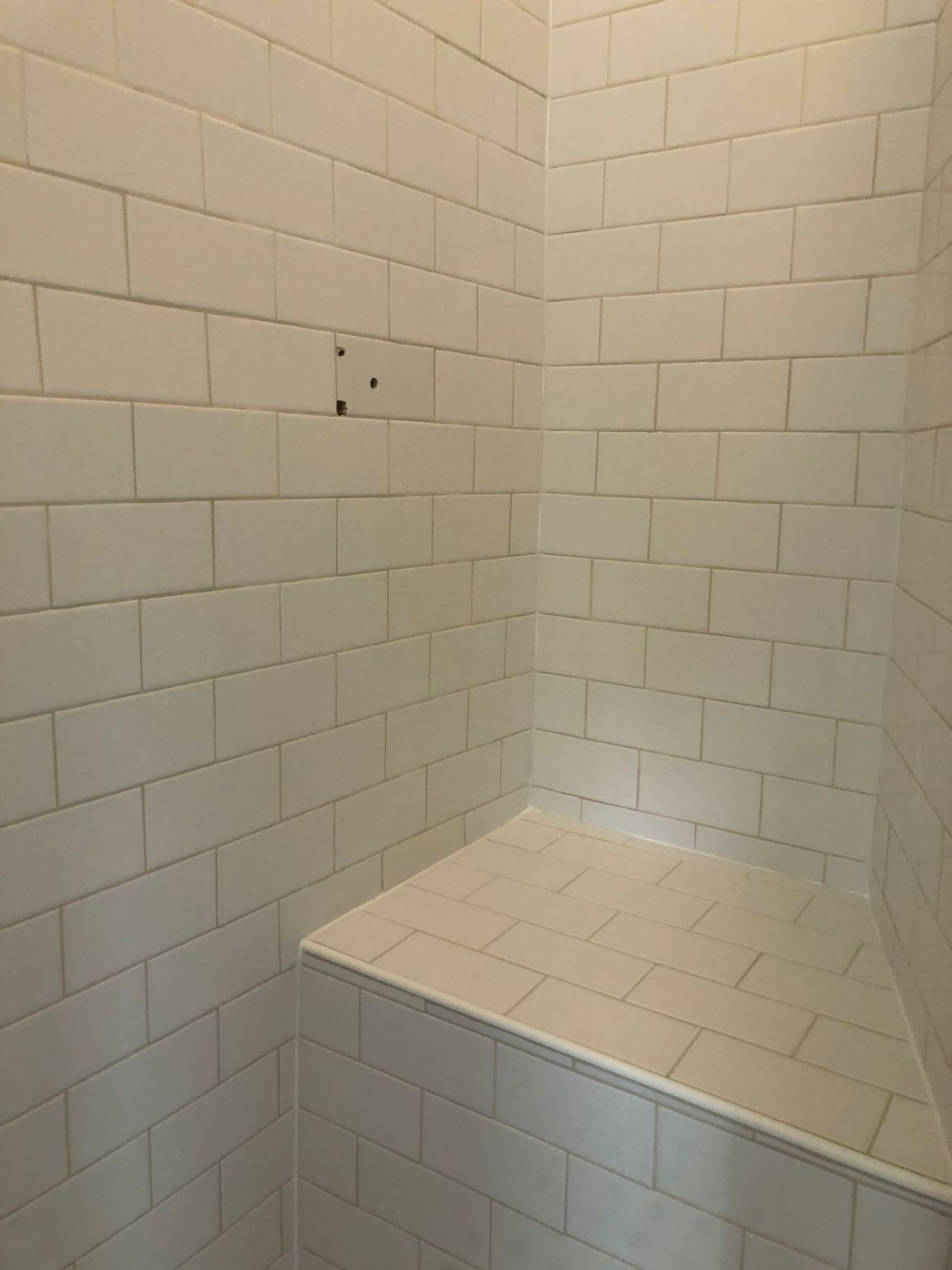 Coordinated with H2H's Senior Program Manager Robert Schwarts, volunteers from several building trades unions, including BAC Local 1 MD/VA/DC, IUPAT Local 51 DC, Plumbers and Gasfitters Local 5, Steamfitters UA Local 602 and SMART, donated their time and materials to help spruce up AGSM's offices and residences.
"We provided tiles over in the existing shower since they were looking for a less invasive update of the residences without getting into a complete overhaul," says Andrew Skinner, Project Manager at D. Jarmer Flooring, a signatory contractor of BAC. "We were happy to do our part for both BAC and AGSM, because we support both ideas of helping former service members make the transition to civilian workforce, and of providing some small comfort for the mothers who have sacrificed so much."
BAC Local 1 MD/VA/DC President Scott Garvin says members were happy to be part of this project. "Brother Walter Lopez Gomez, a Local 1 member, did a great job turning a run-down and dated shower room into a much nicer one."
International Union
IU Staff Spread Love and Support During the Pandemic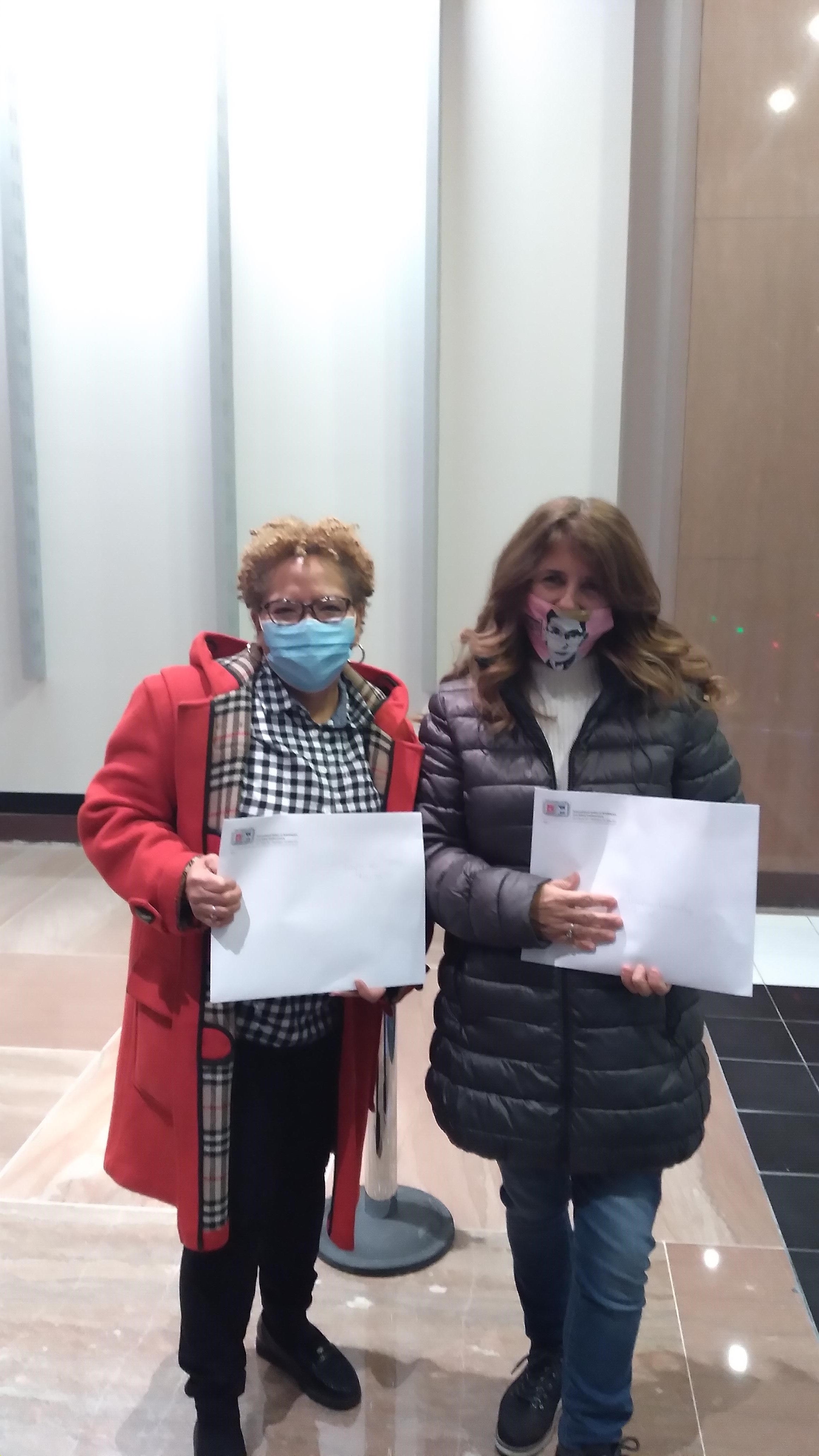 The IU staff stepped up during this past holiday season by raising $14,261 for the United Way Campaign, exceeding last year's fundraising total. In addition to the United Way Campaign, the IU staff also donated $5,175 to local families through Toys for Tots and $2,175 to two local families through Adopt a Family.
"Since the food drive was not a possibility due to the pandemic, we chose a different direction by adopting two local families in need through the Community Services Agency's Holiday Basket Program," says IU Executive Vice President Jerry Sullivan, who spearheaded the charity campaigns. "Although our fundraising efforts faced an unprecedent challenge, our staff showed solidarity to our communities."