BAC Journal
>
New Problem-solving Strategies Rooted in Timeless World Craftsmanship
New Problem-solving Strategies Rooted in Timeless World Craftsmanship
Editor's Note: Originally written by Leslie Dyson and published on TradeTalk (Spring 2019 issue), this article is reprinted in this BAC Journal with permission, featuring BAC Local 2 British Columbia tilesetters' quality work in downtown Vancouver.
A tilesetter crew from Star Tile, working on the 34th floor at 666 Burrard Street in downtown Vancouver, has just wrapped up a job installing porcelain tile for the grandiose regional office of Goldcorp (recently merged with Newmont).
Before the work could begin, they saw they had a problem. On one side of the room there is a staircase. The open design has the floor continuing around it to a bank of windows. The building code sets out the height of staircase risers so the tilesetters had to come up with a way to lay the floor and maintain the required height.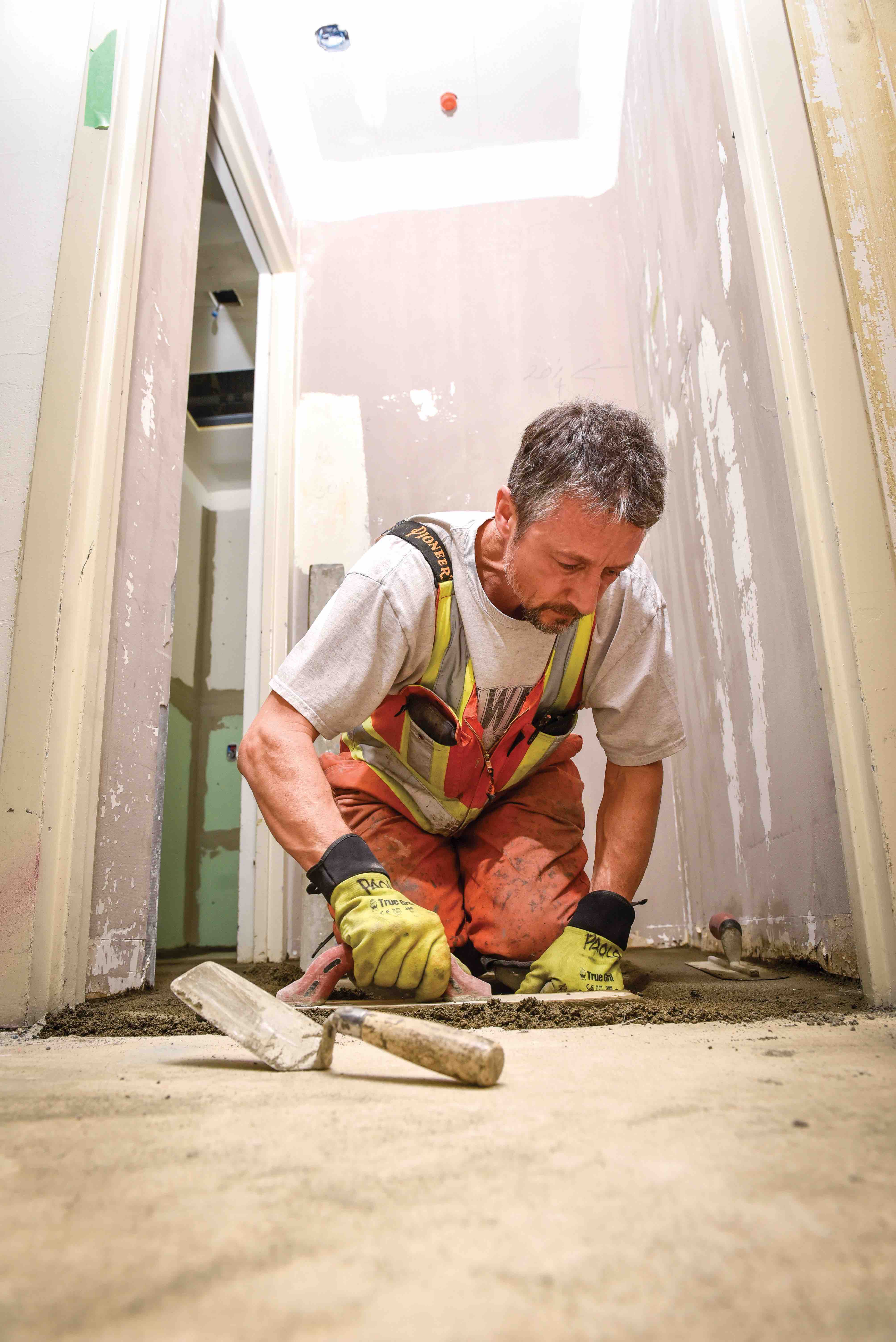 The engineer's plans made no allowances for the discrepancy, which wasn't unusual. But ignoring the over-sight would have been an outrageously expensive mistake. The crew worked together to come up with a strategy. Now the floor has three gentle slopes, barely noticeable unless you're on a skateboard, said Dan Corra, a 30-year member of BAC Local 2 British Columbia.
Many of the tilesetter members of the Union have decades of experience in the craft. You can see the quality of the members' work in the granite floors and quartz counter tops of elite shops and the marble-walled lobbies of high-end hotels.
Take a look at the new expansion to the Commercial SkyTrain station. "We did everything on the east side, top to bottom," said Paulo Perozzo, also a 30-year member of BAC Local 2 BC. Some of the mortar reaches a depth of six inches and the floor had to be sloped to ensure water flowed in the correct direction. It was a challenge to get their materials hoisted to the second floor. "It was quite an obstacle course, I can tell you."
They were given just six months to complete the work and there were many days when they didn't think it was possible.
In the case of the Goldcorp project, the entire 2,000 square feet had to be mudded. "It has to be perfect," Corra said. "It slopes down 35 millimeters to meet the riser and to make the floor elevations work. There are three dimensions." A laser level wouldn't work in this setting. "We have to pull string lines and every transition has to be on a joint. It's just one of the tricks of the trade."
The general contractor Priority Projects knew the job was complicated and contacted Star Tile Co. Ltd., located on Hastings Street in Vancouver.
Star Tile has been in business since 1965 when it began hiring tilesetting tradespeople with European backgrounds and where skills have been passed down from generation to generation.
Loyalty goes both ways, between the company and the workers.
BAC Local 2 BC president Geoff Higginson said, "The work ethic is good because the company is union. It keeps them working and they're a good team. There's an incredible sense of pride. There's no way they'll allow half-assed work. And it's a good place to apprentice."
Apprentice Alex Nikolic, a five-year member of BAC Local 2 BC, said the biggest attraction of the trade is seeing pro-jects from start to finish. "We're one of the last trades in there (and) when you walk in, it's like a war zone. Then there's a whole transformation. You go from absolutely nothing to finished product." He credits Perozzo and Corra for his success in the trade. "They've been my mentors from Day One."
Star Tile is a family business. Corra's son, Eric (also working for Star), is supervising the tile work being done on a residential complex on Cambie Street and 59th Avenue in Vancouver. Perozzo came to the trade after working for a tile distributor. "I thought I wasn't going to be able to provide for a family working in a warehouse." He was ready when a tilesetting contractor asked him to work for his company. "Some true craftsmen have left us," he said. "I'm grateful to have worked with them. They passed things along the line and I hope to pass them along, too."
He continued, "What I like the most is you're always learning and when you come across certain scenarios that look one way on paper but don't work, you have to look for new strategies. Like overcoming a discrepancy in the subfloor. You have to hit a stair riser at a certain height without dismantling the floor. Sometimes you're working in a situation but for whatever reason, you have to come up with another solution. Maybe physics is the proper word."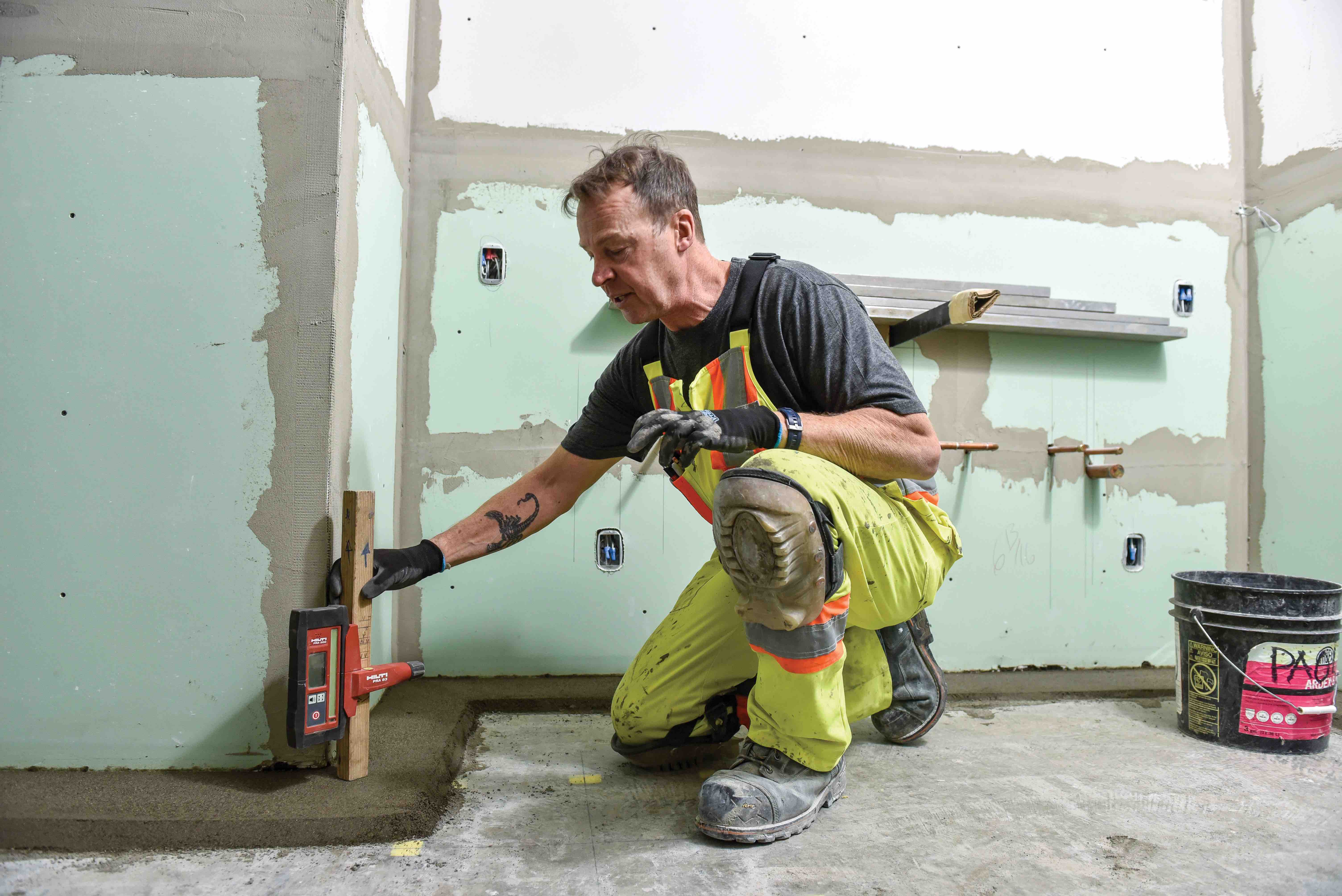 "In this industry, 90 per cent of installing is in the prep work. It has to be done properly. Before you start, you have to ask, 'What are the conditions? What is the weather? Is the substrate solid? Is the subfloor in good condition? What elevations do we have to reach?" Perozzo remembers one job that involved mechanical installation of big walls. The engineer signed off on the tile (stone), brackets, fasteners and metal as well as the iron façade. "But we looked and said, 'No way is this going to work! It wasn't safe or sound.' The engineer was never told and never knew the extra time it caused."
The solutions to the problems that come up can't be found on Google or YouTube. "There's an old saying," Perozzo said. "Four eyes are better than two." There is a lot of brainstorming under way on the job site.
One of Nikolic's favorite jobs was a 9,000 square foot outdoor patio in Victoria that required a crew working 10-hour days four days a week to mud the entire area and install all the stonework. Every job comes with new problems to solve and a growing skill set. "Yeah," he said, "there are some guys who learn for a year and then put a sticker on the side of their van and say they can do it all. I don't get it." Constant learning and working for a great company keep Nikolic enthusiastic about the work.
As you'd expect Perozzo and Corra's houses are showcases for their skills. Corra's 1930s house has been renovated to include half-inch brick veneer around some windows, a quartz counter top, multi-color slate flooring in the basement and a bathroom with 1x1 octagon marble tile, 3x6 subway tile in a brick pattern, a marble border and a glass mosaic. "I have tile, porcelain, granite and stonework in my house," said Perozzo. "I did everything myself. Not very many know how to do this stuff."
BAC Local 2 BC, like many Building Trades Locals, is "facing the effects of a lack of appreciation for quality work, out-sourced materials and the under-ground economy," said BAC Local 2 BC president Geoff Higginson. The Union represents brick-layers, stonemasons, tilesetters and terrazzo workers. There are approximately 350 bricklayer members, 75 tilesetters and several dozen doing stone work and only a few left doing traditional terrazzo. "The scope of work is being eroded," he said, as he pointed to the flaws in the floor tiles at a popular coffee shop.
Long-time member Paulo Perozza agreed. "There are a lot of people who are not as fully qualified. They're just there to get the money and leave. It's hurting our trade." There is also great concern on the bricklaying side. Recently, Higginson tried to organize the workers from a European country working on a jobsite. "They pay them less," he said. "They work for cash and some go home after three months. Some come on visitor visas but don't return. Some are being paid by the foot for grout work. And they're afraid. Maybe because they've been sponsored by the boss." Even housing, as poor as it likely is, is provided by the company.
Higginson went to jobsites to hand out leaflets written in Portuguese and English pointing out the rates for bricklayers and stonemasons and the phone number of the Union. "The workers hid on me in the van and their handler gave very little information. They have more loyalty to the employer than a Union because of the power imbalance."
BAC Local 2 BC's signatory contractors are working hard to survive in an environment where "it's a race to the bottom" and the main concern sounds like a supermarket slogan. All that matters is "lowest price." However, Higginson said, "there will always be industrial work and the future on the commercial side is going to require really creative ways of organizing."