BAC Journal
>
New Tools for Masonry Design: Building Information Modeling
New Tools for Masonry Design: Building Information Modeling
As design and delivery systems evolve, the construction community increasingly relies on Building Information Modeling (BIM) software to increase speed, generate material quantities for purchase orders, improve communication, and reduce conflicts before they happen in the field. In response to this, BAC and IMI have led and provided leadership and major funding for the BIM for Masonry (BIM-M) project. BIM-M was created to encourage masonry BIM solutions for the building industry. To keep masonry relevant and at the fingertips of architects, BIM-M has developed tools for both designers and contractors. Many of the masonry tools developed by BIM-M were presented at the BIM-M Symposium, held at the District Council Training Center in Addison, Illinois on May 4–5th, and are also available at www.bimformasonry.org.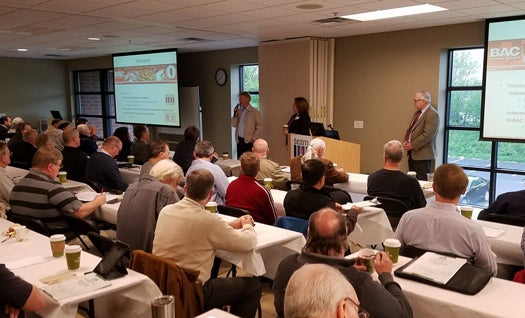 Over 160 architects and contractors attended the BIM-M Symposium that showcased BIM for Masonry software solutions, a key tool for job creation for BAC members. If masonry isn't in the project's BIM model or software library, it won't appear on the jobsite. The lack of extensive masonry content and limited software capabilities in current BIM has contributed to designers selecting other competing materials in project designs. With BAC's and IMI's help, the BIM-M project is working to address this problem.
The first day of the Symposium focused on masonry BIM solutions for architects and other designers. Several of these were BIM-M software plug-ins for the widely-used design software REVIT. The free REVIT Masonry Content Pack, developed by IMI Director Mark Swanson and the Cad Technology Center for BIM-M, puts quality masonry content at the fingertips of the design and construction community. Scott Conwell of IMI presented the IMI Wall Systems Library, a web-based wall assembly tool that will assist designers in assembling components for their masonry envelope. Other software vendors demonstrated plug-ins that easily create masonry coursing in sections and additional products specifically for engineers. All of them are essential in keeping masonry relevant in the world of BIM.
The second day focused on information for contractors. General contractors and masonry subcontractors learned more about using BIM tools. Fred Kinateder, the BIM-M manager for contractor outreach, presented the BIM-M Deliverables Guide for Contractors. A representative from Tekla software showcased new masonry tools for modeling masonry in their product. KMI construction, a Wisconsin masonry contractor, provided case studies using both the Sketchup software and Tekla software for modeling as a sub-contractor on various projects. Finally, Shawn Hester of Mortensen, a general contractor, explained why they ask the subcontractors to provide BIM models of their work. It comes down to that old phrase we all know so well – plan the work and work the plan. Using BIM allows stakeholders to coordinate the trade work, creating increased efficiency and reducing waste and coordination conflicts on the jobsite. General contractors want 3D Masonry models with the right amount of details and realistic expectations with everyone on the same page. When the mason subcontractor models their work in-house or by a third party, the masonry model can be used to verify design intent with actual construction means and methods, which adds tremendous value to a project. General contractors also have included contract language requiring the trade partner to install software tools per the coordinated building model.  Everyone benefits from clear expectations and better tools in their tool box. BAC and IMI's development of better software tools for masonry through the BIM-M project ensures that masonry remains attractive to designers and will be included in projects that provide job opportunities for BAC members.