BAC Journal
>
Revitalizing Detroit, One Project at a Time
Revitalizing Detroit, One Project at a Time
2017 Issue 1
Members at Work
For two centuries, the city of Detroit's motto has been "We hope for better things; it will arise from the ashes." Today's Detroit, especially downtown Detroit, is rebounding. A string of construction projects are underway, and BAC Local 2 Michigan members are seizing this opportunity. 
The development of the $650-million Little Caesars Arena is one of the key projects. It is the centerpiece of the District Detroit, a 50-block sports and entertainment district including mixed-use office space, green space, a hotel, retail and residential buildings adjacent to the Arena on Woodward Avenue and Henry Street. Scheduled to be completed in September, the Little Caesars Arena will serve as the new home of the Detroit Red Wings, Detroit Pistons, and countless other sports, entertainment and community events. 
Over 70 bricklayers, cement masons, and tile setters of BAC Local 2 Michigan employed by signatory contractors Dixon, Inc. (Detroit, MI), Barton Malow Co. (Southfield, MI), Artisan Tile, Inc. (Brighton, MI), and Boston Tile (Detroit, MI) are working on the project.
The choice of using multi-type, local-supplied brick makes the arena visually unique yet cohesive with other buildings in the city. There are seventeen types of standard-size brick and six kinds of thin brick being used, adding up to a total of over 750,000 brick throughout the project. "These brick are sourced from all around the Great Lakes and other states, and are manufactured by three local brick suppliers – Glen-Gery, Belden, and Brick Tec," said Bill Curtis, Dixon's superintendent for the District Detroit project and member of BAC Local 2 Michigan. "The bond patterns, at many locations, range from Flemish, vertical, running, rowlock, and soldiers, with many piers and recessed projections. If you drive through the city, you will see unique yet similar designs on different buildings." 
And it's not just brick. The entire District Detroit project has just under 200,000 concrete masonry units and 16,000 ground face masonry units. An immense amount of cast stone, natural granite, and precast concrete are also used, including 4,000 pieces of cast stone and over 250 pieces of precast concrete. In addition, the two signatory tile contractors have worked on six levels with a total of 250,000 square feet of tiles. There are 75 different types of tile, ranging from porcelain, ceramic and a 3'x 8' large format laminam tile. BAC Local 2 MI members have installed 65,000 square feet of terrazzo floors and five staircases that have terrazzo treads, risers and landings.  
Chuck Kukawka, President of BAC Local 2 Michigan, said using multiple materials and changes in cavity depth present inevitable challenges for craftworkers on the job, but BAC members are always up for new challenges. "Our skilled craftworkers have been outperforming on the job. They have the craft skills in hand and the safety in mind. They are working from 40 feet under the ground to 85 feet in the air. They are truly the best hands in the business," Kukawka said.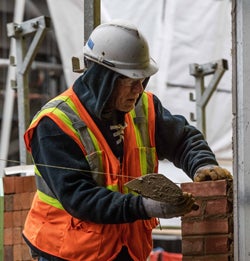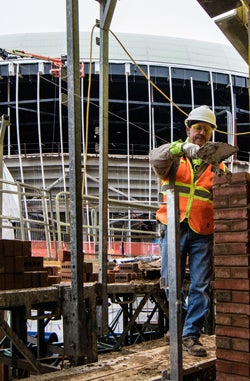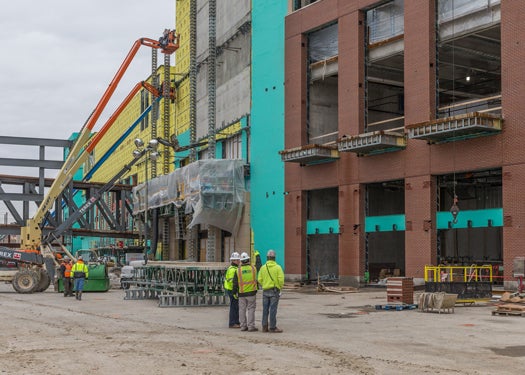 It is also worth noting that the District Detroit project is a community effort aiming to provide jobs, apprenticeships and opportunities to Detroiters. "Many of my foremen are young men, running work for the first time. Thanks to our union apprenticeship and training programs, they have been able to step out of their comfort zone and exceed expectations," said Curtis, who plans to retire after this project. A member of BAC for 26 years, Curtis has worked on many major projects throughout the state. "After building projects such as the "Big House" at University of Michigan and Spartan Stadium Expansion at Michigan State University, this job has topped them all," he added. "From this job on, our apprentices have become the future superstars of this industry." 
BAC members are rebuilding the city of Detroit, one project at a time. While Detroit is reviving, this young generation of BAC members are flourishing through projects like the Little Caesars Arena and many more to come.