BAC Journal
>
Standing Together Proud and Strong
Standing Together Proud and Strong
BAC Joins CBTU to Unveil the Building Trades Monument and Welcomes Canadian Prime Minister Justin Trudeau as New Honorary Member
Leaders and members of BAC joined the honorable Canadian Prime Minister Justin Trudeau and members of the Canadian Building Trades Unions (CBTU) at the unveiling of the Canadian Building Trades Monument at Major's Hill Park in Ottawa on May 16th. A special gift from the CBTU to the people of Canada, this national monument in Canada's capital becomes a symbol to celebrate the contributions made by building trades craftworkers and commemorate the losses they have endured in carrying out their work. 
At the event, BAC President James Boland presented Prime Minister Trudeau a ceremonial BAC trowel representing a BAC honorary membership in recognition of his continued commitment to restoration of the historic buildings on and around Parliament Hill in Ottawa.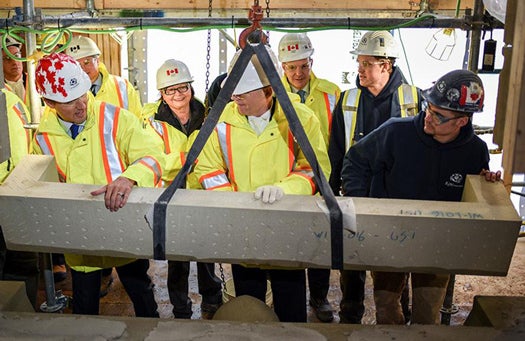 President Boland said, "Members of BAC Local 7 Canada have been an integral part of the restoration of the West Block. We were honored that Prime Minister Trudeau could find time from his busy schedule to lay the last architectural cut stone on the exterior of the West Block. We look forward to continuing the restoration of the Centre Block and the East Block in partnership with Public Works and Government Services Canada." 
More than 400 leaders from the construction industry, labor organizations, and the purchasers of construction services from across Canada and the United States attended the unveiling of the monument. The monument was fabricated in Ontario with Cambrian black granite, quarried in Quebec. It features a pair of oversized plumb bobs and 17 iconic 'tools of the trades' etched into the granite. Each tool was chosen by one of the 17 different trade unions that sponsored the monument.