BAC Journal
>
Together, Biden Administration and BAC Make Efforts on Apprenticeship Training
Together, Biden Administration and BAC Make Efforts on Apprenticeship Training
2022 Issue 4
Legislative & Political
On November 2, 2022, President Biden brought together more than 350 organizations, including BAC, to the White House to discuss expanding equitable workforce development for jobs by the Bipartisan Infrastructure Law, the CHIPS and Science Act, Inflation Reduction Act, and American Rescue Plan. During the event, President Biden delivered a speech on how the Bipartisan Infrastructure Law expanded apprenticeship programs through the administration's "Talent Pipeline Challenge," a challenge aiming to help create pathways for Americans from every background to fill the millions of good-paying jobs.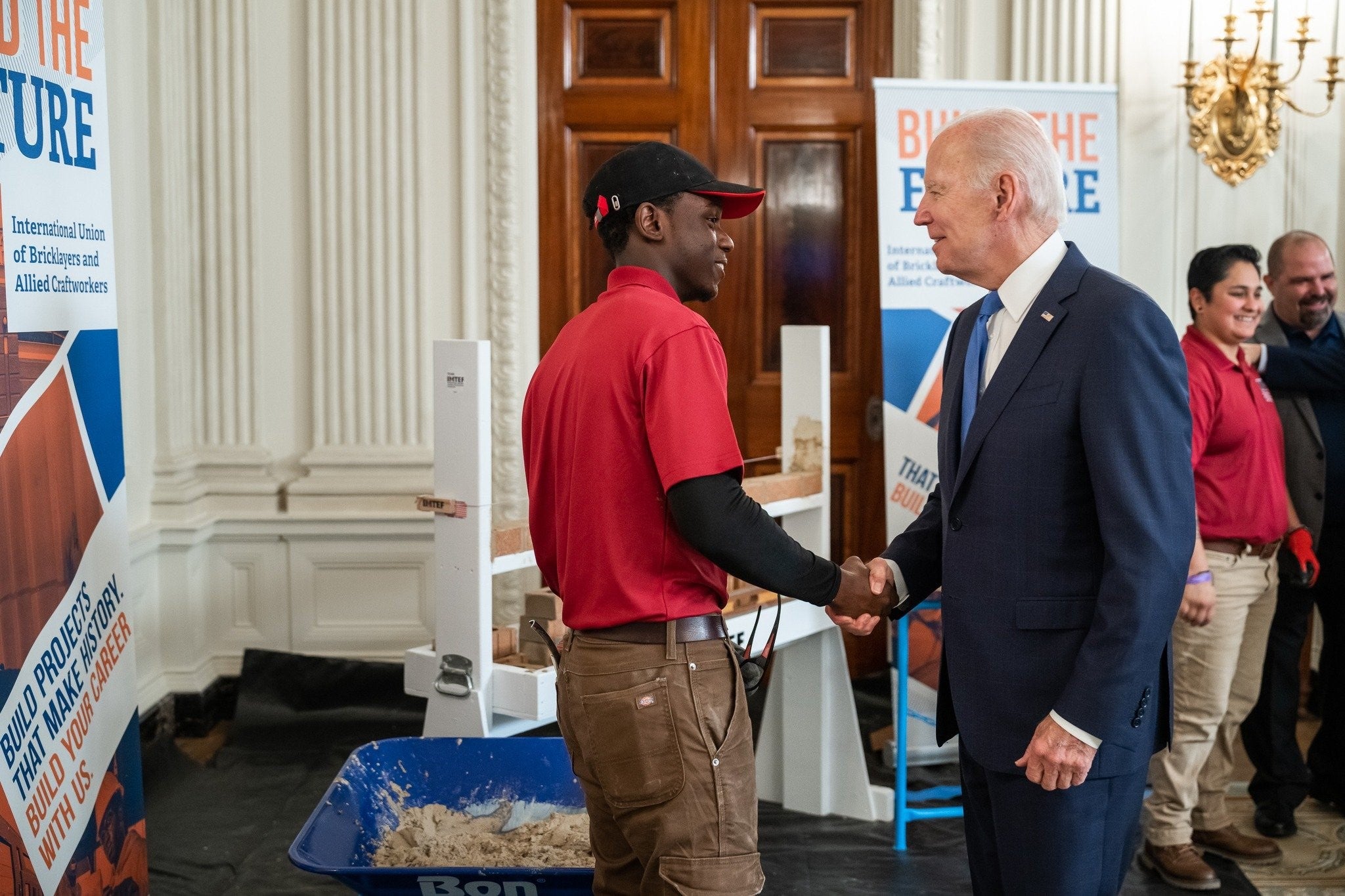 "Companies, many of you are here, are forging partnerships with unions, community college, local nonprofits to create apprenticeships that train workers to develop the necessary skills," President Biden said. "It's the first time we have high-paying jobs and not enough people to do them. Nice thing, isn't it? It's a nice problem to have. We're solving it quickly." 
BAC representatives at the event included IMTEF National Director of Apprenticeship and Training Tony DiPerna, BAC Safety and Health Manager Liliana Calderon, and BAC Local 1 MD/VA/DC bricklayer apprentice Jamaar Evans, who spoke with President Biden about BAC's apprenticeship and training programs. Evans also gave President Biden a bricklaying demonstration and answered his questions about the craft. 
"I couldn't believe it when they invited me to the White House! It was an incredible experience to be able to interact with the President and explain the importance of the trades to him," Evans said after.
"BAC apprenticeships are a gateway to the middle class and a great opportunity to learn a skilled trade," said Director DiPerna after the event was concluded. "Programs like IMTEF – that provide comprehensive apprentice training with benefits, that partner effectively with community organizations, and that recruit and support craftworkers from underserved communities – are exactly what the Talent Pipeline Challenge envisions will help meet the demand created by the Bipartisan Infrastructure Law for highly trained, diverse construction workers."