BAC Journal
>
Urging President Trump to Enforce the Silica Rule
Urging President Trump to Enforce the Silica Rule
2017 Issue 2
President's Message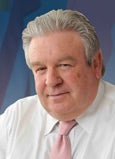 I had the opportunity to meet President Donald Trump at the North America's Building Trades Unions' annual Legislative Conference in Washington, D.C. on April 3rd. When I introduced myself as the President of the International Union of Bricklayers and Allied Craftworkers, he responded, "Bricklayers, they are my kind of people." As you all know, I was not a supporter of Mr. Trump, but his comment about bricklayers gives me hope that we may be able to work together on some issues. One of our top priorities over the last few years has been the Department of Labor's (DOL) Rule to protect workers from exposure to crystalline silica.
Exposure to silica dust causes silicosis, lung cancer and other serious health conditions. As I have said before, this issue is literally a matter of life and death for the members of our Union and workers throughout the country. The IU worked hard with the Obama Administration to get the Rule updated. We testified at hearings held by the Occupational Health and Safety Administration (OSHA); we wrote comments on the proposed Rule; we attended Congressional Hearings; and we reached out to our members and other supporters. We were thrilled when the final Silica Rule was issued in March of 2016. Enforcement of the Rule was initially scheduled to begin on June 23, 2017. On April 6, 2017, the DOL announced they were delaying enforcement to September 23, 2017. 
Many responsible employers have already implemented practices to protect workers and comply with the new Silica Standard. But some continue to resist, raising concerns about the cost of compliance and thereby ignoring the health and safety of their workers. These opponents have urged the DOL for additional delays to enforce the Rule. They have even asked the DOL to re-open the regulatory process. Re-opening the Rule would delay it for years, or, even worse, result in a weaker standard. We have waited over 40 years for an update to the Silica Rule. There should be no more delays. I recently wrote to Secretary of Labor Alexander Acosta (click here), urging him to enforce the Rule as soon as possible. I also sent a cover letter to President Trump (click here), urging him to show his support for workers by enforcing the Silica Rule without any further delay. 
Now I am urging you to act as well. Please write to Labor Secretory Acosta and your Members of Congress, expressing your support for the Silica Rule, and opposing any further delays in enforcement.