BAC Journal
>
Windy City Strong: How BAC members built one of Chicago's most significant skycraper project
Windy City Strong: How BAC members built one of Chicago's most significant skycraper project
2022 Issue 1
Members at Work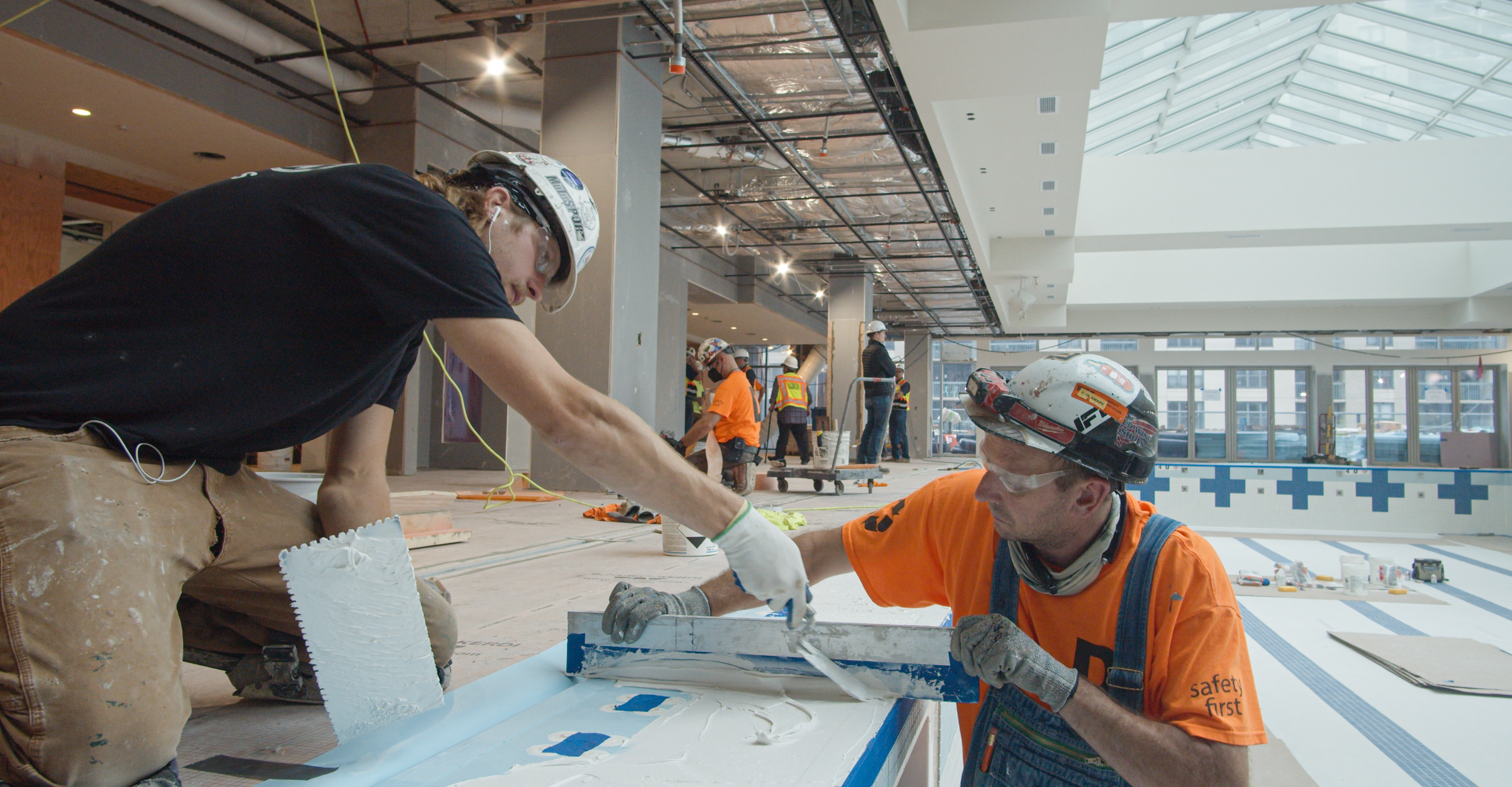 Soaring high above the intersection that includes River North, the Magnificent Mile and Gold Coast, One Chicago Square is the latest addition to the Windy City's iconic skyline. The mixed-use project, which gets its name from its 1 W. Chicago Avenue address, replaces a block-sized parking lot across from Holy Name Cathedral. Scheduled to be completed in early 2022, One Chicago's two towers (969 feet and 574 feet, respectively) will feature 735 rental apartments, 77 owner-occupied condominiums, 1,100 parking spaces, 60,000 square feet of office space, a Whole Foods and a Life Time athletic club.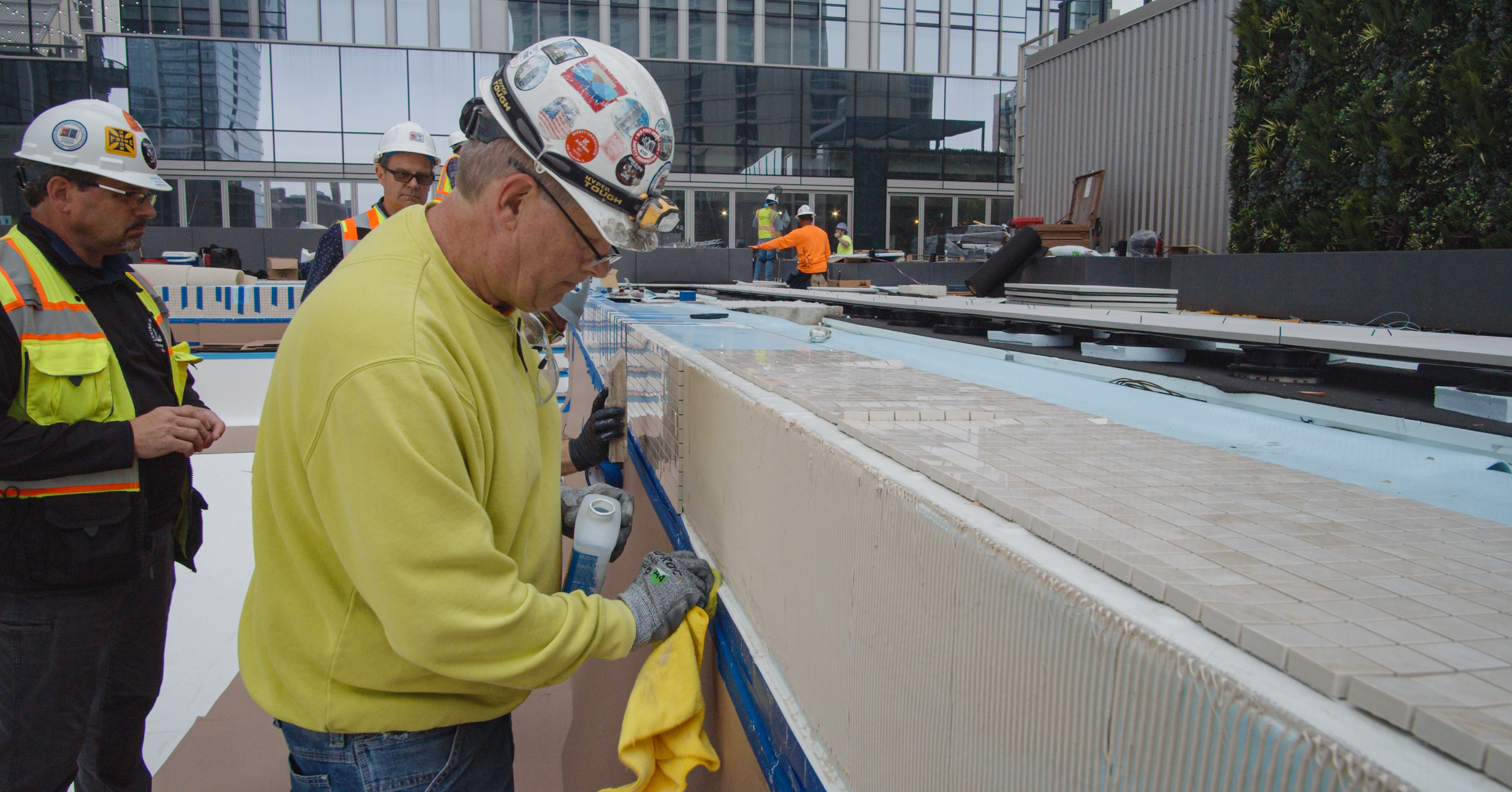 Part of the team logging hours in the skyline-altering project included a number of BAC members working for A.L.L. Masonry Construction (17,000 hours), Bourbon Tile & Marble (31,000 hours), Granite Innovations (30,000 hours) and the Mike Cachey Construction Company (1,800 hours). They joined project developer JDL Development and general contractor Power Construction.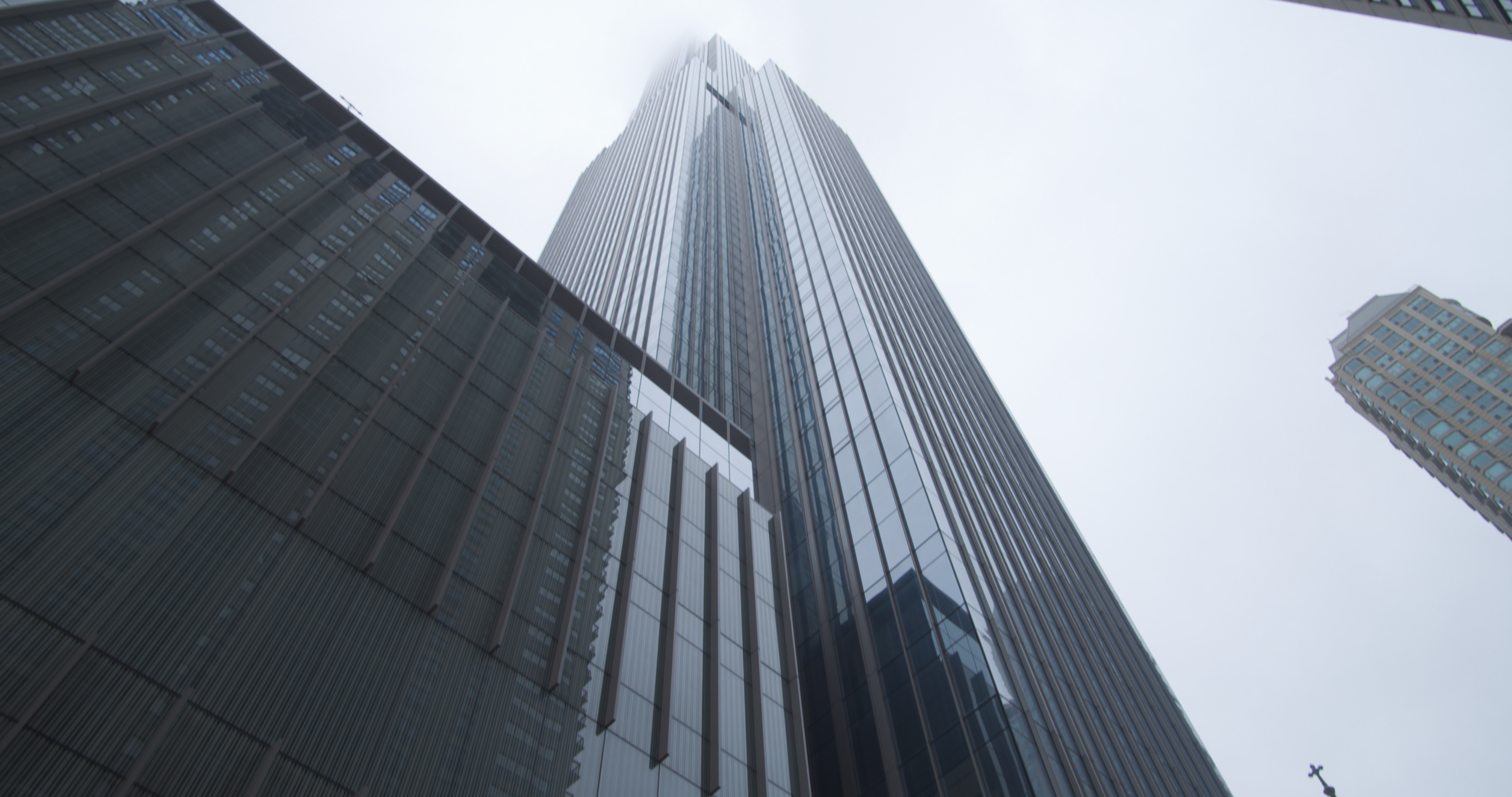 "BAC members are proud to be part of constructing another great building that will be an iconic element of Chicago's skyline," said the President of Administrative District Council 1 of Illinois Mike Volpentesta. "This structure will always be remembered by the people who worked on it as proof that we will continue on after this historic pandemic – overcoming all obstacles as they were put in front of us."
Pandemic Stressed Supply Chain
In a development so encompassing — built in a time of such unprecedented challenges and circumstances — one of the most interesting developments surrounding the work rested in the shipping problems spawned from supply chain interruptions worldwide. The issues primarily started after the foundations were constructed since the products mainly used for that — concrete, insulation, drywall, etc. — are manufactured in North America. Bigger setbacks happened when it was time to use materials that were manufactured or sourced overseas. For example, the stone selected for the One Chicago project was sourced from India, and the shipping costs and delays doubled the price.
"There were no time constraints for our installation, as we are able to follow behind the storefront installer and the concrete contractor with ease," says Mike Cachey, owner of Mike Cachey Construction Company Inc. "But the shipping times were doubled. Instead of taking six weeks, some shipping durations took six months."
Cachey said his team was able to order their material as soon as it was picked. They worked closely with the Power Construction team, who were understanding of where the delays were and why. Breaking ground pre-pandemic, construction on One Chicago Square is expected to take up to 42 months, as the developers continue to roll out the timeline in three phases — delays and all.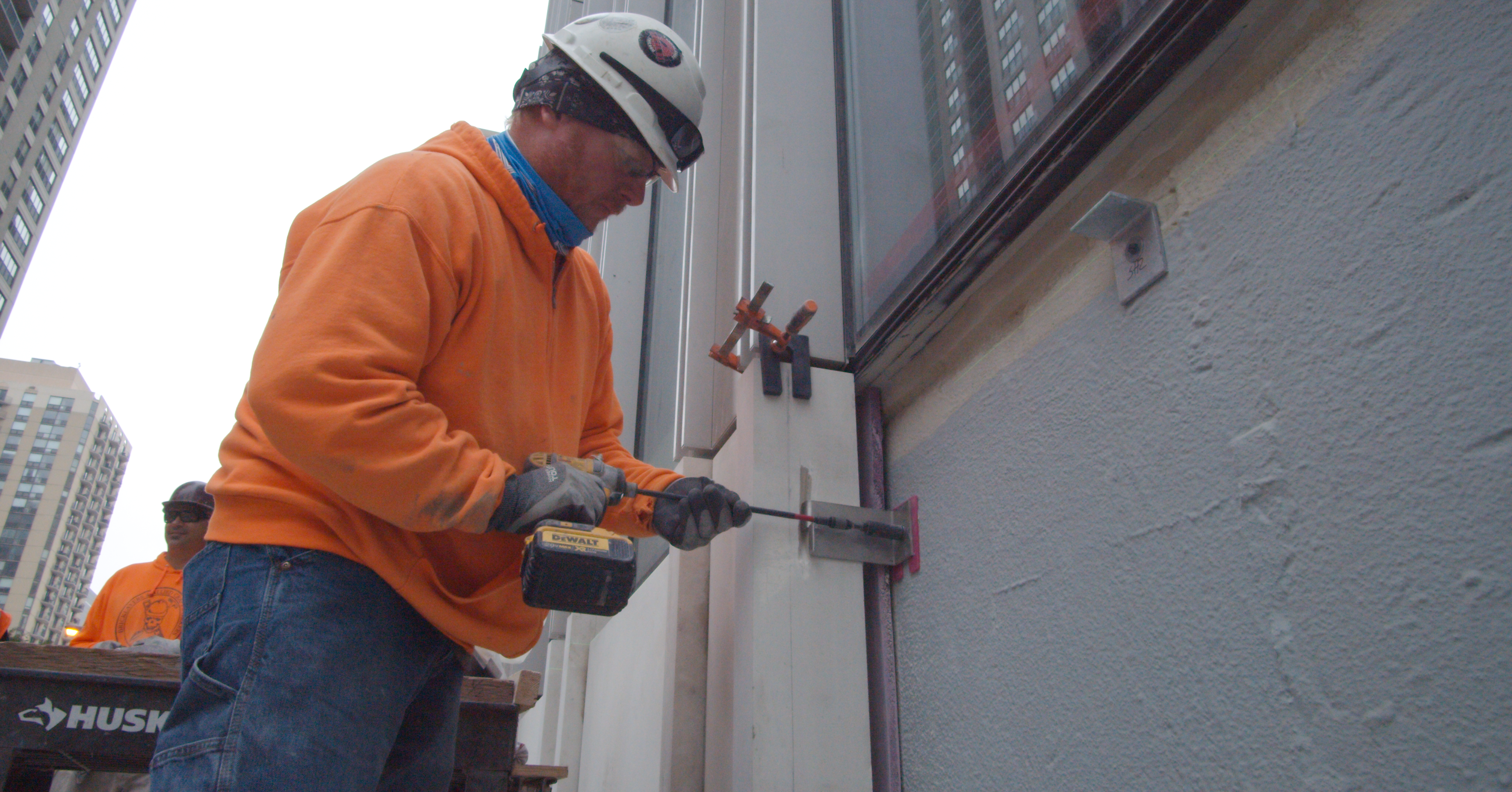 Mike Cachey Construction Company was in charge of installing two types of limestone and granite, as a veneer, honed granite for curbing in the planters and polished granite under the storefront. The Cachey team, including Foreman Tracy Wollenburg, Local 21; Supervisor/Foreman Michael Pazanin, Local 74; Jerry Huey, Local 21; and Marcel Mundo Maldonado, Local 74, worked on 5,800 square feet of stone. 
Throughout the process, the team encountered challenges not unbecoming of a project this size. One of those incidents involved having to drill holes in the granite to receive the pins, and then pinning the granite to the concrete. Since granite is such a hard stone, drilling the holes heated up the bits so much the tips deformed and burnt up. To tackle the problem, Pazanin developed a little jig — a piece of plywood featuring a 3-inch square cut out with rubber gaskets, which held the water and kept the drill bit cool, also eliminating any dust.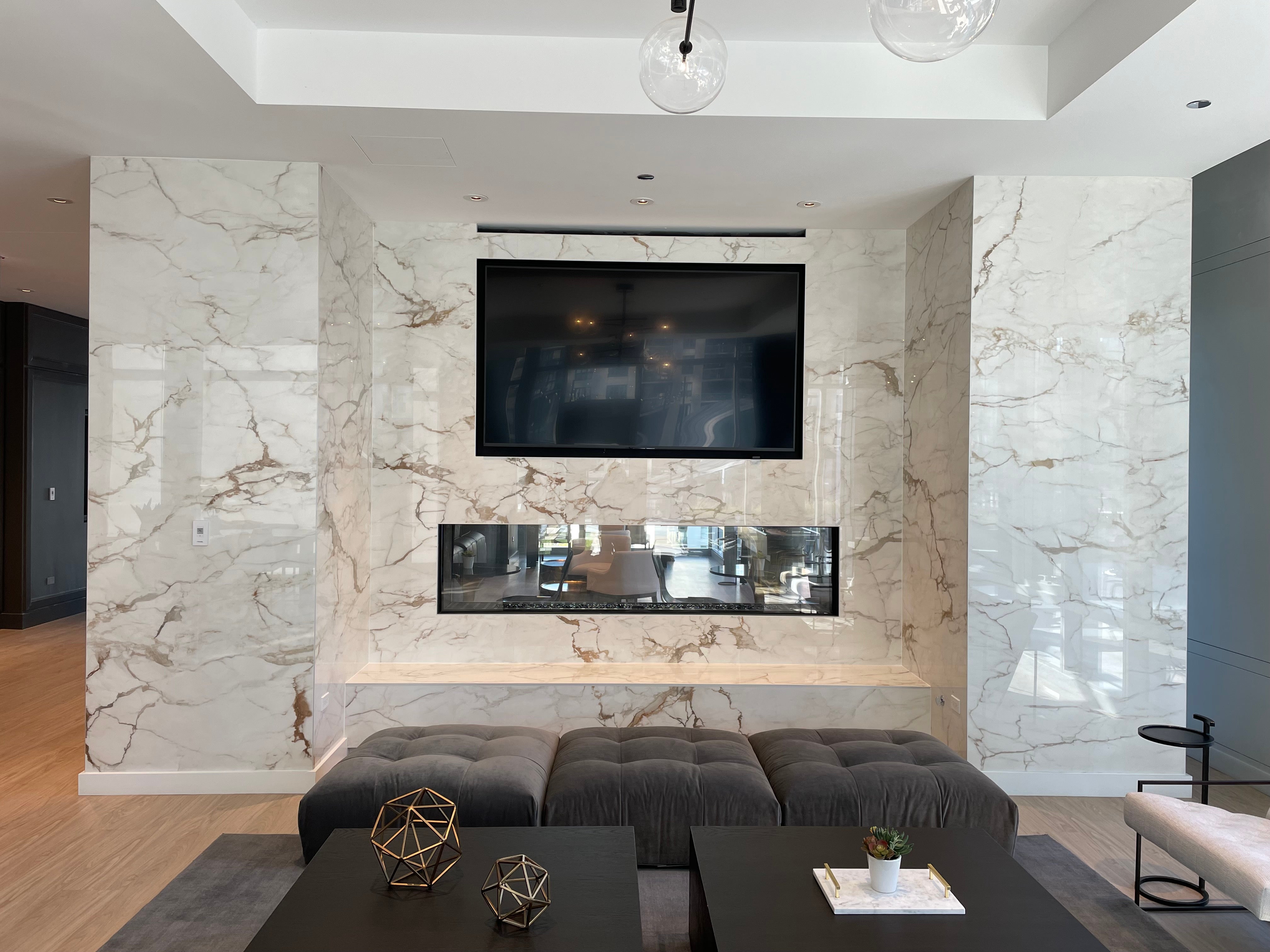 Perhaps one of the biggest challenges came from the design itself. "Architects are always drawing stuff that's impossible to do," Pazanin said. "They have a detailed drawing for a clip for the façade stones that is to receive a clip that mounts to the wall, and then screws to a clip that holds the stone. The space between the stone and the metal panels is 3 inches and sits 2 inches back. They show it was supposed to fasten with a Phillips screwdriver. How can you fit a Phillips driver in a 3-inch space with a 1.5-inch screw that leaves only 1.5 inches to get a Phillips driver in?"
To solve this design problem they fastened the stone panel clips using 1.5" stainless steel Tek screws with a 3/16" ratchet. "It required a work-around" said Pazanin "but that's what we do as bricklayers.  We find solutions to keep the job moving, on schedule, and on budget."
"Our members used their training and experience to help troubleshoot problems to complete this project," said BAC President Tim Driscoll. "With shipping delays affecting jobs across the country, contractors are seeing the strength of BAC trained craftworkers to get the jobs done right, without further hold ups."
Dances with Showers
Some of the most challenging work for BAC on One Chicago Square was the intricate tile design specified for the tower's shower and bathroom areas. Boasting 276 apartments with 388 bathrooms and 69 condo units with 166 bathrooms, BAC members put extraordinary effort into making the primary bathrooms in the condos as remarkable as the building itself.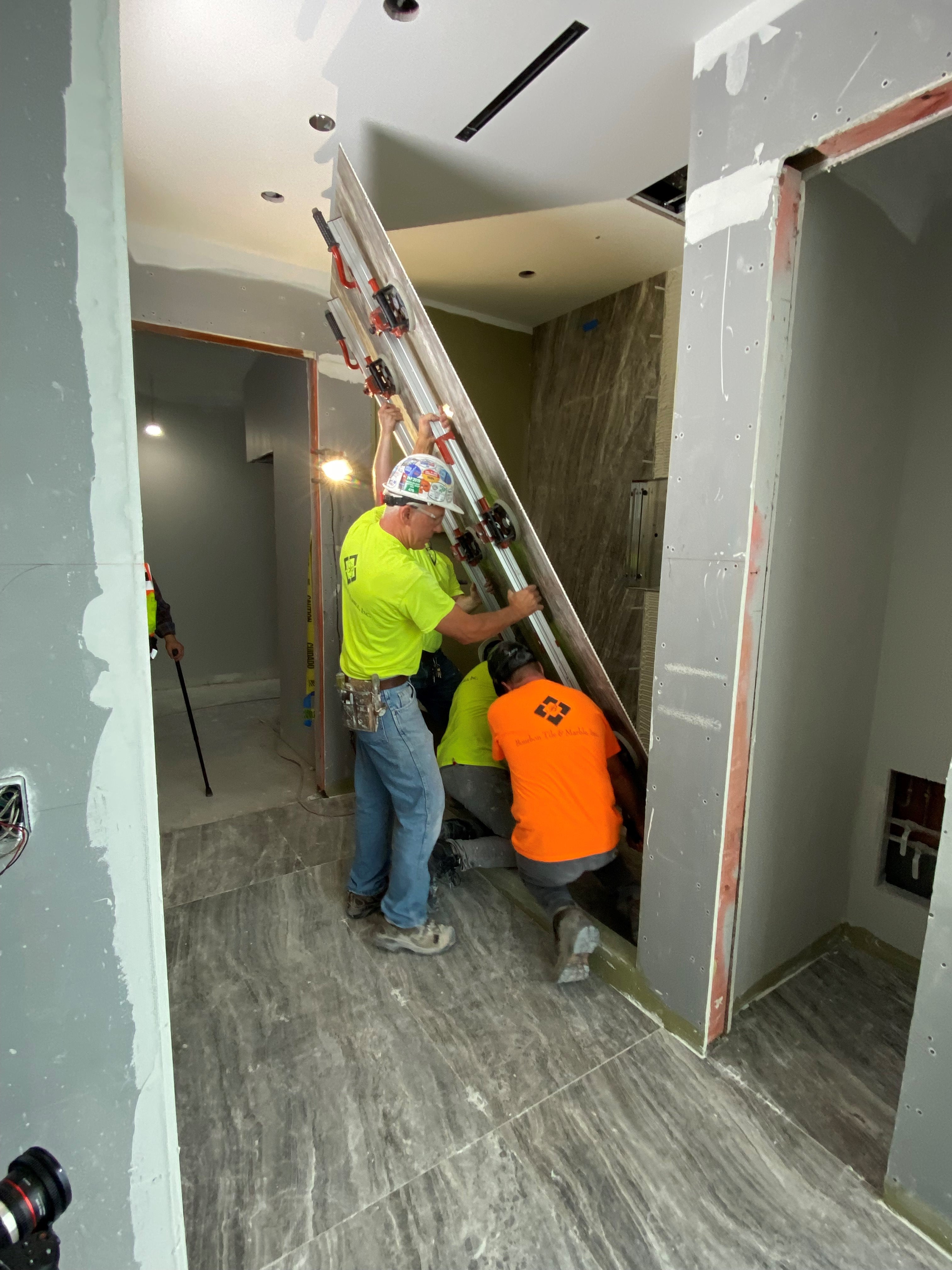 For example, one of the shower walls has a very large cut-out for a niche and several smaller cut-outs for a bench. Typically, cut-outs of these sizes would compromise the integrity of the 60-inch x 120-inch x 6mm gauged porcelain tile panels and would not be recommended by the manufacturer. However, by adhering Schluter's 5/8-inch Kerdi Board to the back of the panels and cutting out the openings on a water jet to make the remaining panel seamless and offer stability, the team at Bourbon Tile & Marble came to the rescue.
In any area, due to tight corners in the condo units, drywall was left off some walls so the larger 60-inch x 120-inch panels could be passed through or navigated around. "There are anywhere from 10 to 20 60-inch x 120-inch panels per condo master bath," said Nancy Bourbon, owner 
and President of the Buffalo Grove,  Il. company. "The external skip elevator was scheduled to be taken down before the bathrooms were scheduled to be installed, and the internal elevator is not large enough to transport the number of panels that were needed on each floor."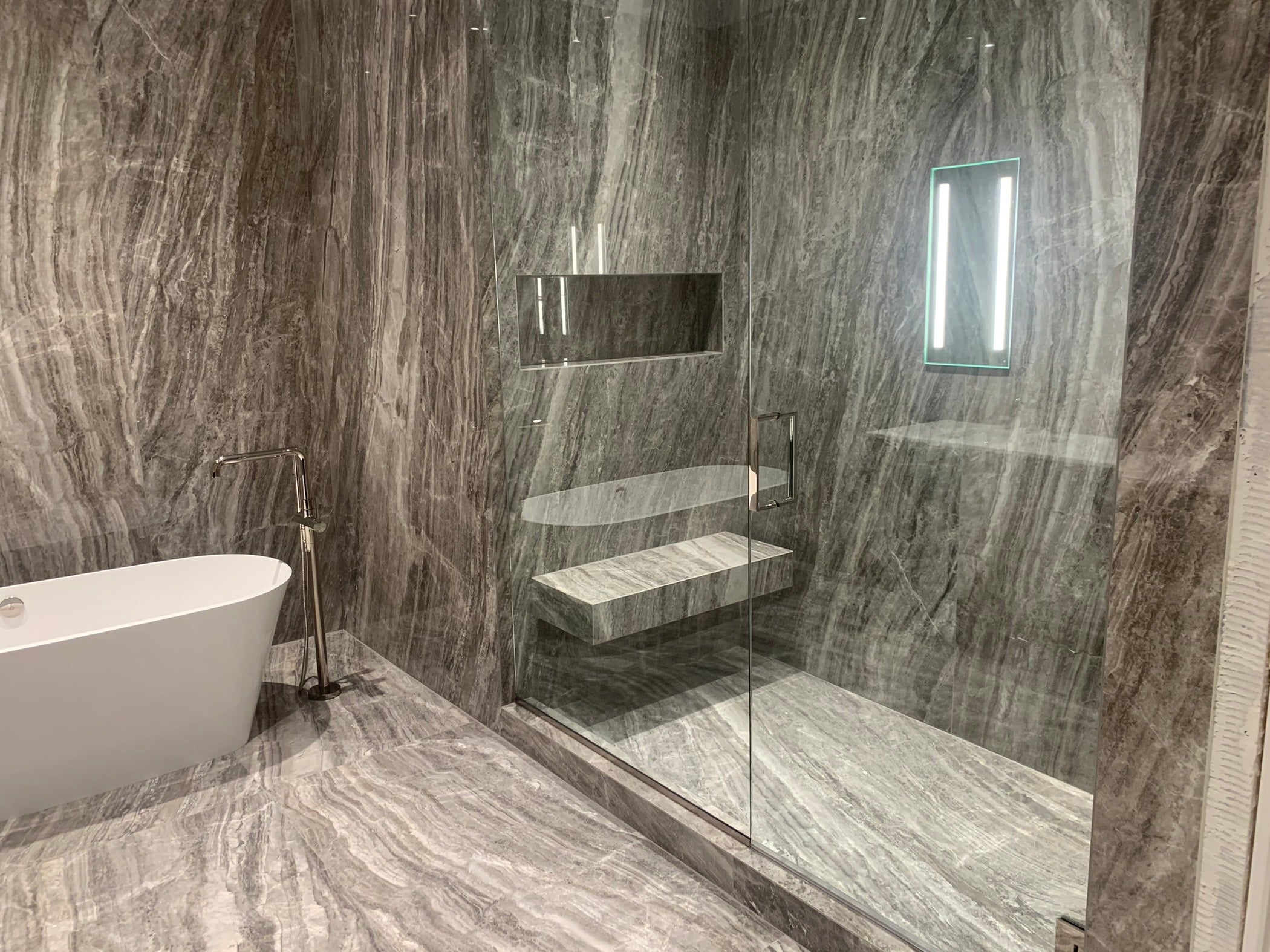 To offset the challenge, the Bourbon team coordinated getting the material from its vendor to pre-stock the upper floors over three weekends before the skip came down. The panels were then secured and protected onsite. Since the niche walls are field measured and fabricated, they are transported one by one until they are ready for installation, using a technique called the doghouse — a raised section in the rear of the cab — in the freight elevator. 
"Fortunately for us, there were some delays in the skip coming down, which allowed us a little extra time to get material onto the amenity floors and any remaining panels into the condo units," Bourbon says. "Every project offers new experiences that you can learn from and new challenges to overcome. This one was no different."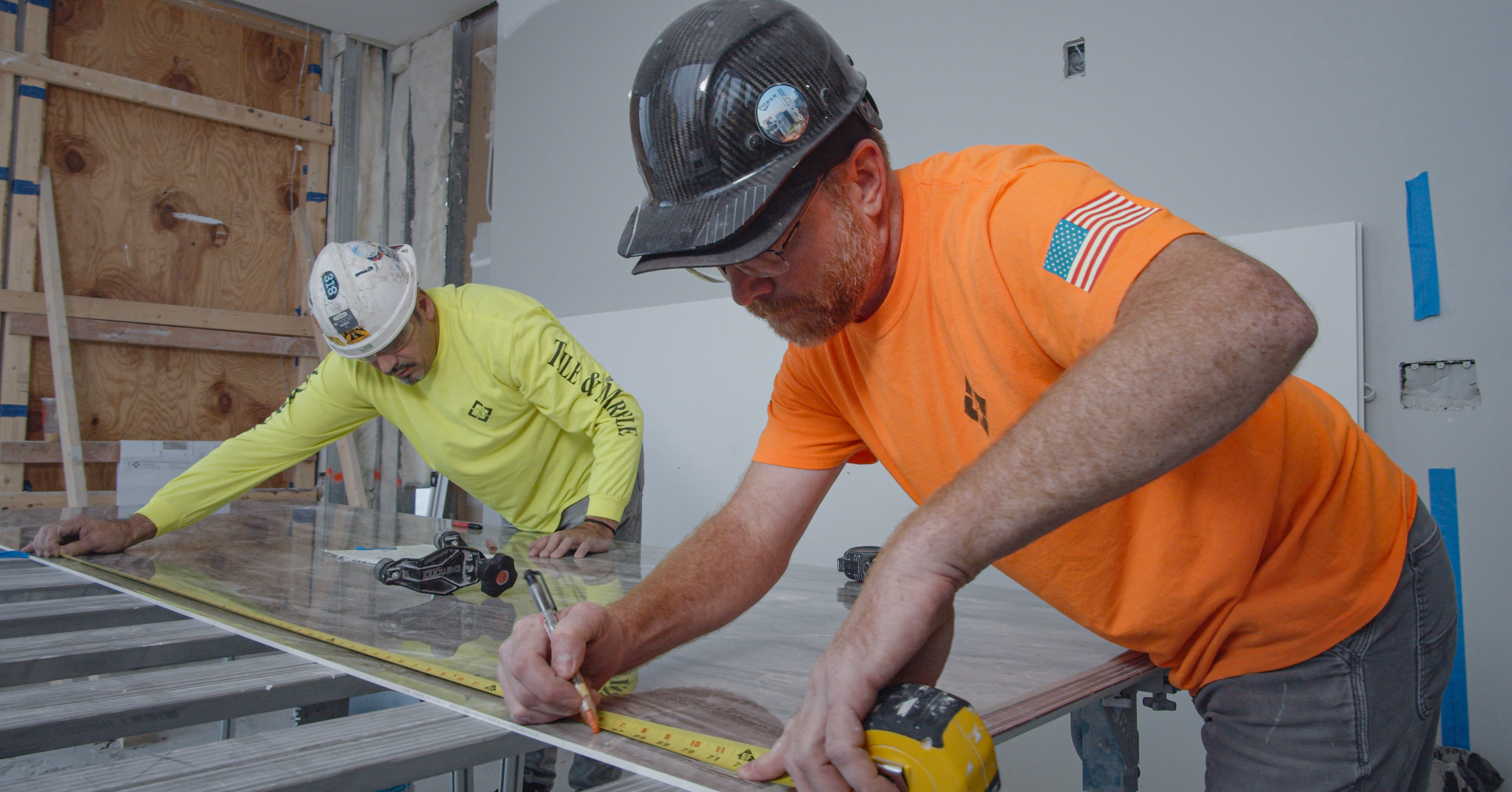 The Bourbon Tile & Marble team has tallied 14-plus months on site, working on 388 apartment bathrooms and 166 condo bathrooms, encompassing 72,000 square feet of 24x48 apartment tile; 31,000 square feet of 60x120; 28,000 square feet of 30x60, and 8,500 square feet of 2x2 and 12x24 condo tile; and an additional 4,600 of 60x120 and 3,500 square foot various sized tile for the amenity tile.
"The amount of GPT (Glazed Porcelain Tile) used on this project is unprecedented," says Matt Jaicomo, a Local 21 tile setter who has been with Bourbon since 2006, when he started as an apprentice. "Our workforce had already been trained on installing GPT and had experience doing so, however, extra equipment was needed to accommodate multiple crews working at the same time."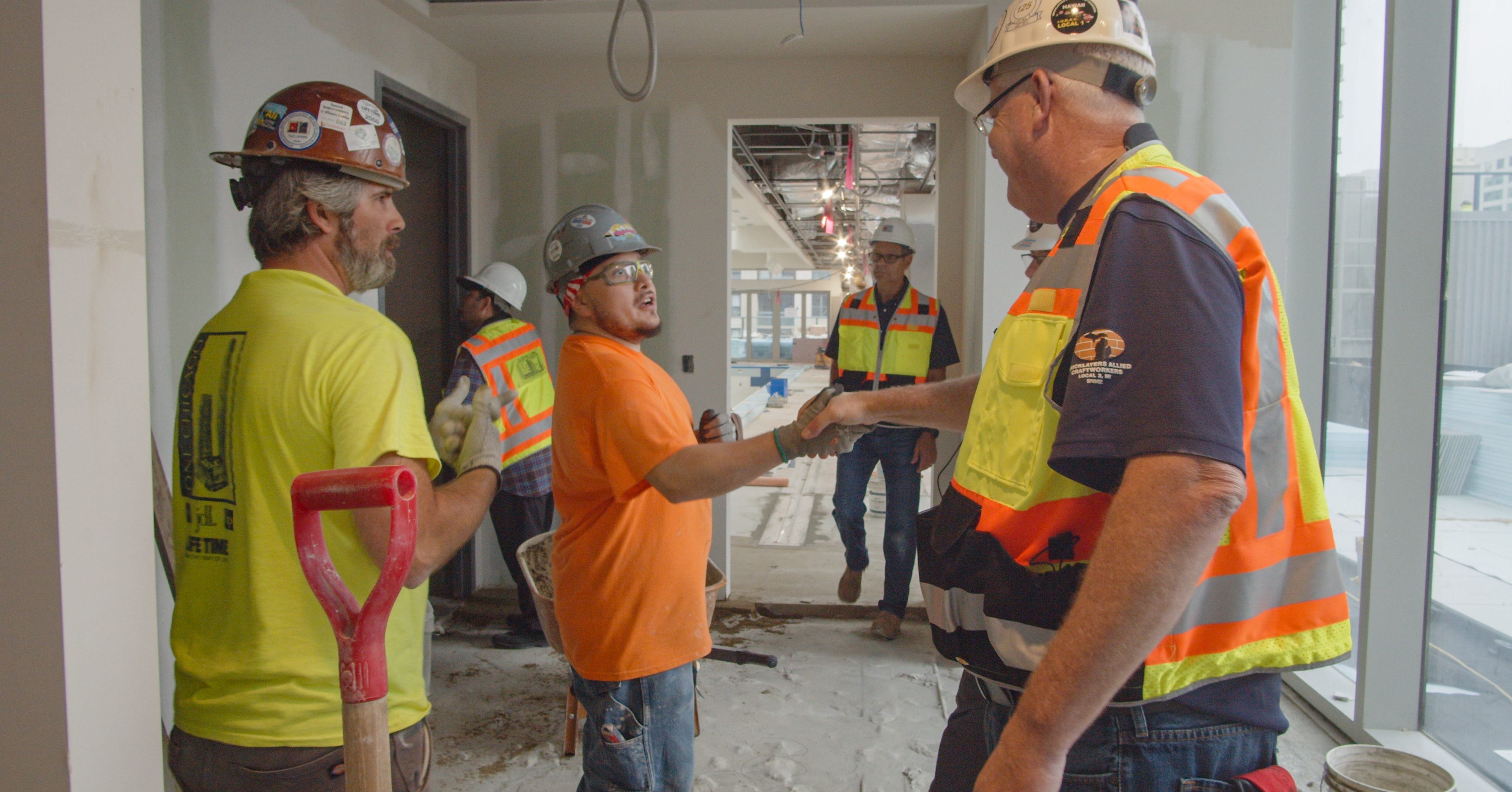 While every project has its share of challenges, Jaicomo says the size of the material and overall scope of the One Chicago Square project created logistical challenges not typically considered on other projects. "I'm very thankful that our shop showed the initiative to meet these issues head on, providing the necessary equipment to be as safe and efficient as possible. In the field, it goes without saying how proud I am of our crew. Every setter and finisher refused to let these day-to-day challenges beat us. Each one played a huge role in the overall success of this project."
Bourbon Project Manager Christine Bailey echoed Jaicomo's sentiments, saying that watching a project move from phase to phase, challenges and all, to completion is like poetry. "Our entire Bourbon staff has done a great job working together to provide a beautiful, quality installation. It's always fun to work on a project of this size. The fact that it is being built with a team that includes great clients like Power Construction and JDL Development is even more rewarding. There's a feeling of accomplishment when everyone works together for a common goal."
Jeff Roers, Project Manager for A.L.L. Masonry Construction Inc., says the ability to have so many talented teams pulling in the same direction is what makes BAC such a powerful force. A.L.L. typically fielded a 10-man crew of masons on the project, working from May 2020 to August 2021. The team worked on approximately 120,000 concrete blocks, plus rebar and grout, rounding out to roughly 2.1 million square feet of work upon completion. 
"This was a project secured via a competitive bid and a solid working relationship with Power Construction," Roers says. "That relationship carried through all phases of our work, ensuring that it was completed on time in a quality manner. We are proud to count this project among the many others we've had a part of over our history that make up Chicago's skyline."
Mike Petritis, Executive Vice President and Director of Tile, Marble & Terrazzo for Administrative District Council 1 of Illinois says the One Chicago Square project came to Chicago at the perfect time. "This project shows the ability to have two of largest general contractors in Chicago come together in a setting that put all the crafts of the ADC and Local 21 to the test. We stepped up and built one of the most impressive structures in Chicago, one that has a lot to offer the people of the city."