Administrative District Council 1 of Illinois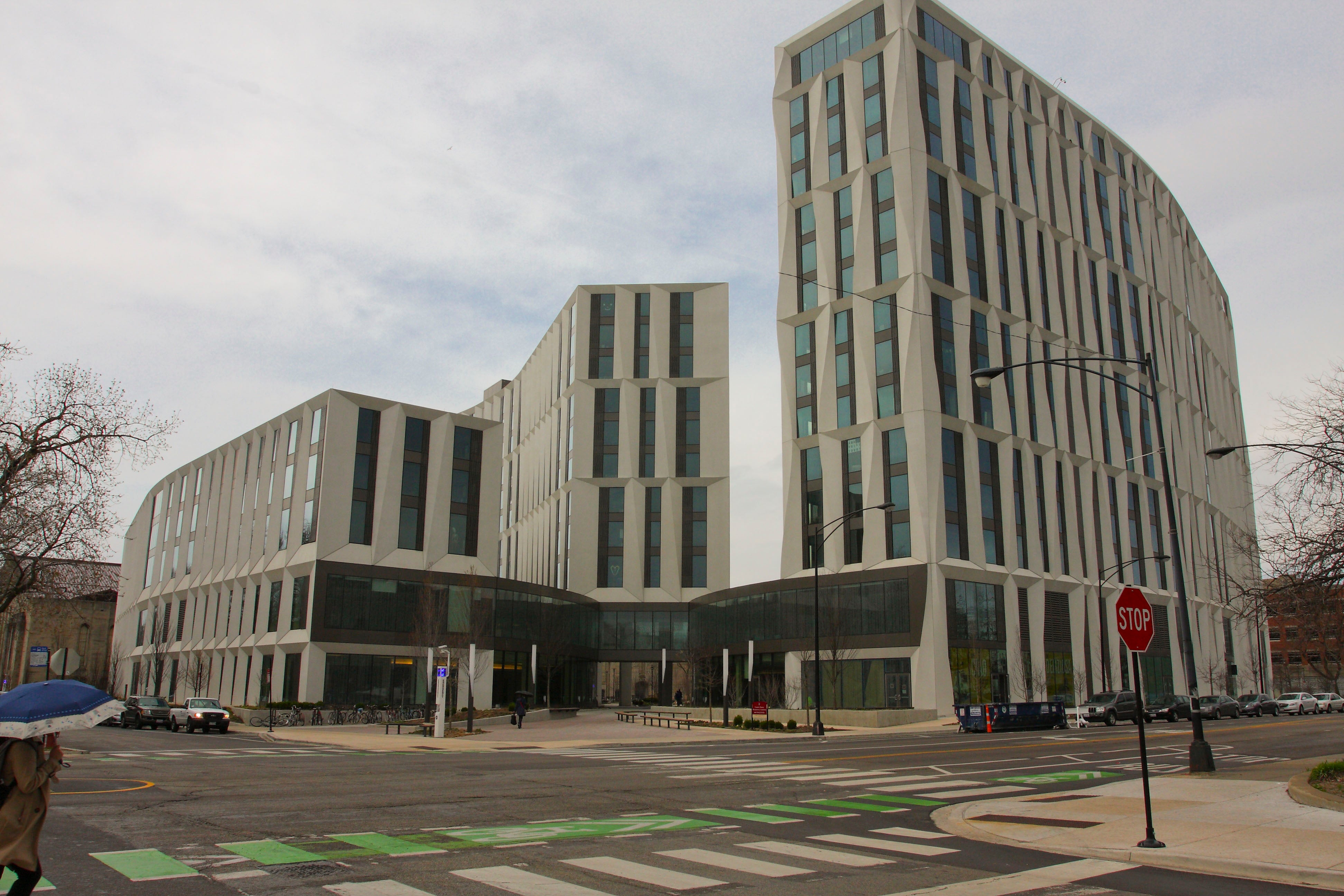 Campus North Residential Commons, University of Chicago
Chicago, Illinois 
Signatory Contractor: 
Creative Erectors, LLC
Rockford, Illinois
Architect/Designer: 
Studio Gang Architects 
Chicago, Illinois 
Over the course of 26 months, members of BAC Administrative District Council 1 of Illinois built this 400,000-square-foot residence hall, housing 800 undergraduate students. Plazas, gardens, walkways, and courtyards connect four separate buildings that range from one to fifteen floors high. A single-story dining hall, equipped with floor-to-ceiling windows, overlooks a central quad. Each house has a three-story common area where students can gather, study, and relax. Also included are classrooms, music practice rooms, and 10,000 square feet of ground-level retail space. A reading room on the top floor offers views of the city and Lake Michigan.
The enclosure required the installation of approximately 1,050 white, custom-shaped precast panels to form three-story window "recessed" openings. Metal panels filled in the space between precast to conceal concrete stair and elevator shafts. There were many challenges to overcome on the project. Exposed ceilings and low deck heights required many systems to be cast into concrete decks. Two layers of radiant electrical runs and much of the plumbing waste lines were modeled, coordinated and cast into the nine-inch concrete floors. There were also nearly 10,000 embeds cast into the perimeter of the structure to attach the enclosure systems.
Because the precast panels were designed to overlap in order to hide joints from panel to panel on the horizontal bands, the pieces had to be "jig sawed" up the face of the building. The right panels needed to be delivered in the right sequence, and even stacked on the trucks precisely.
Adding to the challenges, the precast panels were custom shaped, with a "wave" pattern up the building.  There were more than 70 unique shapes. Due to the unbalanced geometry of the panels, a custom lifting device had to be designed, built and tested to erect the top-heavy panels. The result is some of the finest architectural precast Chicago has ever seen and a groundbreaking residence hall built with the idea of community in mind.