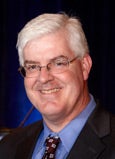 Timothy J. Driscoll was appointed Secretary-Treasurer of the International Union effective January 1, 2017 to fulfill the remainder of retiring Secretary-Treasurer Henry F. Kramer's term. Driscoll had served as an IU Executive Vice President since 2010.
Driscoll began his apprenticeship in 1985 with Local 3 Massachusetts and became a journeyman bricklayer in 1988. Traveling for work in the early 1990's, he eventually settled in the Washington, D.C. metro area and joined Local 1 Maryland/Virginia/D.C. in 1992. He is a second-generation bricklayer. Both his father and brother are members of Local 3 Massachusetts/Maine/New Hampshire/Rhode Island.
Driscoll's abilities were quickly recognized by both Local and International leadership, and in 1995 he was tapped to join the IU's Government Relations department as a lobbyist. He subsequently served as Assistant to the President and in 1999 was promoted to the position of Director of Trade Jurisdiction, a position he held until his appointment to the Executive Board. Driscoll's work representing the BAC on Capitol Hill and on trade jurisdiction matters has been recognized throughout the building trades and he is known for his reasoned approach and effectiveness.
In his current position, Secretary-Treasurer Driscoll oversees many of the International Union's financial and administrative programs. He is also actively involved in shaping the IU's communication, publication, education, and government relations initiatives.
He holds a BS in Economics from the University of Maryland, and is a graduate of the Harvard Trade Union Program.