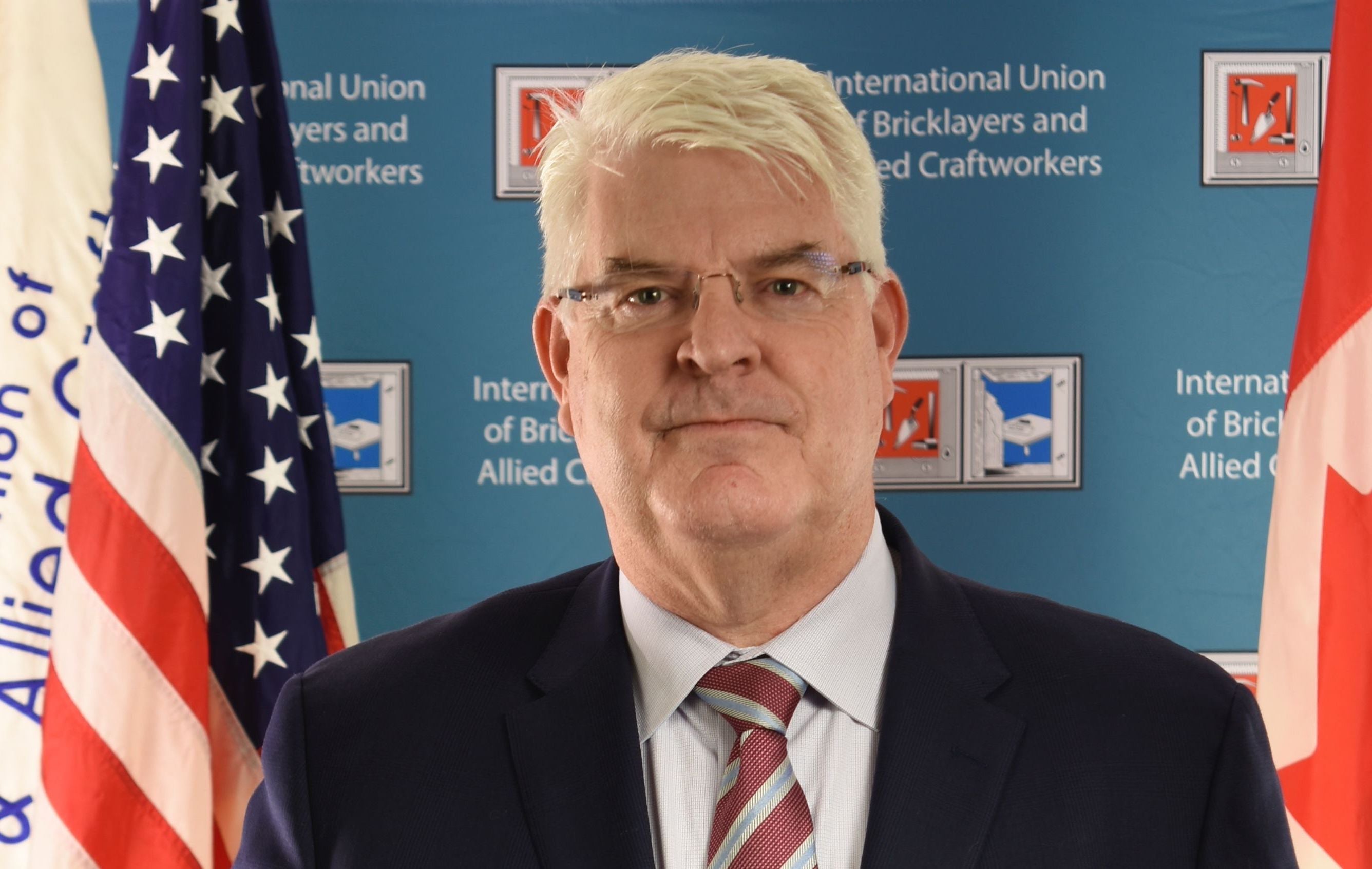 Timothy J. Driscoll succeeded to the Office of President of the International Union effective January 1, 2020, when former President James Boland retired. Driscoll had served as Secretary-Treasurer since 2017 and an International Union Executive Vice President from 2010 to 2017. 
Driscoll, a second-generation bricklayer, joined BAC Local 3 Massachusetts in 1985, where he served his apprenticeship and worked as a journeyman bricklayer on numerous commercial and institutional projects throughout the Boston area. Traveling for work in the early 1990's, he eventually settled in the Washington, D.C. metro area and joined Local 1 Maryland/Virginia/D.C. in 1992. 
Driscoll's service with the IU began in 1995 when he joined the Government Relations department, later becoming Assistant to the President. In 1999, he advanced to the position of Director of Trade Jurisdiction, vigorously and successfully defending BAC members' work opportunities in scores of cases over the course of the next decade.  During that time, Driscoll also served on the AGC Basic Trades Committee and the National Maintenance Agreement Policy Committee, and he administered various other National Agreements on BAC's behalf, working with many of the Union's largest signatory contractors.  
As Secretary-Treasurer, Driscoll has overseen the IU's financial and administrative operations and has been instrumental in shaping its communication, educational, and government relations initiatives. Driscoll has also led for years the IU's efforts to address emerging new products and systems in our industry, enhancing work opportunities for signatory contractors and BAC members alike. Well known since his early work in Trade Jurisdiction, Driscoll is recognized throughout the building trades industry for his reasoned judgement, his problem-solving skills, and his ability to get things done.
President Driscoll serves as Co-Chair of the International Masonry Institute (IMI), the industry development and training arm of the organized masonry industry. He is also Co-Chair of both the International Trowel Trades Pension Fund and the International Health Fund. 
In addition to his duties with BAC and its related entities, Driscoll serves as a Vice President of the AFL-CIO Executive Council and is a member of the Governing Board of Presidents of North America's Building Trades Unions (NABTU).  He also serves on the Board of Directors for the AFL-CIO Housing Investment Trust, Union Labor Life Insurance Company, Blue-Green Alliance, Union Sportsmen's Alliance and Helmets to Hard Hats, and he serves on the Leadership Council for the University of Maryland's Center for Global Migration Studies.
Driscoll holds a BS in Economics from the University of Maryland and is a graduate of the Harvard Trade Union Program.